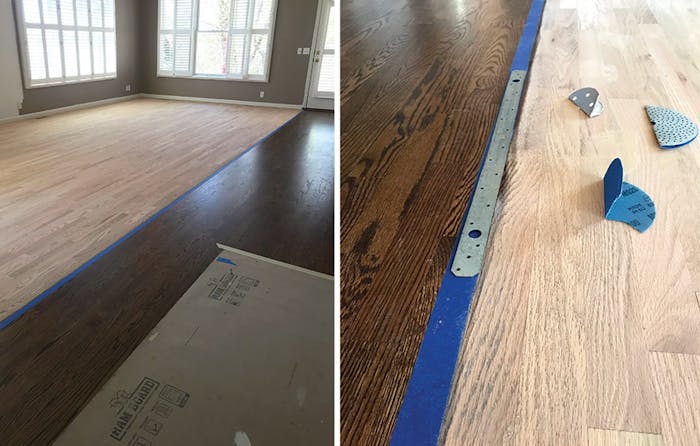 This issue's tip is from Doug LeClair at LeClair Wood Floors in Omaha, Neb.:
When you're sanding up to another area, you're always at risk of sanding something you don't want to, so I use this metal strap I purchased from a box store. I hold it in place with my knees on one side and my hand on the other. Most often I use it for holding back carpeting so I can sand the rounded edge of a reducer or keep my hands from getting cut on the tack strip. On the job you see here I'm working on a strip red oak floor that I finished three years ago. My clients decided to have a three-sided fireplace and a built-in entertainment center removed, resulting in lacing 100 square feet into the existing living room over an area 14 feet wide and 15 feet long. The existing floor was in great shape and didn't need refinishing. You can see I'm also using a random orbital and hand sanding to ease that transition.
See a collection of previous job-site tips on our Pinterest Trick of the Trade board. Do you have a Trick of the Trade to share? Email it to WFB.