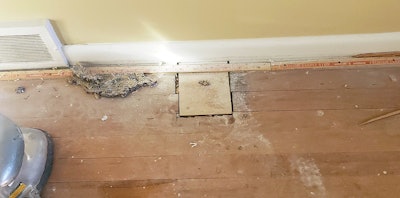 I still do some installations, but the majority of my business here in Michigan is sanding existing wood floors. Here are some things I always do long before I bring in my sanding equipment.
A lot of our work is sanding floors that have been under carpeting. On estimates, I use my Leatherman to pull up carpeting in corners to see the wood and determine if it's red or white oak (here, it's always one or the other). Then I tuck the carpeting back in and let them know there are no guarantees that the entire wood floor looks like what we just saw. If I have access, I also go below the floor to check the subfloor and joists.
I try to find an air register where I can see the wear layer on the existing floor; there has to be a solid 1/8 inch-plus to be able to sand. On an old floor, seeing shiners doesn't necessarily mean there isn't enough wear layer—oftentimes those didn't set all the way.
Log in to view the full article