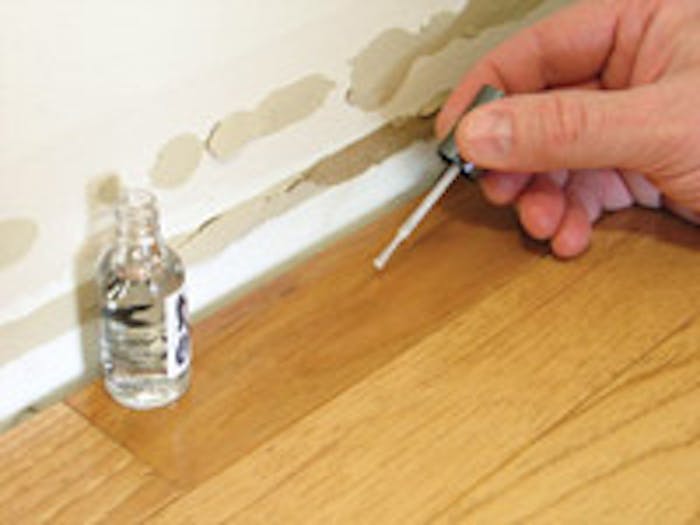 Essential End-Match?
I don't usually install pine, but I had a customer request it. When the flooring was delivered I saw that it didn't have an end-match. Isn't an end-match required on all wood flooring today?
Glen Miller, manufacturer division manager at the National Wood Flooring Association, answers:
All NOFMA-certified flooring is required to have an end-match. Other manufacturers may or may not put an end-match on their flooring. A lot of pine flooring made today still does not have an end-match, and it's not uncommon for reclaimed flooring to not have an end-match.
The function of the end-match is to just lightly secure the ends of the two pieces together. The end-match is designed to be looser than the side-match for ease in installation. It is the side-match that determines how a floor is going to perform. So, having an end-match is not essential to having a floor that performs well.
Wider-width floors may require some additional fastening to prevent some movement associated along the end-match. The NWFA's guidelines, as well as those from most manufacturers, offer suggestions regarding how to aid in reducing movement at the ends of the flooring pieces.
Recoating Prefinished
My client has a factory-finished hardwood floor and is asking me to screen and coat with water-based finish. Are there any concerns in doing this?
Kelsey Quigg, technical manager of Pallmann, a division of UFloor Systems Inc., answers:
Yes, there are many concerns to consider before recoating an existing factory-finished floor. For example, if the factory-finished floor has high surface tension from aluminum oxide or ceramic, contains additives in the floor coating such as Teflon or Scotchgard, or certain natural oils, water-based finish may not adhere to it.
To increase your chances of success, it is strongly recommended to use a manufacturer's bonding agent or a recoat adhesion product. These types of products typically don't require abrading the floor first, which may not be an option on floors that are hand-scraped, have cupped boards or have a thin wear layer.
The first important step is to remove all contaminants such as dirt, food, spills, grease or residue from floor cleaners. Many homeowners use oil soaps, other household cleaners or even furniture polish on their floors; these products can leave thick residues that must be removed by powerful cleaners-use one recommended by the finish company. Be particularly careful when cleaning beveled flooring. Simply using a buffer to abrade the floor may not remove residues; instead it may smear them around the floor.
The next important step is doing a test spot on the floor. If you're going to have adhesion problems, it's better to find out on a small area rather than after the whole floor is coated. If the test spot does not pass, then the only options are to re-sand (if possible) or replace the floor. Always check with manufacturers that make bonding agents or recoat adhesion products for more information.
Matching MC
I'm installing in an existing home in the Midwest and the plywood subfloor is reading 13% while my maple wood flooring is around 6.5%. Can I go ahead with installing?
Don Conner, technical director at the NWFA, answers:
The standard answer is that you can't have more than 4 percentage points' difference in moisture content (MC) between your subfloor and wood flooring for strip flooring and no more than 2 points for plank.
In the real world, many installers don't stick to this hard-and-fast rule because they know the risks and how to manage them. Existing home sites are usually more stable than new construction as long as they aren't a water-damage job-what you see is what you get. Some people might say that 13% seems too high for that geographic area, so the first thing I would do in this case is make sure your moisture readings are accurate. Are you using a wood floor meter or a general construction materials meter? Is the meter properly calibrated for the subfloor type and the species of hardwood? Are you using it correctly and taking readings throughout the floor?
If the subfloor MC really is at 13 and that is what is considered normal living conditions for your area, the 6.5 MC of the maple is most likely too low (if the meters are being read correctly). The target MC of the maple should be brought up to what will be its normal living conditions-you may want to check some local maple installations to see what the normal MC is. I would need to get the flooring up several points before I'd be comfortable installing it. I'd unpackage the flooring and "stick" it (criss-crossing the boards for maximum air flow) to try to acclimate it as fast as possible, keeping in mind that many species, including maple, are slow to acclimate. I would use one of the newer moisture retarding products instead of the standard #15 felt. And, if installing in winter, I'd be sure to not install it too tightly together so it would have some room to expand when RH goes up. I installed 5-inch solid in my home in February and did not pound the floor together because the RH in my home at installation was 37% and I know that in summer it goes up to 45%.
Trick of the Trade: Taking a Shine to It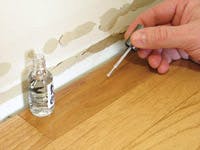 When installing prefinished wood flooring, any topnails are filled with color-matching wood filler, but the dullness of the filler compared with the floor finish can catch the customer's eye. Perry Wright of Austin, Texas-based Floorcoverings Done Wright has a convenient way to match the sheen: "I use my wife's fingernail polish bottles, filled with several finishes, to spot-touch the filled areas. It works like a charm once you get the hang of it."