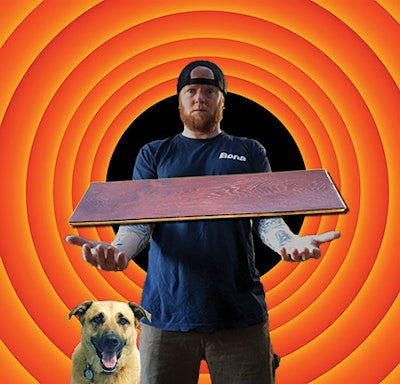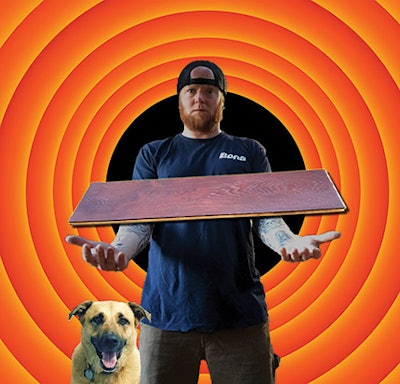 Among wood flooring pros, floating floor installations can get a bad rap, or they are seen as a "DIY Network" install. As a pro, I'm here to tell you that's not the case at all! Any weekend warrior can go rent a flooring nailer and cheap cleats or staples, or buy some glue and a trowel, and install a non-floating wood floor, too. What separates the DIY enthusiast from the flooring professional is knowledge, experience, skill and quality materials—the ingredients necessary to perform installations to the highest standards.
Advantages of floating floors
Even for a pro, there are definite advantages to a floating hardwood floor installation. Let's take a look at them:
It's a fairly easy install. As opposed to full-trowel glue-down or nail-down installs, putting in a floating floor is pretty painless. Roll out your moisture barrier and underlayment pad (or an all-in-one product), rack out your boards, then flip them over to glue the bottom of the tongue (if necessary), and start putting them together—while making sure you leave adequate spacing at every wall and vertical surface.
They're forgiving when it comes to sound and comfort. Depending on the type of underlayment, sound transfer from level to level or even room to room can be better with a floating floor. They're also a bit more forgiving to stand on or walk on for long periods of time (this is also dependent on the type of underlayment used). As opposed to a floor glued directly to a concrete or wood subfloor, or a floor fastened to a wood subfloor, floating floors feel much lighter underfoot and, when properly installed, perform very well.
Why choose floating installs?
There are a lot of reasons why a floating install might be a better choice than a glue or nail installation in some situations. Here are some of the pros:
They are cost-effective over concrete
They are suitable for a below-grade installation
They can meet many high-rise sound/noise transfer restrictions
It's easy to do a single-board replacement
There are fewer chemicals and off-gassing in the home
In cases where the homeowners are looking for a semi-permanent installation, materials with a thin wear layer make more sense as opposed to a more permanent system with a costly tearout
When installed properly, they hold up over time, without squeaks from fasteners or split tongues.
From an installer's standpoint, they're easy systems to install with less impact on your body—you're not beating boards in place to fasten them or wearing yourself out troweling adhesive and then banging boards together. You can simply apply a bead of adhesive along the bottom of the tongue or bottom of the groove and tap it in. This can also be made easier by applying adhesive to several rows, getting them (somewhat) put together and then strapping them together to tighten everything up. This saves time and fatigue on the installer and creates very little mess or risk of damaging boards.
Floating install options
Let's back up and look at the types of floating floor installations in today's market:
1) Tongue-and-groove adhesive: With this install, you apply a ⅛-inch continuous bead of tongue-and-groove glue on the bottom side of the groove of each end joint, align the tongue side of the starter row along the chalk line and engage the end joints together. You then use shims along the long wall and at both ends of the row to keep the floor in place and maintain the right expansion space.
---
RELATED: Take Steps to Avoid Noise Complaints with Floating Floors
---
Tongue-and-groove adhesive or glue, when applied as a continuous bead along the tongue and groove, will create a water-resistant bond. Many of these adhesives have a sheer strength of 3,000 psi or more. Once cured, they create an extremely tight—yet flexible—bond. The glues are specifically formulated to allow for the floor to naturally expand and contract without any cracking or popping sounds.
2) Clip system: Certain manufacturers, such as Junckers & Easiklip, have channels cut in the bottom of the flooring materials for specialty clips to attach and link/connect each row of flooring. This system is used by a lot of sport floor and dance floor installers.
3) Click system: Several manufacturers (Kährs and Boen are two that are well-known) have a "click lock" tongue-and-groove system. Just angle the groove down into the tongue channel and tap it in.
Where installers go wrong
So where do installers go wrong with floating floor installs that gives this method a bad name? Here are a few trouble areas:
Improper subfloor prep prior to install. Just like every other install method, it you don't follow the manufacturer's recommended guidelines or industry standards for subfloor prep and flatness tolerance, the installation will not perform properly for the life of the floor, and it will ultimately fail. With improper floating floor installs, you get some of the worst and most notable signs of bad subfloor prep: hollow spots, squeaks and cracking.
Not leaving expansion space at every wall and vertical surface. Floating floors perform as one unit, not individual boards. Without expansion space, you can have trouble with buckling, edge crush, breaking and more.
Choosing the wrong glue for the application. Floating installs will fail due to improper adhesive, such as white/wood glue. If people use Type 1 wood glue, for example, it will dry up and become brittle over time.
Of course, these can all be avoided if proper attention to detail (reading the instructions) and pride in your work (being a craftsman) are taken into account.
As a professional installer, I have to choose the proper install method and material for the job site. I might have clients who don't want a direct-glue install over their slab because of how permanent that floor is. Or sometimes because of either cost or height variances, they don't want a built-up subfloor system that can be nailed to. Some jobs have existing materials such as tile, vinyl, particleboard, etc., that you can't nail to or glue over, and it's too expensive for the clients to have it torn out—so you can float over it!
I know not everyone will agree with this, but I think everyone should have the option of having a high-quality wood floor in their home. Thanks to many engineered flooring manufacturers and the floating install method, they can.