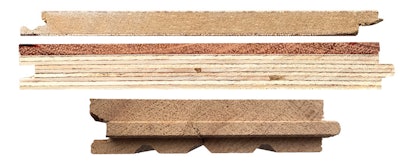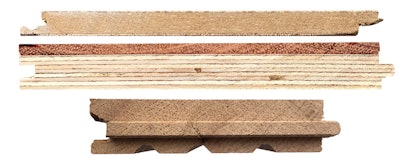 My career has covered decades within the hardwood flooring sector. So, suffice to say, I love a real wood floor, which to me is a living, breathing natural gift from Mother Nature. I won't goover the differences between solid and engineered wood floors (this is Wood Floor Business magazine; you know all about that already!). I will say that there is certainly a high acceptance level for both categories. However, today, there seems to be a bit of confusion within the industry regarding what actually is and isn't wood, particularly with the newer hybrid products that have a wood veneer wear layer, but a different type of core. Can these products really be considered true wood flooring? What are your customers' expectations when they buy these "wood floor" products?
As wood flooring pros, we all have our professional opinions regarding what is and isn't a "real" wood floor. To me, it is one that, during its lifespan, can be refinished and brought back to its original luster a number of times. It can be resanded and changed to a different stain or color. A real wood floor is one that will be incredibly durable. As a matter of fact, when properly installed and maintained, those wood floors can indeed last for hundreds of years.
In recent years, there are other flooring options offering a very thin wood veneer wear layer over non-wood materials, such as HDF (high density fiberboard), WPC (wood plastic composite) or SPC (stone plastic composite). Many of these products are promoted as being very moisture-resistant (some are even promoted as waterproof). One advantage they do have is being more dent-resistant than traditional multiply floors, making them popular in rental units, where owners can opt for a low-cost product but advertise that they have wood flooring.
---
RELATED: Engineered Enigmas: Know These Answers to Avoid Problems
---
I like to call these products "entry level" wood floors. Because they have a real wood layer with a traditional factory finish, they can be recoated. However, some have a wear layer as thin as 0.06 mm, so they generally cannot be sanded and refinished, and contractors need to be careful, as they would on any refinishing job, to see how much wear layer is actually on the floor before sanding. These flooring options may have a service life, depending on the lifestyle in the home, of 10–20 years, which means they will likely need to be replaced as many as 10 times as often as "real" wood floors.
But, let's face it. There are consumers who absolutely insist upon having a natural wood surface on their homes' floors and simply do not have funds to cover investing in a long-term wood floor. So, as the only alternative, they opt for an entry-level, "starter floor" that does indeed have a wood veneer surface. In this case, it is incumbent that dealers and installers educate these potential customers to understand and accept the fact that these types of "wood floors" will not last forever. They should thoroughly enjoy their flooring while it lasts and plan for when they "graduate" to a higher-performance wood flooring product, whether solid or engineered, that is made from 100 percent wood and will be more expensive. As long as dealers and installers are up front with their clientele, explaining from the get-go that an entry-level floor is just that, their customers may one day very well become repeat customers, coming back for their real wood floor when it's time to do that.
Your goal in this case is that they start off loving their very first wood floor, and that they love the next one they buy from you even more.