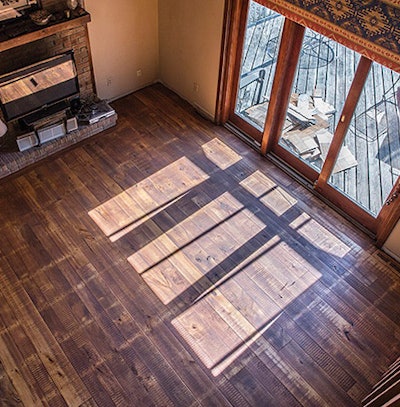 I recently completed my first "forest-to-floor" project. The entire process took six months and more man-hours than I would like to admit, and while working on this installation, my mind wandered down paths I'm not sure I've ever traveled down. Those paths all seemed to revolve around my decision to invest so much time and energy into this project, especially considering that at the time I began the work, I didn't have a home to install it in or a customer who wanted to buy it! I had been asked numerous times "Why are you doing all of this?" and struggled to provide a good answer. Sometimes I would reply vaguely, "Because it's super cool!" Other times I would say, "I like doing things that are challenging." And while each of those responses was true, they didn't fully encompass the rationale behind my mission. In an effort to truly address my undertaking, I slowly began to think about my experiences leading up to this—my first truly custom job as a small-business owner—and the influences that guided me to this point. Of all of those experiences, I was able to focus on three key contributors: my experiences in the Army, my NWFA education and my family.
Two years after graduating from college, I was working as a commercial credit analyst at a regional banking institution. I was living the typical cubical life; it wasn't bad but it certainly wasn't what I dreamt about doing as a kid. After some deep soul searching and lots of conversations with my parents and girlfriend (now my wonderful wife), I decided to join the Army. The Army is an interesting place, because it has a way of showing you your true colors. As in, if at your core you are a hard charger and strive to be the best, the Army will help pull it out of you, and you can rise to the top. Conversely, if at your core you are lazy and content to coast through life doing the bare minimum, the Army can expose you for who you are. Another interesting caveat is that, at times, both of the aforementioned individuals can be promoted and paid the same. While this can be frustrating for some, it also means that personal pride and competition are two of the most significant motivating factors for Army personnel. I thrived in the competitive arena of Airborne school, Ranger school and the Ranger selection process. I ultimately spent three years in the 75th Ranger Regiment, which only further fueled my ambitions and internal motivation. The Army challenged me in ways that I had never been challenged, and, as a result, I believe I grew more as a person in those four years than I would have over the course of my entire life had I not decided to join the service. I am the type of person who wants to be the best, and the Army helped pull the best out of me.
---
RELATED: How My Military Training Helped Me Succeed in Hardwood Flooring
---
But of all the skills I learned in the Army, creativity was not one of them. And as I was about to find out when I became a civilian again and started a wood flooring business, creativity, imagination and inspiration are critical components to running a small business. I found out about the National Wood Flooring Association and signed up to take their Intermediate Installation course. This in itself was a big decision, as it required me to invest time and money into myself at a time when every minute and every nickel was critical to keeping my business afloat. But when I walked into the student instruction area at the NWFA headquarters and walked across a wide-plank herringbone floor, I knew I had made a great decision. The floor was a grayish blue with an infusion of a salmon color. It contained saw marks and square plugs and appeared as though the joints had been filled with grout. I was blown away. I had never seen anything like this. I felt hesitant to walk on it, because my mind was registering it as a piece of art. I was inspired. It's odd to say, but this custom floor reached inside me and toggled my creativity switch, giving me permission to explore my own thoughts about what a floor can and can't be. I dove headfirst into the weeklong course, soaking up as much knowledge as I possibly could.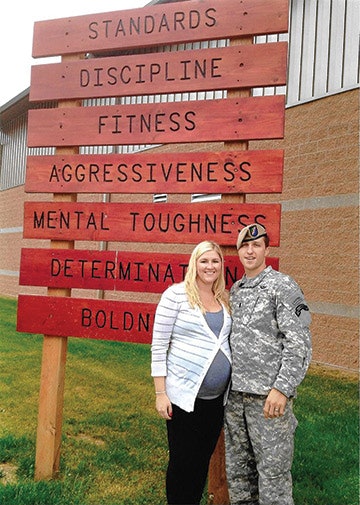 Prior to my NWFA headquarters floor experience, I was focused on simply out-working my competition. I relied solely on my Army experience of hard work, attention to detail and professionalism. I provided very little creative inspiration to my customers. Looking back on this period, I feel I was professionally proficient but artistically boring. Immediately upon returning home from the class, I plunged into an internal and external exploration of all things "art." I listened to music differently, I played "pretend" with my son differently, I took notice of the different architecture and design features on buildings, and, ultimately, I found beauty in almost everything if I looked and thought long enough. I came to the realization that my mom has some of the best design ideas I've ever seen. She is unique, very forward, has fun and isn't afraid to take risks; she has influenced my concept of creativity and design more than anyone or anything—and it took me 30 years to realize it. Games of make-believe with my 2-year-old son somehow had more value: hopping from pillow to pillow through the house to avoid the scalding lava, building blanket forts to ward off a ferocious miniature pinscher, and then blasting off in our spaceship to the sucker store. His ability to momentarily suspend disbelief and experience something that isn't necessarily real is liberating and, in its own way, helps me to think outside of the traditional paradigms of my work.
My forest-to-floor project certainly took me outside those traditional paradigms. Hard maple trees were cut and plain sawn with a portable band saw mill on-site in Thornville, Ohio. The boards were kiln-dried and surfaced/molded at a nearby sawmill. I pillowed the edges by hand, then blind-nailed and face-nailed the boards in place with cut nails. The floor is a random mix of 5-, 6-, 7- and 8-inch-wide boards averaging 10 feet long, each featuring unique marks from the mill and finished with a beautiful brown oil. After months of work, I created a remarkably beautiful product with rustic charm that I am exceptionally proud of. I feel I fulfilled my artistic vision for the floor. More importantly, the homeowner is happy, and I've begun my journey into the world of custom hardwood flooring. Is this project a Floor of the Year contender? I doubt it, but I view it as a first step toward that award, and the first step in any journey is the toughest.
I know a forest-to-floor project in itself is not an original idea—people have been making their own wood floors for centuries, if not millennia, and in recent years, the forest-to-floor concept has begun to take off with homeowners looking for knowledge of how their flooring came to be. But I believe this project represents my personal expedition into channeling my past skills, experiences, talents and creativity into my hobby and my business. So, ultimately, I view this project as the capstone of my experiences and professional knowledge to date and the first step in my custom hardwood flooring journey. Nothing in life that is worth anything is easy, but if you hear the sound of inspiration and passion calling, follow it.