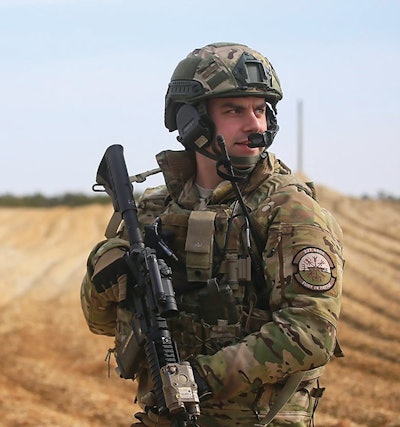 I'm an E-5 staff sergeant in the 227th Air Support Operations Squadron (ASOS) reserves. That means I control aircraft during special operations as well as conventional operations and am responsible for calling in air strikes. A lot of my job is high-stakes telecommunications, so every month or every other month I am sent for training to ensure I'm as up to date as possible in my knowledge of the technology we rely on.
In my civilian life, however, I run a wood flooring crew. It's safe to say I'm pretty busy a lot of the time.
In 2011, after finishing two years of college, I decided to join the Air Force. I was 20 and just felt like it was a good opportunity for me to serve my country, and it would give me a little bit of a head start on getting a good career. I spent the next two years going from base to base for training all across the U.S. And a couple years after I completed my initial training, I began going to college again, as well.
I didn't expect to find a career in wood flooring when I re-entered civilian life in the reserves in 2015. When my wife and I decided to have our first child, I had to make the decision to stop going to college and get serious about looking for a career. One of my buddies I grew up with was doing hardwood floors, so I reached out to an organization called Helmets to Hardhats, which connects military veterans with jobs in the construction industry. They gave me information on local rates and companies to contact. The company I ended up joining specialized in hardwood.
I guess I was a little bit intimidated when I first set foot on a wood flooring job site. I'd never really done anything like that before. After a couple days, however, I actually started to find the work pretty enjoyable. When you do what I do in the military, it's extremely stressful. You're essentially putting other lives in your hands, and they're counting on you having the right information: Wherever that bomb goes, your name is on that. So when I first got into flooring, I remember having a conversation with another guy there where I said, "Man, this is kind of nice. I'm not stressed out at all. This is totally different."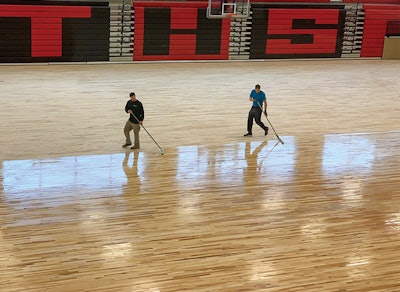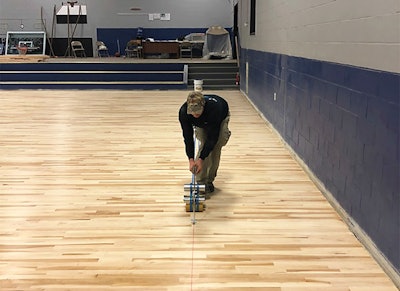 And fortunately, most of the guys at the company were pretty open to helping me learn. I felt like as long as I showed initiative and drive and wanted to learn, nobody really gave me any pushback; they pretty much had open arms.
As I continued working, I also found I had a bit of a knack for it. At first glance, it doesn't seem like wood flooring and what I do in the special forces have too much in common. But it turns out my military training instilled in me a trait that's helped me succeed in the wood flooring industry: attention to detail.
In the military, attention to detail is everything. For instance, when you do a ruck layout, which involves displaying the contents of your backpack (usually done after a 20-mile hike in the middle of the night), a detail as small as where you put your pen on your poncho liner is noticed. If you don't have everything lined up in the exact order and direction that it has to be lined up in, you get dinged and you get a point off. Toward the end of our training, people were getting kicked out of our career field just because of that.
So as you can imagine, that precision training does come in handy in our trade, like when I'm doing game lines on a gym floor and everything has to be perfect.
The transition to a civilian job wasn't all fluid, however. I came from a leadership position in the military. So I had to learn to step back a bit when I first got into wood floors, because obviously I didn't have the knowledge to be taking charge yet.
---
RELATED: My Journey from Army Ranger to Creative Wood Floor Pro
---
But I adapted and I stayed motivated by taking initiative. I just asked as many questions as I could and dove right in. I didn't ask if I could do something, I just said, "Hey, can you show me how to do something real quick?" You're not going to learn unless you actually do it.
After I was working on wood floors for two and a half years, my company decided to push me up to start running work, because they saw I had the drive and the initiative to get the work done. They know that I am very meticulous with whatever I do to make sure it's perfect. And now that I'm a leader on job sites, it's nice to be able to pay it forward when new guys join and I can be open in showing them the ropes, as well.
Once in a while my worlds converge. Recently, I actually got material donated from my company to build a bar in our morale room on base at my unit in New Jersey. I did a maple bar top and stained it and did an epoxy finish on it. The guys on base couldn't believe it. They brought the commander of the whole entire wing and a few other high-ranking officers over to see it. They were like, "Can you send him over to our unit to build one?" They were stoked about it.
I recommend hardwood flooring to other veterans looking for a civilian career path. Even though it is hard work, the sense of accomplishment that you get when each product is done is priceless.