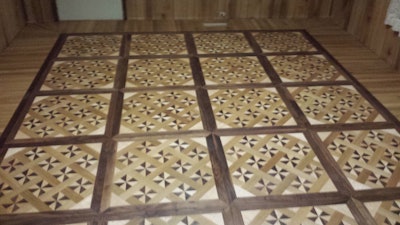 Hello all, Keith Long here with Thunderheart Flooring, based out of Greeley, Colo.
I feel fortunate to have had great mentors throughout my life. These fine men and women have helped me gain the financial intelligence and confidence to make educated decisions and to take calculated risks. I have become well-versed at identifying what the building blocks are to build an investment portfolio and have put a system in place I methodically follow. After having done this several times, it now seems as natural as breathing.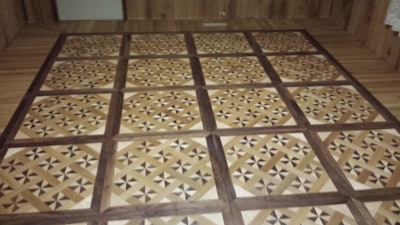 Over the course of the next several posts, we'll go through the steps I took in order to turn the concepts of purchasing an investment property, and completing the floors installed in it, pictured here, from concepts to reality. The above variation of a pinwheel pattern was installed in the living room. The white oak herringbone with continuous Greek key border is in the kitchen of the same home that I purchased as an investment property in Moberly, Mo.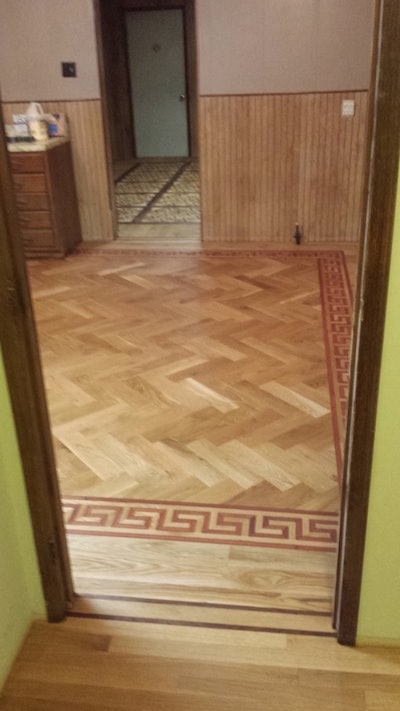 Most things in life that are worthwhile take time and effort. Gaining an understanding of "why" to purchase rental property, then improve it, then get it rented out, then profit from it, is no exception. The "how to" regarding designing and producing the custom flooring is straightforward and will be described in detail over the next several posts. The "why" (purchasing rental property to prepare for retirement) behind producing these types of floors is, by my way of thinking, as important as the "how to."
I purchase rental property for a few reasons. One, it provides a service to those who choose to pay rent and live there. Two, it is real property that has value. Three, it provides income on a regular basis from the rents paid. Four, it can be passed down to future generations. Five, owning and managing investment property offers investors many opportunities to gain a deeper understanding of the world they live in.
Over the last 12 years, I have acquired enough rental property to replicate the income I used to have to go out and work for. Each month, in perpetuity (forever), thousands of dollars come to my accounts in the form of rents. After paying property taxes and insurance, my portion of the utilities, 10 percent of rents set aside for upkeep and maintenance, and 5 percent set aside for vacancy, the rest is mine to keep.
Once the dust settles on income versus expense on these rental properties owned, there is enough left that my family and I could live comfortable lives indefinitely while never working another day if we didn't want to. This is a big reason why I took the necessary steps to find, buy, fix, rent, pay for and finally own free and clear several income-producing investment properties. I get paid from these rental properties and can do what I want with my time since I don't have to chase the dollar anymore if I so choose. I have found owning enough rental property free and clear provides time freedom.
Property values have skyrocketed the last three years where I live in Colorado. It has made finding property deals with good returns on investment more difficult. So, I started researching different parts of the United States to see where the returns on investment still met my requirements.
I called to inquire about a reasonably priced piece of farmland in the north central part of the state of Missouri I had seen online. The real estate agent who had the land listed for sale informed me it had recently gone under contract and was no longer available for sale. When I let him know that, for the right price, I would also be interested in investing in homes for sale in his area, he suggested I research a town in the next county over by the name of Moberly.
The farmland agent told me there were about 14,000 people living there and that there were many good jobs and a low unemployment rate, but that lots of folks there just didn't seem to place a high value on home ownership. So, many of them rented instead. He also mentioned that houses in that town were economical to buy, and rents and return on investment were strong there for owners of rental property.
I thanked him for the information, and my research of Moberly began. What the agent with the farmland for sale had told me over the telephone checked out. I interviewed eight real estate agents (a process akin to kissing frogs) before I decided to go with the ninth one (my princess). She is a no-nonsense real estate professional. She manages 100 storage units and 105 rental units, while she is also a licensed real estate agent in the state of Missouri that can help people buy and sell property. Her 23 years of experience in the industry, coupled with her in-depth knowledge of the area, gave me confidence to contract through her to purchase this property, on a half-acre of land, for $30,000 cash.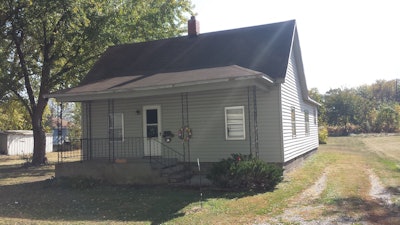 How many of you had the thought come to mind, "You put THOSE floors in THAT house?"? For those wondering, the answer to that question is yes.
My reasoning is that the benefits outweighed the costs. I had to do something new with the floor coverings. The carpet and vinyl in the home when I acquired it were shot and needed replacement for sure. Over the long term, installing hardwood flooring once is more economical than replacing carpet and vinyl several times over a period of decades. Having nice floor coverings may allow an investor to command more rent and helps to reduce vacancy. The additional thought and labor isn't much, and only needs to be expended once, while the flooring will be there for many generations! Plus, I believe designing and producing custom flooring is a fun challenge and helps keep me sharp.
Since I knew I was going with hardwood flooring, I looked at what I had in my shop. For these two custom areas in the kitchen and living room, I already had everything I needed in stock. A little curly maple left over from one job, some 1st grade maple and various widths of white oak from buying out a distributor a few years prior, some reclaimed ipé decking I bought from a framer buddy of mine for $50, and some select walnut, all 9-foot lengths, that I had purchased from a distributor awhile back for less than $2 a square foot since they weren't going to be carrying that mill any longer.
Although I had no money out of pocket for wood in these two rooms, the challenge was to figure out patterns that would make good use of the stock available. Chuck Burkhart of Burkhart Wood Floors out of North Carolina came for two weeks to help install and sand on this project. He mentioned that if possible, he would like to learn to do a herringbone pattern and put down some Greek key bordering. So, we decided to do that in the kitchen.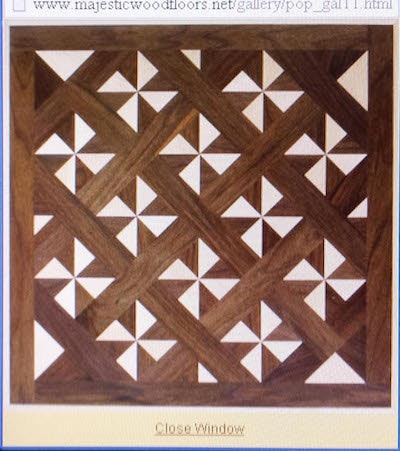 I had seen this pinwheel pattern online and liked most things about it. I decided to modify it a bit by using one piece instead of two in the triangles around the perimeter, and used one more species of wood by putting white oak in the lattice work to give it more of a flow with the border installed around it on the perimeter of the room.
For the white oak latticework on the inside of this pattern, I took 2¼-inch-wide stock and decided to rip all the tongues off lengthwise on the table saw. Then, I ripped all the groove sides lengthwise also, because I wanted both the tops and bottoms of the groove side to touch whatever they would butt up against. From the factory, the milling had the bottom of the grooves recessed 1/16th inch from the top sides. Leaving it that way could cause issues when attempting to get large and small pieces to fit and adhere to one another nicely in the gluing jig.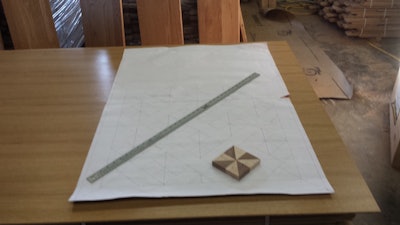 Then, before building a jig for production, I made one complete pinwheel on the miter saw. This allowed me to see if I liked the proportion of the pinwheel in comparison to the latticework, triangles, and picture frame border. I did.
I then took a steel ruler and drew in the latticework to length and width where it would be in the pattern, based on the dimension of the pinwheels. From there, the dimensions of the triangles and picture frame border could all be calculated. The select walnut was also 2¼-inch-wide stock—I ripped its tongues and grooves down in the same manner as I did the white oak for the latticework.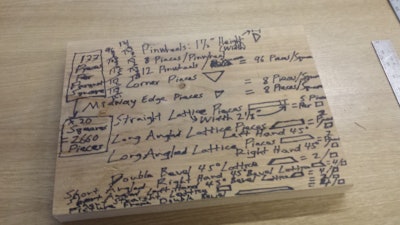 Now that we've got a list of all the pieces required, we can get going on production! I had three weeks between the time I put this property in Missouri under contract to purchase and the closing date. My calendar was already booked solid with jobs in Colorado during that time frame, so my wife and I "burned the midnight oil" in the evenings after our already scheduled daytime commitments to make this production work happen in the evenings. That way, when I went out to Missouri to pay for and take possession of the property, I could set the pinwheel parquet squares, herringbone, Greek key border, and all wood flooring for the other rooms of the home to acclimate the day I bought it.
Let's congregate again next week and get into the specifics of how we went about the production work to make these pinwheel parquet squares a reality.
Until then, stay sharp!