Two years ago, after working in wood flooring most of my adult life, I started my own wood flooring company from scratch. I rely 100 percent on word-of-mouth for jobs, and right now I'm so busy that, as I write this in mid-August, I'm booked until Christmas. I'm in a position many guys dream about, and today I'm focused on gratitude, but the truth is that my path to get here has been a brutal one filled with pain, addiction and incarceration.
I grew up in Madison, Wis., being raised by a single mom with addiction and mental health issues and the poverty that comes along with that. Because she couldn't take care of me, I ended up being raised by my grandma, who supported me through most of my life. I got into a lot of trouble as a teen. I won't go into the gory details, but with the violence and fighting, I was incarcerated at 15.
At 17 I ended up living with my dad and continued to get in trouble, and I dropped out of high school. I got a van and traveled all over the country; I was already struggling pretty heavily with the drug addiction and alcoholism that is in my family. I ended up living in Tucson, Ariz., which was the choice destination because everything was cheap there. I was living out of my van and would go to a temp service daily and find labor.
Through the temp service I ended up working for a couple who had a successful wood flooring business and took me under their wing. I was just a kid—I was 18—but the female owner took a liking to me. She'd take me into customers' houses and introduce me, even though I was this homeless kid who was showering at the Salvation Army. I was getting paid like $7.50 an hour to rack floors and, if you got on the edger, you were lucky. I started to learn the trade and got to work on some big projects, including one for a Major League Baseball player and a huge mesquite job for a CEO of a major corporation. We racked for days there, and I just loved it. I wasn't making much money, but I was really tired at night, and that's what I needed at that time in my life.
Unfortunately, at that time I also got addicted to hard drugs—even more than before. I was just in a lot of pain emotionally. When I was 20, I met a woman from Cincinnati. We were both on drugs and homeless, and one day she said, "I think I'm pregnant." She was pregnant, with twins, so we moved back to where I was from. We had nothing but a pickup truck my grandma bought us, and we moved into a hotel. I got a job working for a wood flooring company, and eventually we got a real place to live. I ended up working for a different wood flooring company owned by someone who became a mentor. He had dealt with addiction and alcoholism in his own life, and I think he had even been to prison. He talked to me, and he talked to my grandma, and he told her: "Adrian is never going to change until he hits rock bottom." He was right.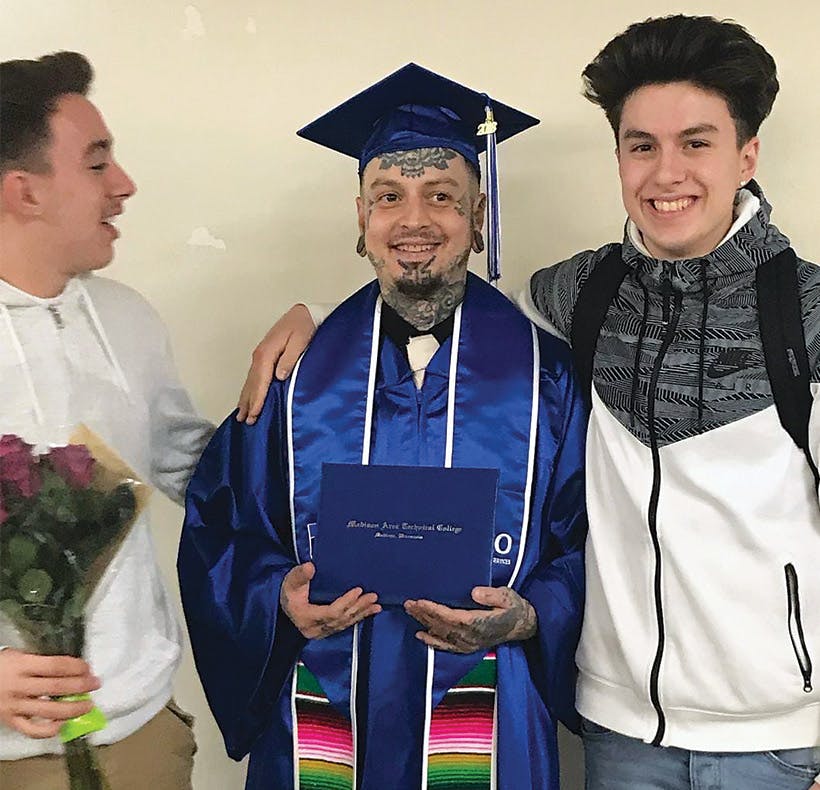 I had so many mentors at college who taught me to be accountable. Here I'm with my twins at my graduation on May 12, 2018.
I paid the bills but started to pick up drunk driving tickets and get in trouble with the law. I spent one summer in jail. Then in 2012 I picked up a fourth OWI. While I was waiting for my sentencing, I got sober and got a sobriety mentor. When I showed up for my court date, the judge said he could hardly recognize me because I had some light in my eyes. He made a deal with me: He would hold the drug charges for 11 years. He gave me a year, but if I committed another crime, I'd have to serve the full 11 years.
When I got out after my one year, I had to change. I realized I was a terrible father. I realized I couldn't drive a car for years, so I couldn't get back into the trades. Instead, I went to a local college as a 33-year-old high school dropout. There, I had so many mentors who taught me how to be human in the world and be accountable. I was in a program designed to support students like me, and they put me in situations to do things like public speaking, which was a real confidence builder.
I got a liberal arts degree and, after working with kids in low-income community centers, I got accepted into the University of Wisconsin. It was incredible—I have facial tattoos and definitely don't look like a traditional student. While I was in school, though, I couldn't pay my bills, so I started to repair and refinish some smaller hardwood flooring jobs using rental equipment and working out of a $1,000 S10 pickup. I had never done hardwood floors sober. When I came back to it, I realized not only do I like customer interactions 75 percent of the time, but I could get paid some pretty good money to do it, too.
---
RELATED: Overcoming Addiction, Prison to Find My Wood Flooring Life
---
I stayed in school for awhile, but then my grandma passed away. She had helped me financially if I'd get in a pinch, so when she passed away I was faced with: What are you going to do? I couldn't live off student loans. I got my insurance tax ID number, bought a used professional big machine from Craigslist and officially went into the hardwood flooring business on my own.
I didn't focus on volume; I just focused on neighborhoods close to where I lived and made sure everybody was 100 percent satisfied with the final product. I started being able to buy better equipment. I got liability insurance and started doing different types of jobs. I am memorable—I look a certain way—so people here on the east side of Madison where I live were like, "The guy with all the tattoos, he's friendly and he does a great job and has reasonable prices." I got to do a restoration on a high-profile commercial job in the neighborhood, and from there, it just took off. I continued to work and work, and I had rebuilt my credit, so I was able to get a better vehicle to haul my stuff.
That was about two and a half years ago. Now I'm juggling the balance of realizing that I hate running a business but I love doing this work. I'm continuing to improve the quality of my work with better equipment, and I've been able to go to some manufacturer training events. Now I'm also reaching out to other guys on social media when I need advice.
My twin sons are now 19, and with the pandemic, I've been teaching them how to edge, scrape corners and cut in for me, and it's such a beautiful thing. They are two positive kids, and it's awesome to be able to give them something they can do to make money and feel accomplished at the end of the day.
I've tried to give guys a second chance by working with me, and I've found it comes back to what my mentor told me: Until a person hits rock bottom, there's nothing you can do. I had a guy working for me recently who was one of the best sanders I've worked with, and I was paying him a considerable wage, but he couldn't get it together. I believe that if you always have this tension, this anger, that goes into your work. I had to let him go, but he knows I'm here for him. When people are in that place, all you can do is put your hand out and let them reach for it if they are ready.
At some point, I'd like to get large commercial jobs and create work for men being released from prison. I could teach this trade to people who would normally be released from prison and end up getting like $10 an hour—a wage that makes sure they are never able to get back up. What if a person like me could begin a training program for guys six months before their release? If people could actually get back on their feet when they get released, they would have a much better chance. There is a quote that was important to me in my recovery that goes something like this: "Sometimes if you expect the best of people, they surprise you and they meet it." Instead, we are usually expecting the worst of people and leaving them with no options.
I would like to get myself in a place where I can do primarily custom work—dyeing wood, bending wood, creating my own medallions. I recently got to do a medallion from Czar Floors that I thought was incredible. I kept the template for the circle, and I want to fill it with my own thoughts when I have the time. I've always been around art—my mom was an art teacher, I've done work as a tattoo artist, and my major at UW was three-dimensional art. Sometimes wood floors don't feel like art, but a lot of times they do. Another quote that has helped me in my recovery is this one by Martin Luther King Jr.: "If a man is called to be a street sweeper, he should sweep streets even as a Michelangelo painted." I've had to do anything I can to make ends meet to get where I'm at.
As I said, my life now is based in gratitude. I know how I've lived, and I know that given my choices and my lifestyle, I probably shouldn't even be alive right now. I don't look at my business as being in competition with anyone else, and I stay pretty happy that way. I just remember that during some really dark times, hardwood floors were there for me to keep me busy and moving in the right direction.
---
RELATED: How I Started: $37, No Car and No Connections
---