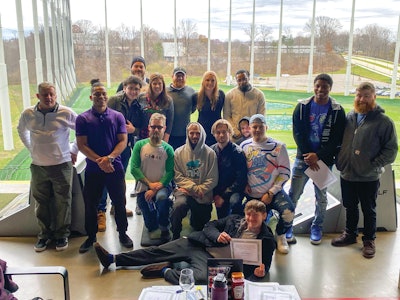 The most difficult aspect of running a hardwood flooring business is, without a doubt, finding good help. Add in a global pandemic, and maintaining existing business can feel impossible. Many wood flooring business owners are stuck in a never-ending hiring cycle: You hire someone with no experience, spend 3–6 months training, and they quit. How can we build a business while also maintaining quality if we can't hold on to workers long-term? As business owners, I'm sure the majority of us do not want to be doing manual labor into retirement age. It's not only our job to train the next generation of flooring masters, but retain them. We need to evolve the industry to appeal to this new generation of workers. What we are doing at our company is different, but it works. Here's how we've found success hiring and keeping a motivated workforce.
We screen for attitude
Our hiring process is a bit more involved than might be typical, but it is effective and necessary. A positive culture in your company starts with new hires. When we receive new applicants, they first go through a scheduled phone interview with our office manager, Erin, who is fantastic at figuring out who has a great attitude or who will not be a good fit. Skill is not important at this phase. Our philosophy is simple: You can train anyone to do any job, but you cannot train someone to have a good attitude. Therefore, we hire based on personality, not skill. Without a positive environment, you will be destined to continue to lose people. One of the most difficult things we do is let highly skilled employees go if they are toxic to the culture of the company. One bad apple could poison the rest, and we could lose great workers by keeping one person with a negative mindset.
They experience it before we invest
Once Erin approves of an applicant, the next step is to schedule an in-person interview with our chief operating officer, Durand. Durand is a different breed: one part mob boss and one part psychiatrist. If he approves, you are hired and thrown to the wolves, otherwise known as foremen. One important aspect of this trade is understanding that no one knows what they are getting into. Patience is key, and some guys have no construction experience whatsoever (we've had guys who had no idea what a tape measure is). They need to begin with on-the-job training for a few weeks before we invest in them further and they figure out if this trade is for them.
We hire people with no experience
This industry is often treated as a "Get rich quick" scheme when it comes to hiring, meaning most business owners hire experienced refinishers and installers without a second thought. It's easier to run a business that way in the short term: You can book more projects and make more money immediately! However, we find many experienced guys come with problems (drugs or alcohol issues, legal troubles or bad work habits) that cause more issues than the extra money is worth. We train you and expect you to complete projects with our processes, so we have found it is better to hire and train someone with no experience. There is an incredible pool of young high school graduates or young parents looking to find a trade they will enjoy and take pride in that also allows them to make a decent living.
---
RELATED: How I Stopped Getting Mad and Got Organized Instead
---
We hold regular training classes
One of the biggest things that sets our company apart is our training, which is led by my husband, Craig Tosland. We have a 200-square-foot test floor and hold monthly (or sometimes biweekly) training. Each new hire goes through two training classes in their first two to three months. The Beginner Sanding class has one day of classroom-style basics of refinishing, then one day each of sanding/staining and coating. Our Beginner Installation class lasts two days, a half day of classroom and the rest hands-on. Each new hire is required to go through this paid training process. We also have Intermediate and Advanced training classes for foremen. Each class has a maximum of two attendees. These training classes are a chance to develop new hires on a more personal level with no deadlines. You could keep training new hires on flooring projects so you don't "lose" money on training, but you can't fully focus on training while also meeting a project deadline. Plus, homeowners never feel great about someone training on their floor.
We prioritize team culture
If you don't work well with others, you will not last. If you require perfection and have the mentality of "My way is the best way," then our company is not for you. To grow, you must be open to change and be constantly evolving your processes. In order to ensure all foremen's ideas or problems are heard and addressed, we have monthly meetings at our home or a local restaurant where foremen can express ideas or concerns to Durand, Craig, and me. This exclusive meeting, where delicious dinner and drinks are always provided, is something our foremen value, and is also something apprentices look forward to as they try to move up to foreman status.
We cultivate a family culture
Our company is our family. If we take care of them, they take care of us. In order to cultivate that culture, it's important that everyone knows they are valued, appreciated, and loved. We really do love our guys! We have an annual summer party at our home, as well as a Christmas party. This year we rented an obstacle course for the summer party and had a few competitions, and we always have prizes (ranging from $25 to $200); each team member receives one. Our most recent Christmas party was hosted and catered at Top Golf. We also do team bonding activities throughout the year, like renting an indoor basketball court or having a bowling competition.
Our goal is for our company to be a well-oiled machine—a business where we have a handbook and a process for every aspect of the business, we have an office team and a management team, and we get organic leads so we don't need to continuously be marketing. None of that would be possible without a training process that produces foremen who are good at what they do, are paid well and love the company they work for. We care about our guys, and they know it.