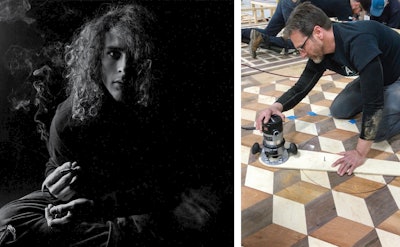 Photo at left courtesy Elizabeth Reade Photography
I started my company back in early 2007. After my long attempt to become a rock star didn't work out, I left the West Coast, where I'd learned how to sand and finish floors, and moved back to Philadelphia. The "plan" (if you could call it that) was to partner up with a high school buddy and start our own hardwood flooring company. The truth was that my partner and I had no equipment, no business education, no clientele and much less experience than we needed to start our own company. Upon returning to Philly, an old friend of mine who owned a hardwood flooring company was willing to let us rent his equipment. One hurdle cleared!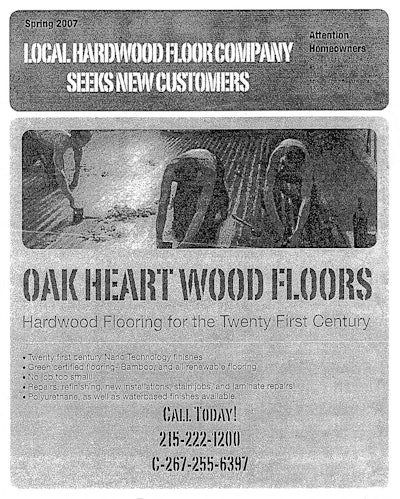 It seemed like the first thing we would need after equipment would be clients. We were nearly starving to death, and, necessity being the mother of invention, we decided to hand out flyers door to door to advertise our fledgling company. We walked river to river, east to west, covering about 12 blocks north to south. If you have ever been to Philly, you know that that is a lot of ground to cover. I think we got one call from all those flyers. That is, until recently!
Fast forward to October 2021. I was checking voicemails at the end of the day, and a potential client had a message saying she would be interested in a quote. When I called her, I asked how she found out about my company. She said her husband had kept a flyer for many years and decided to reach out! I shook my head in disbelief, finished the conversation, sat back in my chair and took a trip down memory lane.
It made me reflect back on those hungry early years. The seemingly endless struggles, trials and errors, countless mishaps and lessons learned (still learning!) and all the growth in the ensuing 14 years. I thought about how I've been lucky in so many ways, and most of all, it made me think of all the guys and gals who took the time to help and mentor me.
Like many (or most?) in this industry, I never set out to be a wood flooring pro. I went to art school in Philadelphia, but playing music was my real passion, and when my band got a record deal in the early '90s, I dropped out of school. We didn't make any money, but we had a lot of fun recording and releasing a couple albums and touring the U.S. and Canada. After we received our third recording contract, the band packed up and moved to Seattle and, shortly thereafter, broke up. At that point, I decided to move to San Francisco to continue to pursue my passion for music. Nothing came of it, and to cover my rent, I quit my low-paying job as a busboy and got a low-paying job at a wood flooring company where a close friend from back east worked. I might have left the job site each day covered in dust, but at least I wasn't covered in leftover food from diners' plates. I suppose I considered it a step in the right direction.
I never thought wood floors would become a lifelong pursuit, but after working for various companies for quite a few years, I decided it was time to start my own business. The cost of living in the Bay Area was very high, so I moved back to Philly to start a company with the same buddy who got me my first hardwood job in the Bay Area. My caveat before moving was: "I'm not moving back to Philly to start a company with you if you're going to bail out and leave after a year." He promised he was in it to win it, so I made a leap of faith and headed back to the East Coast. Of course, after not quite a year, he decided to get out, and I ended up working by myself.
As I said earlier, I had no idea how to run a business or find clients. Fortunately I found a bookkeeper who was able to teach me how to organize my business and stay out of trouble with the IRS. At first I rented equipment, and I paid cash to buy equipment as I could afford it, never going into debt. I was still struggling to drum up work, and then I met a guy who owned a property management company. He wanted the worst work for the cheapest prices, but at that point I was willing to do that because, first, I didn't know what to charge, and, second, I just needed any work I could get my hands on.
After a few years I had some employees, but it was still a struggle finding work to keep the employees busy—if you don't have enough work, they aren't going to stick around. It was very stressful.
Then around 2012 I found some of the wood flooring Facebook groups. They have a lot of unnecessary drama, but there are also a lot of folks willing to help teach you. Through them I found out about a book called "Floormula 6" by Glenn Griffin, and after reading it, I decided to apply some of its principles. First, I realized I needed a website optimized for SEO, and I bit the bullet and spent $8,500 on a friend of a friend who is a website designer and SEO expert. It was the best money I ever spent, and lead generation stopped being an issue.
I also started to educate myself—almost by accident! Back in San Francisco I had done sanding and finishing almost exclusively, and most of the finish was oil-based polyurethane. Shortly after I started my business, I realized I needed to add installation and figured it out in a haphazard manner as I went along. I was fortunate I never had an installation liability issue. After finding the social media groups, I found out about wood flooring schools, and what I learned allowed me to work more efficiently, charge more and feel confident in doing so. I also reached out to people I met through the groups who were exceptionally generous with their time.
Fast-forward to 2022. Today I can, for the most part, cherry-pick my jobs, and I'm booked six months out. But without the help, education and mentorship I received in our industry, I might still be handing out flyers door-to-door. I hope when my fellow pros see someone reaching out for advice, they take the time to lend that helping hand!
And to wrap up this long-winded and perhaps mildly corny story, I reached back out to the client who called after saving my flyer to see if they still had it. They did! When I went to pick it up, she asked for an estimate again. I just sent it over. We shall see if she decides to have us do the work!