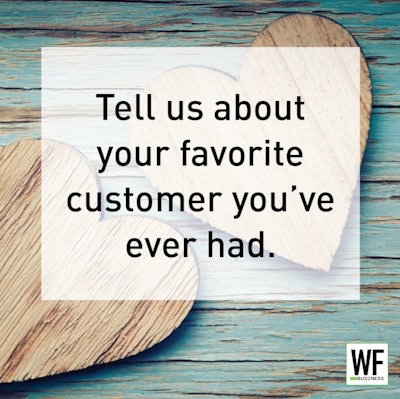 WFB asked wood floor pros on Facebook to tell us about their favorite customer they've ever had. Here's what they said:
Rob Johnson
Sweet little old Italian lady, Mrs. Santostefano. She made us breakfast and Italian lunch every day of the job; Pete and I never wanted to leave. At job's end I spent four hours in the kitchen with her learning how to make sauce, "Sunday Gravy." I have been making it her way for the past 24 years.
David Friedland
We refinished a lot of Microsoft retail stores. They said to help ourselves to the break room full of drinks and food, and sometimes catering. They flew us in for grand openings to be on standby if something happened to the wood floors. They always had a big concert during a grand opening, and we met Kelly Clarkson and some other artists. We felt like we won the floor lottery having Microsoft as our main client.
isandnewyork
The Old Vegan Hippie Lady … great food and great vibes.
Jeff Maston
A customer introduced me to my wife. That's my favorite customer.
Shawn Myers
The one who's on vacation while you're doing their floor. Knowing when they get back and still hearing nothing from them complaint-wise. That's my favorite. 😍
godwinflooring
Eddie Brigati from the Rascals—did his floor and has become one of my best friends today. 🔥
Wesley Elliott
Cookie Lady! Had me do a floor every year. Gave me fresh, warm cookies every time … My kids would get excited when I had a Cookie Lady job!
soulbrotha09
The customer that was eager to get her floors done, so she removed the carpet and tack strip for us over the weekend. AND moved the furniture and clothes out of the closets! 👏👏
Dave Marzalek
Dudley Moore, after filming Arther 2, comes back from filming and hates the color his girlfriend picked. He had me and my brother rescrape it (this was 1983).
Troy Stanfield
We've had a number of memorable clients for all different reasons. One most enjoyable was installing a wide plank engineered oak floor in a winery. This area was to become their event space for weddings, etc. The project was started pre-COVID but was a big project and was pushing well into the COVID periods of isolation, uncertainty and restriction after restriction. Bridezilla was scheduled to be the first event after completion but none of us were sure we would meet the deadline. Well, we made it, right on the hammer with a couple of days to spare. The winery manager was such a pleasure to work with and for and kept a light-hearted approach to the site, which kept everyone's spirits up and genuinely appreciated everyone's hard work, dedication and attention to detail. We've continued to maintain a business relationship since and now we are preparing to upgrade their cellar door. I started the conversation over a meal and a glass of their finest with the words, "Wouldn't it be cool if…?" I'm now committed to providing a sample of an inlaid logo design in their entry. My first! Very cool to be allowed to steer them in this direction!
Donnansteve Ray
The guy who met me at the door, with cash in hand, the first day we showed up for work!
acustomfloors
We've had some gift certificates, big screen TVs, and some stuff still in good condition cause they bought new stuff to contrast with the floors finished. Most important and valuable are the FRIENDSHIPS that last for a lifetime and generations to come.