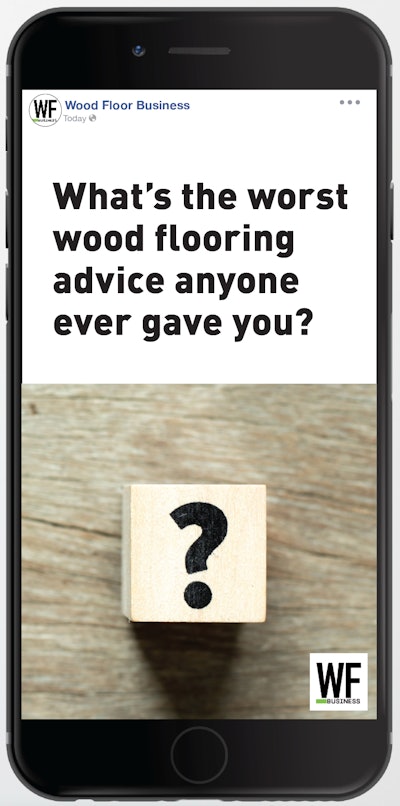 Here are our favorite responses shared by our readers on the WFB Facebook and Instagram pages.
---
Adrian Molitor "Walk in your finish when you are backing out on a coat with a T-bar."
---
Jeremy Summerford "It will look good when you put the third coat on."
---
solidhardwoodflooring "Don't start a business in 2012 because we are in a recession." Look who is laughing now!
---
Ed Sheridan "The customer will never see it."
---
Scott J Walker "Hurry up!"
---
Dana DeVoe Jr. "You don't need to acclimate" or "Wood is grown with water … it's waterproof."
---
Wesley Goetz "We can do that later."
---
Kyle Thompson "Just putty it."
---
Bill Powell III Old bosses before I went on my own: "If you wear earplugs, you can't hear how the machine is sanding."
---
Marco De La Peza "Put the power cord around your neck."
---
youngbrothershw "Trainings are pointless, don't do them." That has to be the worst advice ever.
---
Tung Huynh "You only have to acclimate for two days."
---
plankd_flooring "It's only a small area, shouldn't take that long."
---
Tung Huynh "You only have to acclimate for two days."
---
Javier Cardenas "Stay away from the custom design work. Not enough money in it."
---
meekskd "The customer is always right."
---
Jay Quinene "Putty is your buddy!" "Satin will hide that!" "Just don't look at it too long!" "Don't worry, they're putting a couch there!" "One thick coat will be fine!"
---
mrboards "A thick coat will make any sanding look good."
---
Danny Stenhouse "Lacquer for dough, oil for show."
---
Dustin Scott "Just sweep it twice and coat it."
---
Boyd Fuller "That will buff out!!" Hahaha!
---
James and the Giant Floor Sander Co. Before I started my business, they used to say, "Thin to win"—thin coats to save money.
---
Chuck Kutchera "If you skip nail, you'll increase your average." Or, "It doesn't matter what trowel size you use— smaller makes the adhesive last longer."
---
Jim Hyde "Just pour that old poly and mineral spirits into the gutter."
---
RELATED: Talk Back: Some Of You Have Never ______ And It Shows
---