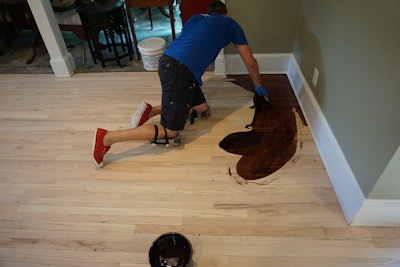 I'm very fortunate in that in almost 50 years of owning my own wood flooring business, I've never had to sue, been sued, placed a lien or taken any legal action related to my work. The first 10 years or so, I coasted along using a written estimate and a handshake to solidify the agreement to work for someone. This kept up until a close call made me pull back and rethink my legal exposure.
The close call was a disagreement between a husband and wife and her selection of a stain for the work on their house. Evidently the husband had deferred to the wife to make the decision until he saw it and didn't like it. As their discussion started to escalate, I withdrew to let them settle things. I was eventually paid, but it was obvious I was at risk of losing a paycheck over someone else's disagreement, and I needed to step back and rethink my approach.
I did not want to complicate a budding business agreement with legalese that had you guessing who the party of the first part was and used too many "henceforths." I wanted something simple, no more than one page, and to the point. It had to clarify what it would take to expedite the work to the satisfaction of all parties. It would accompany my written estimate. It had to be flexible yet unambiguous, allowing for changes when necessary.
Out of this evolved my Conditions of Agreement (CoA). Since some of my best friends are attorneys, I traded a few glasses of wine for them to read and review the document, and none of them saw any weak links. I've used the document for 40 years with only a few changes, and it has served me well.
Owning my own business has been beyond enjoyable. With my compromised personality and warped sense of humor, I learned long ago that I would have never survived if an office environment. I was confident in my abilities and loved going into clients' homes to help them solve their wood floor challenges. The CoA was a tremendous boost, as it spelled out—in simple language—the critical points of their project and did not leave things hanging or have them second-guessing. I used my background and experience to help them anticipate what I knew could be stumbling blocks and provide a way to navigate around them. I'm including my own CoA below for you to review and peruse. If you see some idea there you think would help you in your business, grab it and go for it!
My Conditions of Agreement file:
Conditions of Agreement
For the purposes of this document, Agent is the homeowner or their appointed representative and Rosebud will represent The Rosebud Co.
Rosebud will start and complete its work in a workmanlike and professional manner. All work will be completed within the time frame indicated in the original estimate. The Agent understands that change orders often result in additional time. Work areas will be kept clean, tools and equipment stored and a safe work environment maintained. All trash generated will be collected in plastic bags and put on the curb for normal county or city collection. Samples of stains and finishes will be prepared in a timely manner for inspection and approval by the Agent.
The estimate is good for six months. Any revisions or work order changes (with their specific or estimated cost) will be made in writing to the original estimate and initialed by the Agent and Rosebud. Unless otherwise stated in writing, all prices are based upon the work being started and completed in one uninterrupted phase. Prior to work beginning, all areas need to be totally cleared of owner's possessions and/or building materials. All carpet will need to be removed along with carpet padding, tack strips and staples. If assistance is needed in preparing the work areas, Rosebud will provide references for workers to help assist the homeowner. The payment of these workers is not included in any pricing information contained in our proposal. Agent will advise Rosebud of any restrictions (i.e. parking, access to the work site, work hours) that would impede the progress of the work. Agent will coordinate all other work and/or inspections to avoid conflicts and possible delays. Agent will provide adequate and dedicated power supply to perform the work, operational HVAC systems to meet product and materials requirements, a functioning toilet and access to the project. Agent will provide a locked and secured job site for protection of equipment, materials and supplies of Rosebud Co. Progress payments will be made every five working days based upon the percentage of work completed.
Agent and/or homeowners are encouraged to contact and visit the references provided to evaluate the quality of the work and materials being provided. Rosebud and Agent will make every effort to provide maximum cooperation between all parties for the successful completion of the work as stated in the estimate.
I understand and accept these conditions:
_________________________ __________
Owner or agent Date
Rosebud Co.
2097 East Lake Rd.
Atlanta, Ga. 30307
© Rosebud Co. 2023