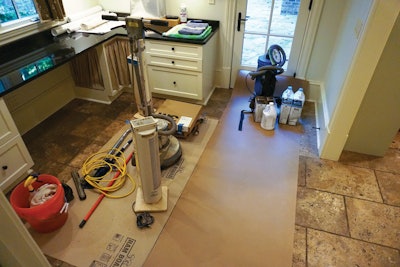 My dad used to tell me and my brothers to "treat the property as if it's your own," and he was right. Aside from keeping your job site more organized and protecting other surfaces, being considerate of the home will impress homeowners. There is no downside to showing you have concerns for your client's property, and it shows up in the testimonials we receive. Here are some things I do on every job to protect the customer's home:
I make walk-off mats: Protective Products Inc. makes a product called Dura Runner Plus that I'm quite fond of. It's an absorbent fabric with a waterproof backing. One 32-inch-by-50-foot roll will set you back about $150; I cut them up into 5- to 7-foot walk-off mats. I put them at critical entrances and high-traffic areas inside to protect other flooring material. We don't track dirt inside or dust into other rooms, and I have great protection as I back out of a room after buffing stains or hardening oils on the floor. When the job is over, I vacuum my walk-off mats, roll them up and take them to the next job. I've got runners I've been using for years that have been on dozens of job sites.
I use Ram Board as protection: I do something similar with Ram Board. I cut off 5- to 6-foot lengths and carefully fold them in the middle to double the thickness. I use masking tape around the edges, and I now have double the protection. I can put buckets of stain, dirty rags, applicators or any other objects that could damage a tile or carpeted floor on the doubled-up Ram Board. They store easily in my truck and go from job to job.
My utility cart holds everything: My utility cart is where I put my toolbox, finish, stains, small hand tools and cords in one location. It has wheels, so I can roll it when I need to. If you want something, it's usually on the cart, so you don't have to wander all over the place. We can put our coffee or soft drinks on it instead of on a mantel, counter or stair tread where you can kick it over or leave a ring. I added a shelf to the cart so I have three levels to use.
I use booties: I was reluctant to use the booties on my shoes until I started buffing in stains and hardening oils. They allow me to walk on the stain or oil without leaving shoe marks, but more importantly, I can back out onto the Dura Runner or Ram Board pads, take the booties off and clean my shoes on the protective products without tracking stuff onto another surface. They also protect my shoes.
---
RELATED: Why We're Never the Last Contractor on the Job Anymore
---