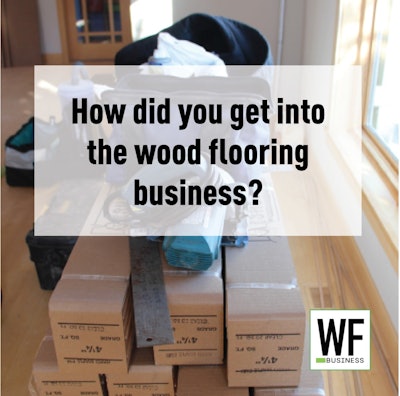 WFB asked followers on Facebook and Instagram how they got into the wood flooring business. Here's what they said:
woodfloorman
I got a life sentence at 8 years old. Still servin' time.
mariothehardwoodfloorman
Grew up around hardwood flooring. When it came time to start working, my big brother did it, so when it came time for me to start working, I did it. Wouldn't change a thing. I love what I do. Not many people can say that. PS: Where I grew up, how long your family had been in hardwood flooring was how cool you were. Still is!! Lol 😂
gunnhild110
Got sober from heavy drinking for a decade. Got a job offer after rehab pulling up carpet. I didn't even know what tack strips were. Seven years later and never looked back. Best decision ever.
plankd_flooring
My brother-in-law owns a flooring shop. Primarily carpet but they had branched into floating floors some time back. I had not long left an executive job in a hospital around 2012 from stress of the demands of the job and the political environment surrounding the hospital at the time. I handed in my resignation letter to the two professors who ran my department and said I was jumping back on the tools. Maybe 10-12 years earlier I had been an antique furniture restorer and maker. They said I was mad as there was no market in our area for antiques and trade work in general was on the back foot of a downturn in trade work following the GFC. I said if I fail, it's because I wasn't trying hard enough to succeed. I decided to take up my brother-in-law's offer to observe two guys he had working for him laying an engineered timber floor. I wasn't allowed to help them, just observe. The next day he asked me what I thought of their work. I scrutinized their shoddy workmanship and said a monkey could lay floors better than them. He hired me the next day and let them go. And so it was, floating floors started me on the journey to where I am today.
glendorahardwoodflooring
I needed a job. A floor guy hired me. I liked the hard work. I still do. 😊
robjohnson9663
Forced child labor.
cashpyle_loba_wakol
You've merely adopted the wood floors… I was born in it. 😂
ovi_treadline_hardwood
Yale and Harvard did reach out to me and beg me to attend their institutions of lower learning. Clearly being a man of sophistication, I opted for better.
david.shafer512
Family, and I see it's a common tragedy.
beaver_hardwood
My neighbor was a carpet layer.
cottonwoodfinishesllc
I worked my ass off working graveyard and swing while going to college for a liberal arts degree.
danny_sandhouse
YouTube videos … I did my own floors DIY and thought, I know, I think I will do this for a living!
christieshardwoodflooring
We came out of the womb with nailer in hand.
durasealdave
Homeless and unemployed and what a difference it made in my life.
onestopfloorsanding.co.uk
Sanded my first floor in 1988 after I qualified as a joiner and went to work for a Victorian interior company doing every aspect of period joinery and fittings. Fell back into it by accident 20 years later after doing every aspect of woodwork, joinery and construction. Now over 35 years playing with wood.
ewfreeland0815
Necessity and luck—or bad luck, lol.
nexconceptdesign
"Time to go vac, son." I spent a whole summer vacuuming and coating 360 units.
roxanac202
In 2005 after three years with the same hourly pay, my husband asked for a raise and was denied; so he quit. A year later he decided to start his own business. Eighteen years strong now.
devriendtmichael
A former teacher at high school had his own flooring company. So after school I applied for a job at his company. Twenty-one years later I'm still in the flooring business with my own company.
alvarado.floors
Been doing this with my grandpa and pops since I was 5 years old. I'm 22 now, took over the business and I'm starting to do commercial work!
b_joy_2
My choice was either continue working a cushy, soul-sucking office job with a salary and morally-corrupt leadership away from my family, or put in the sweat equity and learn to flatten floors from my boyfriend so we would have independence, flexibility and time to get our lives going the same direction. Well, we just had our first wedding anniversary and are a 2 person flooring company that has fixed, flattened and revived many floors in NW Illinois. 🙌💪💒⚒️
evanorden1
Summer after finishing high school. Got a call from a family friend… asked if I had a hammer… told me I was hired! Set nails all day on an old plank floor… The rest is history.
zayy_swervo
I did bad in college and my dad started a company, so I did that. Now I've been doing it for 4 years. 💯
frankdelligatti
My building trades teacher in high school gave me the name of a hardwood floor company that was hiring, and I've been doing hardwood floors since I graduated high school in 1984.
Glenn Harris
Struggling with bad grades in high school wasn't fun, I quit high school after they told me I'd have to take the 11th grade again. Saw myself going nowhere fast working at a car rental company, and knew I needed to get into some kind of trade. My friend's neighbor was a Norwegian father and son flooring company, and wanted extra hands. Started with them in 1989 at 19 years old, hand-scraping under radiators and vacuuming. Worked my way from that to the edger, then the big machine, then they closed the business when the father retired in 1996 and I bought all the machines.
Ron Teljeur
Started with my dad and uncle at 13 (1977) in the summers in our family business. Went to UBC, got a degree and still ended up back in this...
Gregory Dozorec
I helped my uncle one summer in high school, said there was no way I was doing this as a career!! About a year after graduating high school, I went to help him for two weeks to make some extra cash. Two weeks has turned into 29 years, and I'm the 3rd generation running a family business that has been around for 75ish years.
Bill Bagley
A neighbor left town after I gave him $200 to fix my car. Three years later I run into him three states away in a 7-11. He had my cash, plus offered me a part time job helping him with floors. I was working nights in food and bev, so I said sure. More money. That was 1997. God bless America. Lol.
Matthew Shumway
I was supposed to help for two or three days of labor. That was in '98. 😃🤣😭
Dennis Cudd
Our dad started his flooring business in '53. He was 23. All five of us kids worked for him, but William Cudd and I put in the most time (sounds like prison hehehe). We all started working summers before 12 or 13 years old. He retired in April of '89. I started Floors by Dennis April of '90. My brother William worked with me for 32 years. He now works for Derr Flooring, and I'm trying to make it to 2020-something? I've learned a lot in 46 years, but still learning everyday. It's been a good ride. . .so far.
Chris Allred
Forced. Lol. Family tradition. Third-gen. Parts of my family are four-gen.
Jerry Curran
Born into it.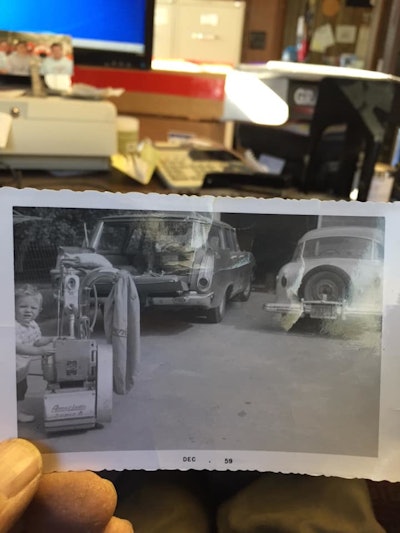 T.J. Haas
We used to go visit my father on road trips when we were kids and help out. When I was about 10 I failed math and my "punishment" was to "work a summer." About 25 summers later and I'm still being punished.
Justin Steiner
I was taking classes for engineering. Guy in my class offered me to work with him and his boss for extra money. Next thing you know, I'm a wood floor guy.
Wayne Lee
Started working at American Sanders in March of '85, been a great ride.
Jeremy Summerford
When I was 14 I wanted to get a car. The neighbor down the street had a car for sale and a wood floor business. He let me work in the summers to earn the car.
Chris Flournoy
Got tired of doing carpet and tile. I bought an $800 Craigslist set up and took on a 2,500 sqft hickory site finish job for my favorite builder. Six years of site finish now.
Lorie Davidson
A buddy's grandfather would leave the house unlocked so we could have a place to crash after all-night shenanigans—the only catch was if you stayed the night you went to work the next day. That was 1988.
Kathy Freeman
My father gave me a choice … Either help mom cook and clean the house or I had to go to work with him. I was 9 years old and chose him. Funny, right, because after sanding to put the finish down, I have to clean the house … 😅😆🤣😂
Kurt Gordon
My dad said, "If you don't want to go to college, then I suggest you learn a trade!" Started in 1985 when I was 19, learned how to install carpet and hardwood been in the business 38 years in hardwood sales now.
Bradley Kidder
Started 2006 doing gyms/stages/dance floors and racquetball courts with Trident Surfacing. Opened up Precision Wood Floors in 2012.
Angel Olalde
My brother-in-law offered me the opportunity to get out of the slaughterhouse I was working in. I never looked back. Dustin Rhodes, thank you. 🙏🏽
Benny Powell
Wanted to build houses, but found out I'm short and afraid of heights, so flooring made more sense. Worked as a carpet cleaner, then installer for years, discovered hardwood pays much better and is easier!! It was a no-brainer!!
Alex Westendorf
Got expelled from school when I was 13 and my father said "this isn't a vacation" and made me go to work with him—27 years later still doing it and dad retired last year. I thank him for teaching me this trade.
Randy Allen
Pulpwooding while in high school with my uncle. After high school in '92 moved away and was working in remodeling, then this girl moved in next door. Her family was in the hardwood flooring business. The girl and I started dating (have been married now 29 years) and I started working with her uncle until '98. In 2000 I started my own company while working a third-shift job trying to better myself. Twenty-three years later I'm still at it.
Kristopher Jeter
Someone said, "Hey man check this out man we can easily make 200k/year." "Alright, sign me up."
Doug LeClair
I was flipping pancakes at a local restaurant. A real dead-end job. When a friend of mine that had lived nearby, but was living out in L.A. asked if I'd move and work for his family. I loaded up the car and off I went.
Terry Brown
I was hungry.
Michael Schuetz
Followed my dad who followed his dad who bought his brother's business. Guess it's in my blood.
Mark Herakovic
My friend answered an ad in the newspaper. Next thing I know I'm traveling the country refinishing bowling centers.
Bruce McRae
Completely by accident. I was told there was a company looking for anyone with half a brain, so I showed up and asked if they paid double for a whole brain!!! And here I am 30+ years later...
DM Hardwood Designs
I tripped into it.
Bradford Lawson
I had two friends working for a flooring company in the city I wanted to move to, and they got me a job there racking floors and scraping corners. They both quit within a month and I stayed there for 12 years. Started my own business in 2016 and haven't looked back since.
Shawn Myers
The year was '97, I was 13 years old asked my mom for money, dad says I got some money for you—24 years later still at it. 🤷‍♂️
Connecticut Wood Floors, LLC
Answered a help wanted ad and quit three days later. Then got hired two years later doing the same thing. That lasted six months And finally after getting married two years later out of Necessity started my own wood floor company.
Dorian O'Leary
Was building decks in the winter, needed an inside job.
Travis Morse
I got sick of the industry I was working in. Took a shot with a gym sanding position and my first day I was instantly hooked when I saw a blank gym and this crazy contraption they called a "rider."
Steven Triplett Jr.
Followed my dad and uncles … and then the $! 😆
Blue Mist Home
I joined my husband in his paint business, decided to get my design business certification and from there we opened up our paint and flooring retail shop. I have helped lay flooring as well as help clients choose the colors and styles they love. I actually love that we work together. We both bring unique skills to our customers and we have gone further and now teach Installation.
Wood Floor Chuck
Having a kid on the way at 15 was enough for my best friend's dad to give me a trade to fall back on … he was a second-generation floor man … he knew I needed direction in life and gave me the skills to handle the choices I made … I'm beyond grateful to have had David Lorsung Sr. teach me as he did his own boys, my brothers in so many ways: Jeremy and David Lorsung.
Jay Quinene
My WIFE told me to do it! 🤣🤣 She never steers me in the wrong direction. Seven years strong as business owners and operators.
Tom Michael Ourada
Family.
Craig Charleston
Needed beer money, Danny was hiring.