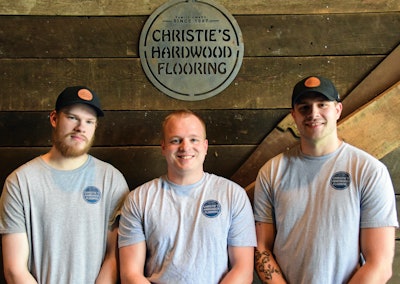 People always ask me and my brothers, Zach and Jason, how we manage to run a business together. As three brothers who are in their 20s and all owners of the company, we know we're definitely not the norm for a wood flooring contracting company. Although we all grew up in the industry, none of us had a goal of becoming a wood floor pro. But like so many other people, we all ended up in the family business, and as we did, we discovered a passion for it—even as we struggled to modernize it and then went through a huge, unexpected change in our lives.
Growing up, doing wood flooring wasn't something we looked at as a career; we were just helping dad to get McDonald's for lunch or, as were high school age, spending money. We ripped up carpet or carried tools for him, and as kids, we hated it; I remember thinking, "Why would you want to do this as a job?"
My dad had always been in business with his dad, doing general construction and then specializing in wood flooring, and he always told us how much he loved working with his dad. Wood flooring was his passion, but he never pushed us to do it—he told us that wood flooring was what he loved, and we needed to find what we loved.
Log in to view the full article