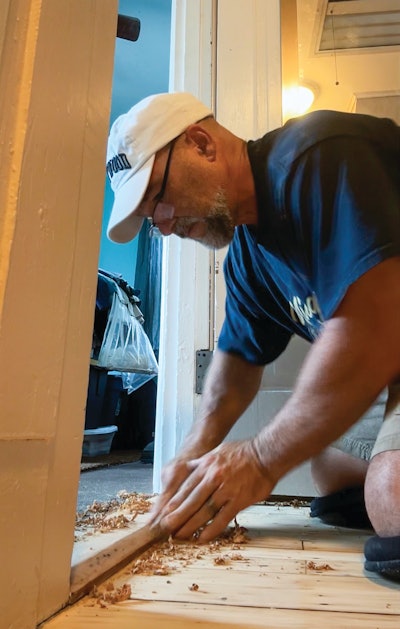 When I went out on my own at age 39, I had worked for three companies over the previous 10 years, gaining valuable experience in floor sanding, coating and installation. In my most recent job, it was just me and the owner, who had a great reputation, but I did all of the edging, scraping, stair treads, cutting in and nailing. I learned so much working with him, but my body was getting burned out. When a high school friend was selling a used Hummel and edger, I bought them (I still have the Hummel) and began doing side work on weekends.
After two years of doing my full time job plus my side jobs on the weekends, the phone started to ring enough that I gave my notice and started my own company—and I haven't looked back in 25 years. I'm a Christian, and I took faith in Romans 8:28, which says, "All things work together for good, to those who love God, to those who are called according to His purpose."
Working on my own, at first I thought of doing the drumming and buffing and applying poly as rest for my body! Today, 24 years later and at age 61, I am still a one-man band, so to speak, but I realized over the years that it would take a lot more than buffing and applying finish to keep me going in this job, both physically and mentally. Here are some things I've learned being in business by myself.
Be smart about sanding equipment
As I mentioned, before I started my own company, I started doing side jobs on the weekends. I had a two-door blue Buick Skylark, my used Hummel, an old-model Clarke edger and a buffer I bought used from a rental company, and a shop vac. I packed that Buick on a Friday night after work with the chassis of the Hummel in the passenger seat, the motor and edger in the trunk, and the buffer in the back seat. It must have looked pretty funny; I wish I had pictures, but this was before cell phones were popular!
---
RELATED: Keep Your Wood Flooring Body Working Well
---
Back then I was picking up all my equipment all the time. I was a gym rat—I used to bodybuild—so it was no big deal. But wood flooring equipment is heavy. Even the buffer is awful to carry; it's very awkward. My wife said, "You're either going to have to quit or find something different"—because carrying the equipment was killing me. By my mid-40s I was dealing with a lot of aches and pains, and things had to change. I bought a Sprinter van with a wheelchair ramp, and I adapted a welding cart with big wheels that I use to roll all my equipment in and out of jobs, including up and down stairs, and that made all the difference in the world.
Another thing I did that made a huge difference is that around 2005 I started using an edger dolly. I've had it for so long and used it so much that I'm on my third set of wheels (I wore out the bearings on the first two sets).
I had to cut back on installing
I love installing, but it doesn't love me anymore. When I hit 55, I started to cut back on installing. That killed me, because I love getting into a groove when I'm installing; it's almost an aerobic exercise for me when you're really moving with a nail gun. But it's very hard work. These days, I say installing is for young people, and I'm kind of long in the tooth for it. Today I pick my spots, so I'll usually tell people they have to find somebody else to install, and usually they do still hire me to sand and finish because they love what I do. When I do take install jobs, I just can't recover like I used to.
Protect your own time
When you're a one-man gang, you can only do so much work, but all the pressure is on you to have money coming in. When you aren't working on a job, you aren't making money. But you have to learn how to say no when you already have two months of work out ahead of you and someone calls who desperately needs their job done one month from now. I used to constantly try to squeeze people into my schedule, but I've learned that most of the time, if you have a good reputation, they will accommodate a later date.
---
RELATED: Avoid The Trap Of Getting Bigger Without Making More Money
---
I also learned that I had to circle several long weekends and a few weeks on my calendar for my own time off, or that time off would never happen. Not surprisingly, it was my wife who made me realize this. She would suggest that we should go here or there for a few days or take a trip, and I never could because I was so busy making everybody else's schedules work. Now my time off is on my schedule months ahead of time, and we regularly go on long weekends to New Hampshire or Maine, and we go on longer trips to Florida. Working alone is very hard on your body, and you need to take the appropriate time off. It's refreshing, and you work better when you get back because you aren't so burned out, mentally and physically.
Working less
At one point I was coming home so exhausted, and I was wondering, "Why am I so tired? It must be that I'm getting old." But then I got a pedometer, and it showed that in one day on a sanding job I walked 7 miles just in that person's house! And not only was I walking, most of the time I was also drawing a drum machine back and forth—so no wonder I was tired. Now, at this point, my wife tells me that if I want to stay in the business, I have to learn how to do less work. Although I love to work, I know she's right.
Something that makes working less sound realistic is that I'm making more money than I've ever made before; even though I've been kicking up my price every year, I'm busier than ever. That all depends on building a great reputation. Doing quality wood floor work is a craft, and just like some people will pay for a star quarterback, they're going to pay for a star floor refinisher. It can take a long time to get there, but it all starts with doing what my mom always told me: Answer your phone and call people back. If you do that, show up when you say you will, do the job properly and get the job done when you say you will, you'll go a long way toward building that reputation.
Not long ago while my wife and I were on vacation in San Diego, we saw a one-man band—he played all the instruments himself using his hands and his feet. I thought that it was kind of funny, because I feel like I'm the wood flooring version of that guy. Working alone can get overwhelming if you let it, but if you're smart about managing your time, your health and your reputation, it can be a great way to make a living.
I wouldn't have been able to accomplish all of this without God's grace and faithfulness; he's been my rock through it all: "I can do all things through Christ who strengthens me." — Philippians 4:13.
---
RELATED: Why I Love Running a Single-Person Wood Flooring Business
---