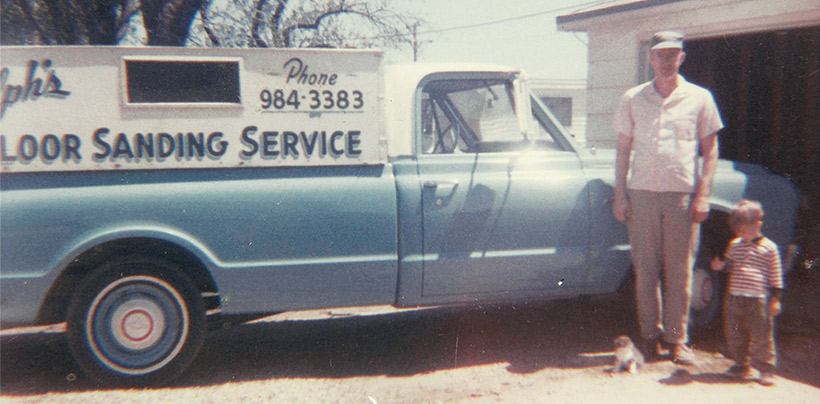 I got an early start in the wood flooring business: This is me and my dad, Ralph, circa 1968.
When I was in my 20s, my dad called me up one day. He was 59, and he said "I'm out—I don't want to do it anymore." He was talking about the family wood flooring contracting business. A short time later, I quit my career as a computer programmer to take over the company, Ralph's Hardwood Floor Company, where I had worked growing up.
Before jumping straight in, I wrote a business plan with all the things I wanted to accomplish. I had grown up installing, sanding and finishing wood floors and had gone to college for both business and computer programming. With my business degree in hand and my knowledge of the hardwood floor business, I was ready to tackle the world. I even commented to a few people, "Give me a few months and I'll have the business clicking."
It didn't take long for me realize how naïve I was. Although I was familiar with wood floors and dad would talk about the business each night, being in charge is different. One thing that overwhelmed me right away was being a supervisor. I was well aware of dealing with customers, but I had never had to worry about employees—trying to handle some of those issues was challenging. I had also underestimated the amount of demand for the wood floor services that Ralph's provided. After a few years of running the business, someone approached me about getting help from a business consultant. I admitted that I needed help.
The biggest improvement that came out of the resulting consulting experience was realizing I couldn't do it all. I was trying to be Superman: the part-time sales guy, part-time customer service person and the part-time production manager … it was too much. After the consultant, responsibilities were divided so we would have an outside sales person, a service manager and production manager. I would continue in the role of business management. At that point things were able to flow better in the organization. Installers would be able to ask the production manager questions so jobs would get done on time. Prospects were happy, as we were able to schedule appointments with a salesperson. Most importantly, a mad or disappointed customer would have an appointment set with the customer service manager—no waiting for someone to call them back. Many of these same systems are in place today from that change 20 years ago. Now, we have teams that help customers in all facets of our business.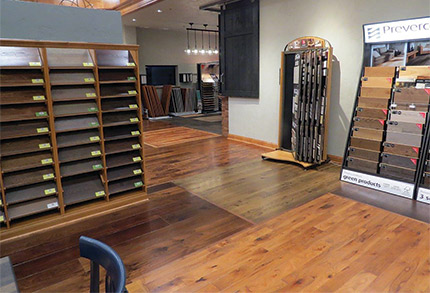 We just did a major renovation on our showroom to update it and stay relevant for today's trends. We're in the middle of nowhere, so it's important that customers feel coming to our showroom is worth the trip.
Another critical point when we brought help into the business was eight years ago when we hired a marketing company that improved our internet marketing. Our current digital marketing plan has a funnel concept—we try to capture the attention of people who are thinking about wood flooring and then keep in touch with them as they get closer to a decision. Our website has a digital idea booklet customers can download to look through professional photos of our jobs and get inspiration for their own homes. Once they download the idea book, they are automatically enrolled in a "drip campaign" behind the scenes where periodically they receive emails with useful information from us. For example, a few days after they download it, they receive an email that explains how working with us will solve their flooring needs. Then, a couple weeks later they get another email with more helpful information. Along with the automated email, we also publish an e-letter. We write letters that may involve holiday themes and hardwood floors or fun stories about our past.
For any email campaign, we try to put something interesting in the subject line. The marketing experts helped keep us focused on what the customers would be interested in. When we were first talking about topics, my analytical mind was going to things like Janka testing, but the marketing pros convinced me to show pretty pictures and not be so serious. People are getting all kinds of emails every day, and they want to read something pertinent, interesting and funny. I would estimate our campaigns have generated about $1.5 million in revenue over the last five years.
Most recently, we brought in outside help to grow our business. I think every company gets to a certain plateau where you examine: Are we going to get to the next level or are we satisfied with where we are? We have a lot of great employees—we have 35 now—and we know it is a challenge to stay the same size and keep giving them the pay increases they deserve. We decided we needed to get bigger, but to do that we needed the right culture.
We started by having the consultants meet with our management team, and we began studying a book called "Change the Way You See Everything" by Hank Wasiak and Kathryn Cramer. In the flooring business, it's easy to see things in a negative light because you are dealing with so many problems; some days you feel defeated. It was nice to have somebody come in from the outside and say, "You have a good company and good employees who have worked here for a long time."
We began to see ourselves differently. From the management group, we branched out and got the whole company involved. Today, it's really a different work environment. Our production guys show up with a smile on their faces and are handling challenges that come up during the day. Our sales staff are saying, "Well, we lost that sale, but we got this one." We are celebrating some of the big victories and pointing out if we get an email from a customer praising an installer, for example. You start sharing those things with the entire organization, and it becomes a culture shift. It's fun to see it trickle down—not just at work, but now I'm starting to see a change with my family at home, too.
Some days, I go back and read that business plan I wrote 25 years ago. Reading it now gives me a chuckle as I think, "Oh yeah, I thought that was going to happen." Turns out that I grew up in the business but I didn't understand the business. In the decades since that moment, I've found that bringing in outside expertise has been vital to our company and our success. I think it's always good, no matter what size of an organization you have, to use some outside influence in your business. Finding outside experts has been crucial to helping our business improve and grow—otherwise we'd be relying on what I learned in college 30-some years ago. Today's world is changing, so finding other people who can help your business stay relevant can be key to your future.