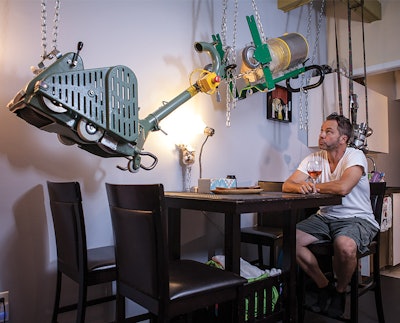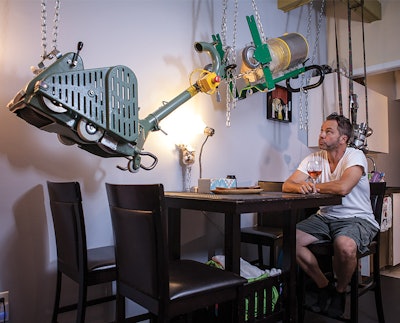 The majority of wood flooring professionals have never faced a hurricane. They couldn't possibly understand the feeling of dread as a tropical storm approaches. They can't imagine the sound of 180 m.p.h. wind or what it takes to rebuild after the clouds dissipate. But wood floor pros who make their livelihoods in hurricane zones know.
Wood Floor Business spoke with five pros, two in Houston and three in Florida, to hear how they prepared for, rode out and rebuilt after this fall's deadly hurricanes Harvey and Irma.
Editor's Note: Puerto Rico was still recovering from Hurricane Maria when WFB tried to contact contractors there. Are you a Puerto Rican contractor? Email us at [email protected].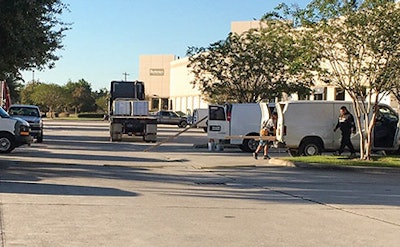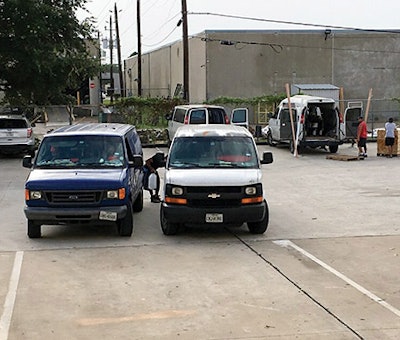 Horizon Forest Products — Houston
From the minute Horizon Forest Products reopened its Houston distribution center on Aug. 24, a week after Hurricane Harvey made landfall and devastated the area, the distributor's phones have not stopped ringing.
The orders during the first couple of days were from contractors trying to build up their inventory fast. Branch Manager Alan Blake says they were getting calls for 5,000 square feet of No. 1 red oak from contractors who had already given estimates on 5–7 jobs.
"Seldom were people calling in for 400 feet, 500 feet; it was massive amounts," Blake says. "It was, 'How much select quartered do you have?' It was that kind of call."
The Monday after the branch opened, it had a constant flow of six to eight installer trucks arriving to pick up materials. With only three usable dock doors, that meant taking forklifts down the ramp into the parking lot to serve the customers who couldn't get a spot, all while people were walking inside and waiting at the counter.
Stories—both devastating and hopeful—were shared, Blake says. One installer's equipment was destroyed after he woke up to find 5 feet of water in his storage facility. The equipment was brand new—replacements after he was burglarized six weeks before Harvey hit. Others told about people in their neighborhoods coming together to help each other out. One of Horizon's employees, Gerson Pereira, rescued stranded Houstonians on his Jet Ski.
Horizon kept the doors open an extra hour that first week. Blake told his staff at the end of the day Friday to go home and get some rest over the weekend, because they hadn't reached the tip of the iceberg yet.
The blitz continued. While calls from contractors ordering large quantities became fewer and fewer, they were replaced with orders for smaller repair jobs for insurance companies, who Blake says try not to replace whole floors. It's no easy task matching new material to old, especially for so many customers at once.
"I get all these questions about finding wood that looks like this, and it's stuff you're never going to find," Blake says. "Old parquet patterns. Old prefinished stuff. Old Bruce. Old Anderson. Old Harris-Tarkett."
The callers are asking for small quantities—200 square feet, for example—and while Blake always tries to accommodate them, sometimes he has to be frank and let them know he's just not going to find what they need.
The whole wood flooring ecosystem in Houston is moving double-time these days, Blake says. "It's just busy. I'm sure my competitors are feeling the same 'gift' from Harvey, but it's not how anyone likes doing business."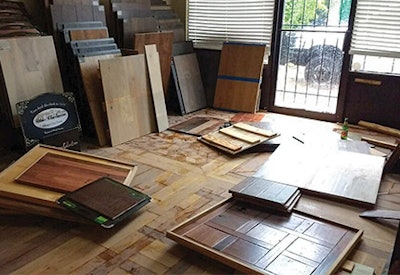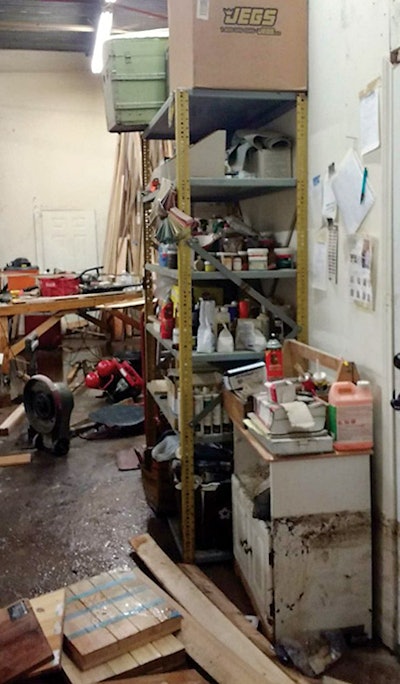 Houston Custom Floors — Houston
The dumpster outside of Houston Custom Floors following Hurricane Harvey was full of swollen wood flooring samples.
Owner Crystal Caraway estimates they had to throw away more than a couple hundred thousand dollars in wood flooring material. They had moved their products up a couple feet in preparation for Hurricane Harvey, but it wasn't high enough. Caraway discovered 3 feet of standing water when she returned for the first time. There was so much water inside that the moisture wicked up to the highest shelves.
"We had walls and walls stacked with wood—ipés, Brazilian cherries, purplehearts, your specialty woods that take a long time to get into your shop," she says. "We had to take them down and throw them in the dumpster."
The company's forklift was also ruined, as were pieces of backup equipment, like sanders, buffers, nail guns and air compressors, kept on hand in case a subcontractor's equipment malfunctions on the job site. The tools and materials were not covered by the company's insurance policy, Caraway says. They didn't believe a flood would ever reach their location—the waters didn't reach them during the last catastrophic tropical storm, Allison, in 2001—so they hadn't pursued flood insurance.
Despite the losses, she says business revenue will more than make up for it. Houston Custom Floors was back doing tear-outs within a couple days. Soon they started scheduling jobs for houses that suffered from crawl-space moisture intrusion. The business, which she runs with her family, has more work inquiries than it can handle. These days Caraway starts work at 5 a.m. and sometimes stays as late as 11 p.m. Caraway typically subcontracted one or two jobs a week, but that's risen to five after Harvey.
The business has been forced to be selective with the jobs it accepts. The jobs that get priority are the company's custom builder partners and past clients. Caraway says the conversations with previous customers can be heart-wrenching.
"You spend a lot of time caring about people and wanting to be able to do things with them. Their homes are destroyed, and their finances aren't right," she says. "You want to give them a product that will hold up, but you have to tell them you can't have floors in here for weeks. And financially, some aren't able to afford the products we had installed for them before."
Caraway tells of an elderly couple in Houston suburb Bellaire, near the Buffalo Bayou, whose house flooded. The drywall and old flooring had already been torn out, but they didn't have flood insurance and were not in a financial position to purchase new flooring. Caraway eventually found a product the couple could afford and installed it, but only because she wanted to do right by them, she says. It was a product for fast commercial jobs and not one she'd ever install. "But it got them back in their house."
Despite the materials lost, the chaotic scheduling and the heartbreaking discussions with homeowners, Caraway manages a few laughs during the conversation with WFB. Asked how she was able to keep a sense of humor amid the devastation, she answered simply:
"You have to. Otherwise I'd be at the psychiatrist."
---
RELATED: How We Handle Flooded Wood Floors
---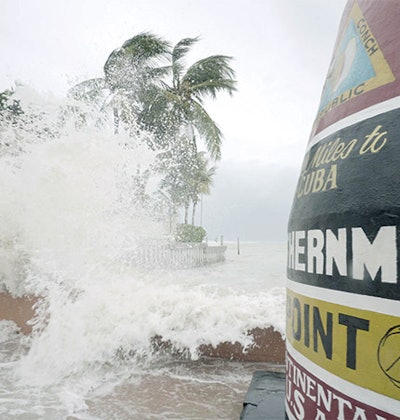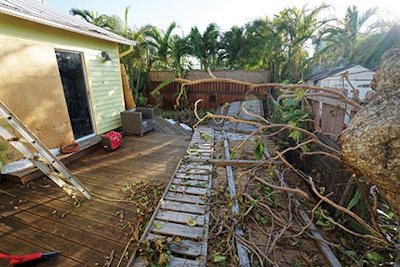 Classic Wood Floors — Key West, Fla.
"You have to have big ones to stay in Key West during a hurricane," says Zoltan Boros, owner of Classic Wood Floors and 26-year resident of the southernmost city in the continental U.S.
And you also need strength, apparently, because Boros decided the best way to guarantee his floor sanding equipment would survive Hurricane Irma was to hoist all of it in the air to hang from the 6-by-6-inch beams beneath the ceiling in his dining room.
We're not talking nailers and mallets here. He, with help from his wife and a close friend, using ladders, heavy-duty chains and grit, successfully lifted two big machines, a buffer, a planetary sander and an edger to safety. A hurricane in 2005 had flooded Boros' home, which also serves as his business headquarters, with chest-high water, and he wasn't taking any chances this time.
"They had to survive," Boros says. "That's your income. That's your bread and butter."
Then he boarded up his windows, filled up the family car with gas, drove his work truck to high land nearby, and took a food inventory. Boros, his wife and two children rode out the storm in their laundry room. The kids had an iPad to keep them distracted, but Boros and his wife were scared. As Irma made landfall, the sound was deafening, he says: "It's like a train running through your house."
Two hours later, the storm had passed. No water made its way into the house, the roof was intact and the machines were dry, still suspended above the dining room. Boros spent the next week cleaning up his backyard. He didn't accept a wood flooring job for a month, a decision made partly because his success in Key West has allowed him to be selective with clients and partly because it took a while for the majority of the Keys to get their power back, let alone have floors dry enough to work on.
He's now receiving calls from areas in the Keys that were the worst hit. Most of these callers tell Boros their floors were completely underwater. His favored approach to flood remediation is to just let the flooring dry first, then sand and finish. However, wealthy people often don't want to wait and will pay more to have their floors redone fast. For them, Boros says he tears the flooring and subfloor out and starts from square one.
The break in business hurt his bottom line, Boros says, but he's managing OK. As a business owner, he was always putting emergency money away for times like these.
"We survived," Boros says. "We really lucked out."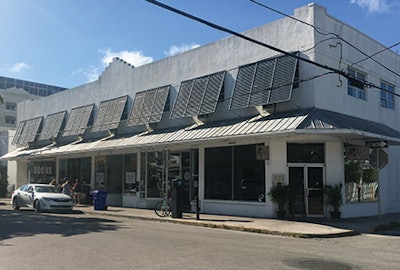 Big Ass Wood Floors — Key West, Fla.
After Hurricane Irma, Big Ass Wood Floors had, like everyone else in Key West, Fla., a big ass problem: The company had no power, and wouldn't for 10 days, meaning devastating downtime, particularly for a new business working to grow its operations. Big Ass Wood Floors, which sells floor coverings to customers across the U.S., started in 2016, and they needed a way to keep the lights on.
Enter Eldred Wirsching, orders desk extraordinaire and, fortunately, backpacker. She was finishing a long hike in the Rocky Mountains just as many citizens of Key West were evacuating, so she decided to wait out the storm at her friend's home in Colorado. Then, the day before Irma hit, Big Ass Wood Floors owner and office manager Julie Crane called Wirsching on the telephone with an idea to keep the business running during the hurricane. They decided all company calls would be forwarded to Wirsching in Colorado—she would operate Big Ass Wood Floors from her friend's kitchen table.
Wirsching answered calls and processed orders for the next week. Meanwhile, Crane and anyone who hadn't evacuated the Keys were unreachable. Sometimes people would call Wirsching and ask how Crane and her business partner and husband, Josh McGrane, were doing. But all Wirsching could say was, "I don't know."
Back in Key West, Crane and the business made it through the storm without a scratch. Part of that was due to prep by Crane and the team before Irma landed. They boarded up windows, unplugged electronics, moved valuables into the center of the space and covered displays in plastic to mitigate any water damage had the roof torn off the frame. The company's office is also located on the second floor of a building, so flooding from a storm surge wasn't a concern.
Although the power outage meant no incoming calls, it didn't mean no walk-ins. Crane says business picked up significantly in the aftermath of Irma due to customers with small roofing issues that cost less than their insurance deductibles. They wanted new flooring—fast—and had cash in hand.
Once power was restored and the airport opened, Wirsching closed the Colorado operation and headed home. The company is currently in a "hurricane lull." Having seen the end of the first wave of customers, they're awaiting a second surge from people in the middle and upper keys who suffered significant damage and have been waiting for insurance money.
To be top-of-mind when those people want new floors, Big Ass Wood Floors has started supplementing its nationally-focused marketing campaign aimed at developers and builders with a locally-focused campaign for GCs and homeowners.
Besides that, Irma didn't cause Big Ass Wood Floors to make many big changes. Well, except for Wirsching's employee benefits. "I'm going to get a company-paid vacation next time this happens," she can be heard over the telephone, shouting from her desk, as Crane laughs into the telephone.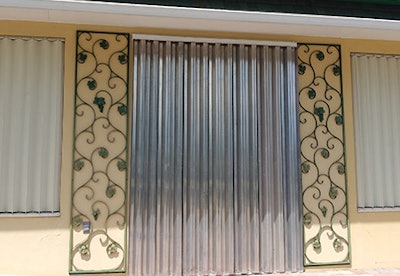 Bonded Wood Floors of Vero Inc. — Vero, Fla.
The worst part of Hurricane Irma was the preparation, at least for John Cannon, owner of Bonded Wood Floors of Vero Inc., located north of Miami in Vero, Fla.
Initial forecasts put Irma right on top of the small beachside town. When a tropical storm threatens, high-end building contractors shut down job sites three or four days before landfall is scheduled to occur. That's Cannon's main clientele, so his employees couldn't work as the storm approached. "They send you away; they shut it down," Cannon says. "You can't blame them."
Cannon's team was in the middle of installing wood flooring inside a new brewery when they were pulled off the job site. Before they left, the crew wrapped the uninstalled plywood and wood flooring in plastic wrap to protect it should moisture infiltrate the building.
Cannon, who has lived through a number of hurricanes, understands why the job sites must close, but it's not always easy for out-of-town developers to wrap the delay around their heads, he says. He was trying to explain to the brewery backers, based in St. Louis, that they'd be lucky if the site had electricity two days after the storm hit.
"They couldn't understand how devastating it could be, because they've never experienced it," he says.
When Cannon's crews can no longer work on the job sites, he closes shop, too, and gets to work reinforcing his store and warehouse. The warehouse has five large overhead doors, which he barricades with piles of wood pallets. Then he backs a forklift against the pallets for reinforcement. Plywood goes on all the doors. Accordion shutters are drawn across windows. Hurricane Jeanne in 2004 tore the building's roof off, along with a 5-ton AC unit. He says they ended up with a big swimming pool inside, and he doesn't want that again.
"Your building kind of breathes when a hurricane is blowing around you; it's an eerie feeling," he says. "You can feel it pulling and pushing. We just secure it the best we can and hope for the best."
Hurricane Irma was supposed to devastate Vero, but it veered west and left the town largely intact but not unscathed. Wind speeds around 100 m.p.h. uprooted trees and scattered limbs and shrubs. The roof on Bonded Floors' building was still there, though, and while people in the area lost power, it was soon fixed. Cannon's crew got back into the brewery a week later, and there was no damage to the interior.
Vero dodged a bullet. All the prep work and lost wages, even though the hurricane was not as devastating as was predicted, doesn't bother Cannon one bit. "You're happier it didn't hit than you are worried about the money you spent preparing for it."
Look for the Helpers
Tragedy has a way of bringing the best out of people, and Hurricanes Harvey and Irma were no different. While neighbor helped neighbor, aid wasn't limited by proximity. It came flooding in from across the country from friends, families, strangers and companies, including leaders in the wood flooring industry.
Shaw Industries made an undisclosed corporate donation to the Red Cross and encouraged its employees and retailers to do the same by matching. It also extended showroom replacement support and special offers to customers, provided a dedicated customer service group, and transported water.
Mohawk Industries set up a GoFundMe page for its employees to donate directly to their coworkers impacted by the hurricanes. Dallas employees donated items and even sponsored entire families. Mohawk also sent more than 100,000 bottles of water and increased its corporate donations targeted toward the Texas and Florida chapters of the United Way.
Ecore International donated to the Red Cross and launched a company-wide donation drive. Swiff-Train raised tens of thousands through a YouCaring account for its employees in the hurricane areas, as well as others.
Mannington Mills matched employee donations for a grand total donation of $26,000 to the Red Cross, and it made a donation of $25,000 to the Samaritan's Purse to help Houston. It also plans to donate flooring for rebuilding efforts.
Armstrong Flooring pledged to donate 250,000 square feet of flooring.
3M established a Global Relief Fund of $1 million to support the communities affected and additionally donated $2.5 million in cash and products.
Real Antique Wood gave a portion of sales during a demonstration day to assist animals in the hurricane areas.
Graf Brothers and other vendors local to South Shore, Ky., donated $10,000 worth of supplies to Marathon and Big Pine Key, Fla., two of the worst-hit areas in the Florida Keys.
Q.E.P., the parent company of brands such as Harris Wood Floors, Roberts, Porta-Nails, shipped two tractor-trailers with an assortment of professional tools to its customer partners living in and around the Caribbean basin. It also raised $30,000 from Q.E.P. associates across the globe and sent the money to established charities in Puerto Rico and The Florida Keys.
Thank you all for your contributions.