Contractor Cody Griffith was moving in and out of a job site in one of the oldest suburbs of Indianapolis when a neighbor came outside and called to him from the porch next door. The man, an older gentleman wearing suspenders and holding the day's mail in his hand, pointed at Griffith's truck: "I see on your truck it says, '4th Generation Flooring,' does that happen to have anything to do with an Albert Griffith?"
The question made Griffith smile. He told the man that Albert was his great grandfather, the man who started Albert Griffith and Sons Inc. in 1946 and built it into an enterprise that still dominates Central Indiana's wood flooring market.
As it turns out, the neighbor had once worked for Albert. He told Griffith, "He was really the only one around here that specialized in hardwood flooring that long ago."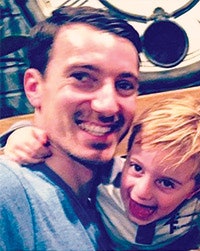 There aren't many companies that can fly a fourth-generation banner. There's a reason why the credo "shirtsleeves to shirtsleeves in three generations" is oft-repeated, and a fourth-generation family business is exceptionally rare in the United States. According to the Family Business institute, 30 percent of family businesses survive into the second generation, only 12 percent make it to the third generation, and a fourth-generation business happens in just 3 percent of cases.
While uncommon, multigenerational hardwood flooring contractor businesses do exist and even thrive across the country. Wood Floor Business reached out to a number of such companies and contractors to try to understand their succession stories and why they're still installing floors for a living like their forebears.
No two stories were the same. Some companies nearly lost the business due to a weak link among the generations, some sons and daughters felt obliged to continue the business not out of passion but from a sense of duty, some owners required a buy-out, while others plan to gift the business to their children. Sometimes the second or third generation couldn't work with their families and headed out on their own.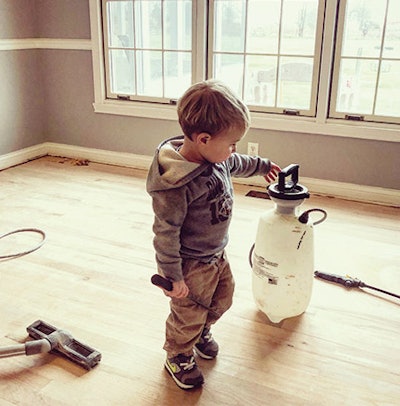 The common thread between all the stories was that company owners instilled within their children an immeasurable work ethic, and the younger generations all spoke with pride about being part of a legacy, like Griffith's.
"I ask my wife, 'Do you think Albert had any idea?'" Griffith says about the ripple effect his great grandfather caused when he started the company. "It's literally changed our family's life, my uncles', my dad's. One decision has had such an impact four generations down the road."

Hooking the kids
It's no easy feat to encourage enthusiasm for physical labor in the next generation, and the data for construction workers proves it. While 18 percent of construction workers in 2006 were 19-24 years old, that number dropped to 13 percent in 2013, according to the U.S. Census Bureau.
The industry is graying, but multigenerational companies have been able to buck the trend and keep the next generation interested. How did they do it?
Not one of the younger generation of flooring company owners WFB spoke with reported feeling pressured while growing up to assume the family mantle, but all point to fond memories of visiting job sites with their family that led to them becoming flooring contractors.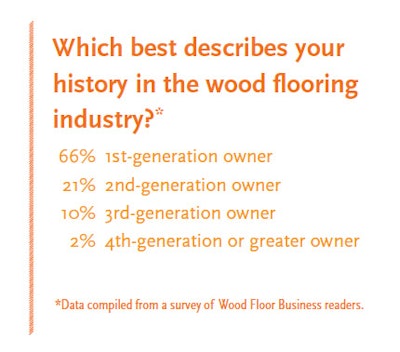 Joe Statti, the second in line to operate Joe's Floor Company in Castaic, Calif., remembers wanting to imitate his dad when he was a kid. He started helping his dad on the job site cutting pegs for peg-and-groove floors, the company's specialty, and Statti's dad would give him some money for the work. He also looked up to his grandfather, who founded another flooring company, Click Flooring, in 1947. His grandfather had a sailboat in Marina Del Ray, Calif., that he bought with money he'd made running the business, and Statti remembers driving to the boat in his grandfather's work van. He would sit on wood filler buckets in the back, and the whole vehicle reeked of polyurethane. He loved it.
By the time Statti was 17, he had been working for his dad and grandfather for a year or two, and he knew it would be his career. "I just liked being around the guys. I enjoyed the houses," he says. "The houses we got to work in were somewhere upwards of $20–$30 million; we'd sit there and have lunch in Malibu looking over the Pacific Ocean."
He told his dad he wanted to do flooring for the rest of his life, and his dad agreed to hire him on full-time. He wasn't conscripted for the job by his dad, he says, he fell into it naturally.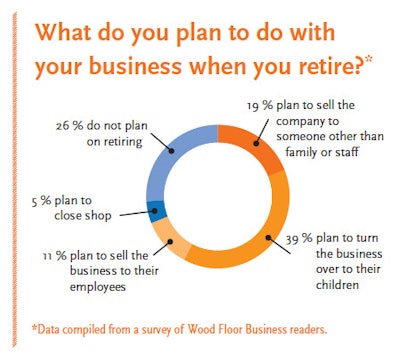 Control your destiny
Sometimes a family member who isn't in the industry can play just as large a role in convincing his child to sign on for life.
Chris Potts, third-generation owner of Frank H. Duffy Inc. in Medford, Mass., learned to love the business through his grandfather and uncle on his mother's side, but what sealed the deal was watching his father progress through life as a banker. The bank was bought and sold a couple times, and his father's future was not his to determine. That had an impact on Potts.
"I grasped that working for other people meant you didn't have control over your own destiny," he says. But he saw that his grandfather and uncle, the first and second generation of Frank H. Duffy, did.
Potts started tagging along with them when he was 11, and he began to work longer hours at the business at 14. He caught the entrepreneurial bug like his grandfather and uncle before him, and between working on floors he built a landscaping business. He balanced both jobs until his early 20s, when he began to focus exclusively on wood flooring.

Returning to flooring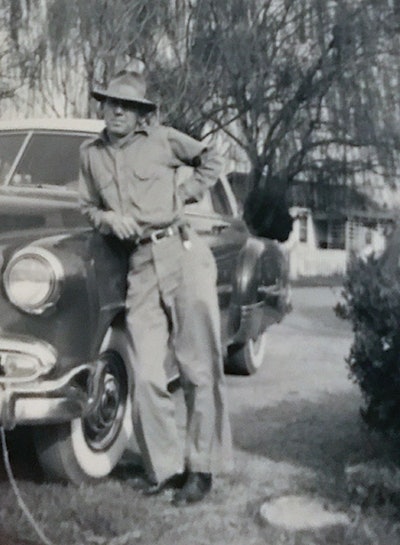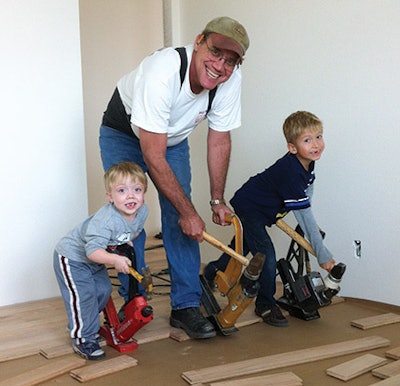 While Statti's and Potts' route to a wood flooring career was straightforward, other next-generation owners explored other careers before they ultimately returned to assume the family mantle.
Cash Pyle, fourth-generation floor man and owner of Pyle Legacy Floors in Modesto, Calif., remembers riding on his dad's buffer when he was five years old, but the days spent on the job site with dad as a young man weren't enough to convince him to be a flooring installer.
Instead he became a fireman. A few years in, though, Pyle was involved in a tragic firetruck accident. He was the only one to walk away unhurt; the two other firefighters suffered serious injuries and are quadriplegics.
The incident made Pyle take a hard look at his life. "I had to do some serious thinking about my family," he says. "It was a dangerous path I was going down." That's when he returned to flooring and started working full-time for his dad.
Likewise, Griffith's path before starting 4th Generation Floors involved other careers before wood flooring. He didn't pursue flooring with the family business because his cousin was expected to become president, and Griffith wanted to do his own thing. He went to college for hospitality management and worked at a hotel in Indianapolis for five years after graduation. Then he lived with his wife in Northern Wisconsin for a couple years before they moved back to Indiana and he started work as a recruiter. Placed in a cubicle, he eventually went stir crazy.
"I'm more driven by seeing the impact I'm making rather than sitting in a cube making phone calls," he says. "I just couldn't take it anymore."
He and his wife had many talks about his career path, and he told her that throughout his life the line of work he felt most passionate about was wood flooring. He still didn't want to join the family business, though, so he created a new company.
"It was a matter of getting up the gumption to walk out of a good-paying job to test the waters of the unknown, where the family is sort of the king," he says.
Sense of obligation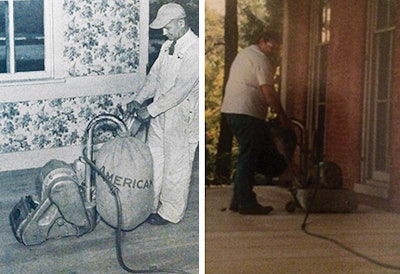 Other owners who took over the family business did so out of a sense of obligation—they felt the business would have failed had they not. That was the case for Karen Haldeman, the third-generation owner of Galebach's Flooring in Landisville, Pa.
Haldeman's husband, John, was the grandson of the company founder and grew up working on job sites with his dad, Harold. John had full ownership of the company when suddenly, in 1997, he passed away. Haldeman had her own career at the time managing a local flower shop, and she says she could have continued doing that. "But honestly, John was the only son of Harold," she says. "At that point, he'd already lost his son; I could not make him lose the family business. That would be too much."
She decided to lead the company after her husband's passing. Harold, who was working limited hours at that point in his career, helped her get up to speed; he went with Haldeman to do quotes, taught her the technical aspects of flooring and introduced her to the network of contractors and building professionals in the area.
It wasn't easy, especially in the beginning, but Haldeman has been leading Galebach's now for more than 20 years. The company is only seven years from its 100th anniversary.
"I know Harold wanted me to succeed," she says. "He knew I gave up my career for this."
Pressure to come back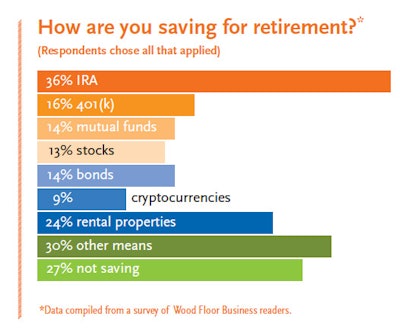 Although Statti loved wood flooring, he wasn't as enthusiastic when confronted with the prospect of running the company. In 1998, at 21 years old, he got a call from his dad at the hospital. His dad, 52, had suffered a stroke, and he wouldn't be able to physically do the work anymore. He told his son he would need to take over the business.
Statti had been working for his dad for a few years at this point and had never considered becoming the owner. He was happy with what he was doing and didn't want to take over.
"I turned him down. I didn't think I could handle it. It slapped me across the face, I guess," Statti says. His dad called him again the next day and told it to him straight. "He said, 'Look man, if you don't do this, and if I don't sell you the business, I'll be out on the streets in no time.' I agreed to do it then, of course, but I was reluctant. It was scary for me to take on the responsibility. There's a big difference in going to work for somebody and working for yourself."
Statti and his dad started to work out a plan for succession.
Formal and informal succession
Many family businesses in the U.S. pass the company to the next generation informally, without lawyers or contracts, for better or worse. In fact, only 12 percent of family businesses in the construction industry, which includes flooring contractors, have a "robust, documented and communicated succession plan," according to the 2016 PricewaterhouseCoopers Family Business Survey.
A less robust plan would be like how Statti and his dad planned succession. They came up with an agreement on the spot.
Statti helped his dad walk into each job site, where his dad would sit on a stool and give his son flooring advice when he needed it. That went on for six to nine months before his dad could no longer sit on the job site that often.
Profits from the business went toward taking care of his dad until his dad's Veterans Administration and Social Security benefits kicked in—he paid his rent, auto insurance and phone bill, among other items.
"But that was the agreement," he says. "I had to take care of him."
A more formal plan would be similar to how Potts received ownership of Frank H. Duffy from his uncle in 1992.
The company is an S corporation and has private shares that dictate ownership. Like the formal arrangement between his grandfather and uncle before him, Potts bought his uncle's shares using company profits over the course of 15 years. He also agreed to cover his uncle's healthcare and other benefits as a company expense during that time.
As Potts' proportion of the company's shares grew, so too did the amount of influence he had over what the company was doing and what was in store for its future.
"It's very precise. If you have other people with shares, you have to collaborate," he says. "When you have all the shares, you're the sole shareholder, so it's up to you to make or break the company's future, and that's all there is to it."
Ultimately both Statti's and Potts' plans worked, but not all plans, informal or formal, will.

Transition gone wrong
Allen Rapaport, the third-generation owner of J. Rapaport Wood Floors in Fort Lee, N.J., had never considered owning the business his father received from his grandfather.
He was working in the garment industry when his dad called him. He was sick. He told Rapaport either the business would be sold to someone outside the family or he could come work out a number with him.
Rapaport chose the latter. His dad moved to Florida and expected Rapaport to send a check every week. But not long after Rapaport took over the company, he realized his father had left him with a royal mess: The books were cooked.
"Who would ever think the finances your father was showing you were bogus?" Rapaport says.
Rapaport says after he learned the true state of the company, he felt he was paying his father way too much money each week, so he called him in Florida. "I told him, 'Listen, that's enough of this. Your deal is too sweet for this business to survive," he recalls.
They went through litigation, but Rapaport was able to "hold him off," he says, as he and his wife, Jodi, shaped the company into a sustainable business. Finally, his father acquiesced: "He realized one day that we grew a business, and that some part of this loaf was better than no loaf at all."
Future planning
The experience has Rapaport thinking ahead to how he might conduct the succession should his son Maxx, currently an employee, show interest in running the business. He hasn't discussed it yet, but he thinks they would work out something where he and his wife would continue to draw a salary over the years—without financially strangling their son and the business.
He says he's also thought about what would happen should he and Jodi pass away unexpectedly. His daughter and son-in-law are both attorneys, and he has informed them that Maxx would be the one to continue the business, should he want to, and Rapaport is confident his wishes will be respected.
"It's not an easy discussion, but it's a worthwhile discussion to have with your family and especially your spouse," he says. "And I'm lucky, because my spouse is in the business. She signs the checks. How many of these spouses or partners don't know anything about the business and then they get a surprise when the breadwinner passes away and they're stuck? Now what? Thirty years of hardwood flooring and it's over because you can't perform for your clients."
Worthy of handing off?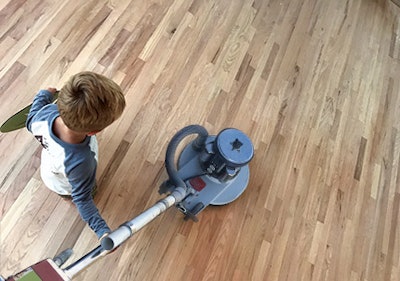 It's understandable that Rapaport appears to have a firm grasp on the future of their businesses—it's a larger enterprise than most. Rapaport's grandfather's business once supported 20 trucks and 90 employees. With Allen at the helm, the company installs flooring in two or three 100,000-square-foot buildings in Manhattan per year and they "turn over"—recoat—as many as 90 apartments per month.
But the conversation underway at smaller, one-or-two-crew businesses is often entirely different. It's less, "How will I hand this off," and more, "How do I create a business that's worth handing off?"
That's what on the mind of Pyle of Pyle Legacy Floors. He has two sons, ages 10 and 12, who he's brought to the job site since before they were five. Should either start showing interest in flooring as a career, Pyle says he has some work to do to get the business ready.
"My goal with my company in the next 10 years is to make it something that I can hand off," Pyle, 38, says.
That means, he says, ramping up his crews from two to at least five, with between 10–12 workers. He wants to dominate his market and be the go-to authority for wood flooring within a 50-mile radius.
Pyle says being a larger, more established company means his sons would have options if they decide to join the business: They could work on the job site behind a big machine or work in the office doing bookkeeping or social media.
Beyond that, Pyle says he hasn't begun figuring out the details about how to hand off the company to his children. He says he might consider a deal where he makes a percentage of the company profits as long as he still has the ability to help keep things running.
But he does know what he prefers not to do—he does not want to sell the company at retail price to his kids. The company "would be my gift to my children," Pyle says.
The benefits of legacy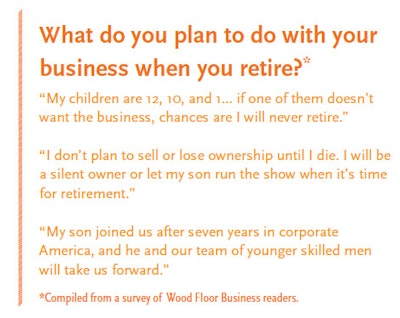 Passing the torch to the next generation is not simple. Although 70 percent of family businesses in the U.S. want the next generation to assume ownership, only 30 percent of them will be successful at it, according to American Management Services' 2011 Peak Family Business Survey.
The payoff for successfully handing the reins to your children or nieces or nephews, however, is enormous. Advertising, for example, can be an afterthought in a multigenerational business.
"One good thing about having a family business is we've been around for 93 years now, we don't really have to do much advertising," Haldeman says about Galebach's Flooring. "People know who we are. It's not a matter of trying to get work. We always have work."
That kind of success can increase complacency in any business, but especially in family businesses. According to PricewaterhouseCoopers, at least a third of family business owners say their businesses are less open to new thinking and ideas than non-family businesses. The cure could be onboarding the next generation, which often brings in a flood of innovation.
Potts, for example, introduced computers to Frank H. Duffy, as well as an emphasis on using the internet for marketing the company's services.
"The newer generation comes in with new ideas, techniques and philosophies," he says. "If you stay with the old tactics, you'll be labeled a dinosaur and you will not survive."
While new leaders bring in fresh sets of eyes, the older generation can bring perspective. Whatever challenges the current generation faces today, an older generation has faced similar or worse, and that knowledge can help new owners navigate stormy seas.
Potts' grandfather started the business in 1927 and weathered the Great Depression while raising two kids. His uncle had to deal with the public's shift from wood flooring to carpet in the 1960s, as well as the oil embargo in the 1970s. And then, under Potts' watch, the company went into the Great Recession and came out the other side.
"You learn from history to shape and change the future," he says.
Pride in heritage
But the greatest benefit of all may be the pool of knowledge a family business can draw from.
"It's really not lost on me how cool it is that I can call my dad on a weekly basis to ask for advice," says Griffith of 4th Generation Flooring. "It's a little bit of a cheat code for me. I have an open-book test right in front of me. My dad's been here for 30 years and he's seen everything you're going to see. And he picked my great grandpa's brain like I pick his."
So when Griffith walks into an estimate and people ask him, like the man on the porch next door, if he's from the Griffith family, he answers with abundant pride, a resounding "yes."
"It's something that's cliché, but it's in our blood."