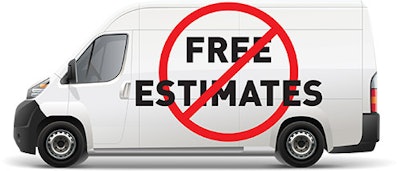 As contractors and subcontractors, we spend an average of four hours of our lives on each estimate we give. Do the math: If you do five bids a week for 50 weeks throughout the year, that's 1,000 hours of your life, which equates to 25 40-hour work weeks just for estimates.
We also typically schedule these estimates at times that are convenient for the potential client. This works fine until you realize you've missed another one of your kids' games or you're late for dinner … again. I won't even get into the amount of time spent doing estimates on weekends.
A combination of not making enough money and spending a crazy amount of time chasing work is simply unfair to both you and your family. Below, I will share a couple concepts that will help put an end to the theft against your family.
1) Take control of the sales process: Use a phone
Somewhere along the line a contractor thought it was a good idea to put "Free Estimates" on the side of his truck, and then everyone else raced to the bottom with him.
Let's get some perspective. You have paid dearly for your expertise. You are a professional. Stop running around for Unicorns (people who will never be your client) and take control of the sales process.
This all starts with a commitment to changing your mindset. We live in a busy world and, believe it or not, prospects don't want to spend time meeting a contractor who is not a good fit for them any more than you want to meet with a prospect who isn't a fit for you.
We need to stop playing the game the way everyone else is playing it, and that means no more running around for free. Instead, slow the process down and start with a phone prequalification process that will identify who is going to hire you before you ever take the time to meet with them.
This phone call should be Prequalification on Steroids, not the typical, "Do you have a pulse and live in my service area" prequalification. Rather, this is an honest and transparent conversation about:
Their motive for the project.
What would happen if you come see them?
Is everyone on board with this job?
And, oh yeah, you have a consultation fee if you come out there and don't get a deposit check.
This is where I usually hear, "Tom, you don't understand my clients," or "That won't work in my area of the country," or "There's no way I can do that. I will lose any opportunity to get the job."
Here's the good news: You're right. If you believe it won't work, it won't. If you believe it will work and develop the skills needed to master the sales game, you will crush it and seriously cut the time you're spending on estimates that go nowhere.
2) Price your work for a 50% gross profit
The next way to ensure you are not ripping your family off is to price your work for a 50% profit or better. If you're looking for a hack to fast-track your way into consistent profit, this is it.
To make sure we're all on the same page, let's do some math.
Step 1: Figure how much the labor is going to cost you.
Step 2: Figure what the materials and supplies are going to cost you.
Step 3: Figure out any permits, equipment rentals or anything else you need to pay for to do the project.
Step 4: Add them all together. For our example here, let's pretend that amount is $7,500. This is your cost to install the project for the client.
Step 5: Multiply that number by two. $7,500 x 2 = $15,000
Step 6: Sell the job for at least this amount.
I've heard all the reasons why this won't work and can promise you it will work if you commit to it. High profit is a choice.
That $15,000 sale price will leave you $7,500 to do the job and $7,500 for overhead and profit. It will allow you to provide a better experience for your clients, stand behind your work and provide a great company for your employees.
Commit and win
Running a business is way more expensive than we plan on it being. You deserve to make piles of money for the risks you are taking as a hardwood flooring contractor. Your employees deserve to be part of a strong company. Your clients want you to be a strong company. And your family needs it to be strong as well.
By taking control of the sales process you will establish yourself as the expert. You will guard your time and have time for the things that are most important to you. And by committing to getting a 50% gross profit on each job, you build a financial fortress around your company.
---
RELATED: How We Stopped Working Late Nights and Weekends
---