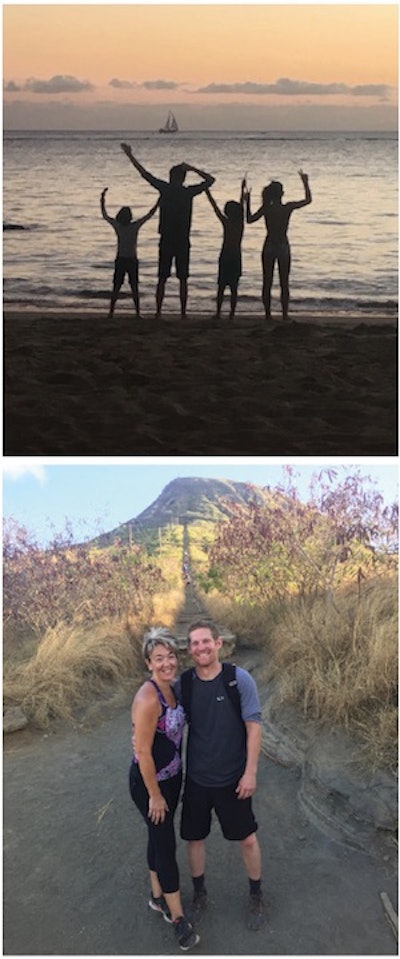 Read this if you're overwhelmed and exhausted, you work evenings and weekends and miss your family and friends, or you hate your job or your customers, even some of the time.
If any of the above is happening, there is only one person to blame: you. Some of you will blame your wife's shoe shopping habit or your cheap customers, but the fact is, you're the one accepting what you're doing. Whether it's working all week and into the weekend, or allowing your customers to negotiate you into a much lower price, or you're just sick and tired of being sick and tired, you have allowed something to happen to you.
Remember this dumb joke?
The guy tells his doctor, "Doc, it hurts when I do this, what should I do?" The doctor says, "Stop doing that."
Stop. Doing. That.
Why do so many businesses struggle or fail, particularly in the first few years of starting? That's when they should be at their best, right? It's because most of us don't know much about owning a business. We are accidental entrepreneurs, getting into the business because we know how to produce a product or service. And those of you reading this publication are some of the best in the trade. Whether we got downsized or quit in a moment of total frustration doesn't matter. We decided to make a go of it ourselves.
Once we started our own business, Joe and I did everything we could, from long hours to low prices, to make it work, and we experienced a lot of frustration because it seemed as though our customer had the advantage. Most days, Joe would leave at 7 a.m. and return after a bid at 7 p.m., only to write up the estimate until 8 or 9 p.m. and just have enough interaction with our kids to put them to bed. We started wondering: When will this be different?
Unfortunately, that's the wrong question. A better one is: Why and how will this be different? We've owned our own business for 11 years now, and it wasn't until a few years ago that we started making sense of the why and how: we were both proud that we owned our own business, but we also recognized that we needed help. I joined Influence Ecology, a leading business education program teaching transactional competence. Following their six-month course, we decided we would truly work for ourselves, not our customer. To some of you, that sounds like an oxymoron: how could we not work for our customer?
We determined that we wouldn't be truly satisfied unless we could reduce Joe's labor so he was available to spend more time with our family on evenings and weekends.
If you're a slave to a bunch of different people, you are not working for yourself. In order to run a successful business, the owner of the business has to identify what he or she wants. We had some of what we wanted: a well-established business that had prospered during the recession, but we determined that we wouldn't be truly satisfied unless we could reduce Joe's labor so he was available to spend more time with our family on evenings and weekends. Since we had nice equipment, well-maintained vehicles, and a lot of money invested in our education and training, we figured we'd try to charge more money and work fewer hours. Plus, four kids are expensive. They eat everything!
Once we had a goal in place (labor less while making more money), we had to plan how to achieve it and steer our resources in that direction. Our strategy and commitment to our business is to be more in-touch or intimate with our customer, so it makes sense for us to charge more for our service. Instead of Joe completing estimates in his spare time, I began to handle all of our marketing and sales. The meant taking responsibility for building the story of our family business and demonstrating to our customers the value of Joe's extensive training, certifications and awards. Joe manages all production and assessment/quality concerns. During production, Joe is still responsible for creating an uncommonly good customer experience and hiring technicians who understand and respect our goal to differentiate ourselves in this commoditized market based on the service we offer to our customers. And that's the last piece: In order to provide a superior customer experience, we work only for remodeling homeowners and target those who live in homes valued at a certain price. We do not work for builders. We do not work for general contractors.
---
RELATED: Two Ways to Make Sure You're Not Stealing from Your Family
---
Here's the thing: our strategy is our commitment, financial and otherwise, to make good on our aims or goals. You have a strategy, whether you think you do or not. It can be very focused, like most successful businesses in this world, or you can try really hard to be all things to all people, like most unsuccessful businesses in this world. Even big businesses with a lot more resources than us have tried, without success, to be all things to all people. Remember New Coke? New Coke chased Pepsi, the choice of a new generation. It sucked. Coke is for Coke drinkers; Pepsi is for Pepsi drinkers.
Ask yourself: Are you all things to all people, or are you working for a specific customer?
Ask yourself: Are you all things to all people, or are you working for a specific customer? Ironically, once we decided to put ourselves and our goals first, our service to our customer improved dramatically. If you're working for a specific customer, you can get crystal-clear on how you solve their problem, and in construction and remodeling, there are no shortages of problems, from skilled labor to accountability.
Working for ourselves doesn't mean we do a bad job. That's a myth, like the myth that the customer is always right. Because we work only for a specific customer, we've gotten quite good at delivering what they want: product and service/systems education, managing expectations, clear terms in writing and a contract, finished color samples on their floor, cleanliness and met deadlines. We are very competent at operations and using the latest technologies and products available (custom colorants and textures, as well as top-of-the-line finish applications), but where our business excels is customer intimacy. Now, customer intimacy likely won't be as effective if you do a lot of work for builders—getting really efficient at operations is a great way to serve that group of customers. Think of these three different companies: Apple (product leadership), Nordstrom (customer intimacy) and WalMart (operational excellence). Not everyone shops at these places, but the people who buy from these companies know exactly what they're going to get.
---
RELATED: Respect Your Work Hours and Clients Will Do the Same
---
A lot of businesses in construction chase everyone because they're trying to be the low-price leader. They open a hardwood store but then they see another hardwood store (or Lowe's/Home Depot) is consistently beating them down on price. Instead of being proactive and carefully considering how they can set themselves apart to better align with a different customer (becoming Pepsi to Coke), they decide to compete directly with the low-price leader. They add product lines and expand into hard and soft surfaces. Now their sales team is being pulled in multiple directions with a variety of different customers at several levels of price points with a zillion products to learn. If these large companies have specialists in each floor covering, they can sometimes make it work when the economy is good, but a lot of these businesses closed or downsized dramatically during the recession. They might be making a recovery now that the economy is picking up again, but if you want your business to survive during a downturn or recession and be even more successful in a good economy, specialize and become an expert in one trade and determine how you can best meet the needs of a particular customer.
The world has enough Home Depots and Lumber Liquidators. It takes time to sit down and consider what you want out of your business, but it took guts and grit to get where you are now. If something you're doing today isn't working, ask yourself why, and then work on how you can fix it. Start with a plan, then strategize by choosing a customer and an approach. Put the tactics in place to implement your strategy. Being all things to all people is a great way to serve price-conscious customers, but specializing with education and training in your craft is a superb way to serve your business, your family and yourself.