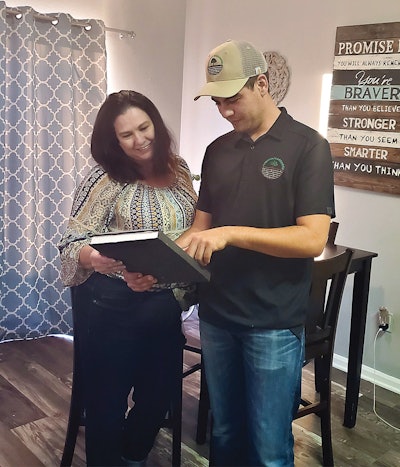 In my market, there are dozens of flooring companies that vary widely in price, skill, size and tenure. I knew that within the first year of launching my hardwood flooring company I needed to establish how I could stand out. Years later, I find that my current market position and approach when establishing my company's values resonates with potential clients.
My first goal when starting out was to specialize in site-finished flooring, which now makes up more than 90% of my work. I wanted to provide great quality at a price that didn't require me to skip steps or disregard industry guidelines. That's when I decided to begin giving clients detailed information about the process of installing or refinishing their hardwood floor.
Since then, I've found that if a client is fully educated about the process, 99% of the time they go with a company that cares about the quality, follows guidelines, and maintains the expectations set before starting the job. This obviously doesn't lead to me getting every estimate I put time into (I try to maintain a close rate of about 80% of measured jobs). But the more information a client has, the more their expectations can be met and the more they feel confident and happy in the decision they made. Here's the information I give clients to let them know what they're getting into.
Packet 1: Why I use the finish I use
In addition to having detailed info on my website, when I show up to go over a client's project and give them an estimate, I have three informational packets I bring with me.
The first packet details the brand of finish I use, how long it takes to dry and why I use this specific brand of commercial-grade water-based finish in homes. Our industry is littered with great finish manufacturers, and I think everyone would agree that they vary between durability, sheen, scuff resistance, dry times, price and even VOCs. I could offer customers a priced finish option (often seen as good, better, best or silver, gold, platinum), but I don't because I show my clients the exact wholesale cost of the finish. The extra 20 cents per square foot for a commercial-grade finish versus a lower grade option within the same brand is always worth it. Rather than trying to upsell a product that not everyone would pick, I prefer giving every job the best chance to hold up in the long term. Getting a referral years later because a client's floors are holding up is better than having someone be happy with a cheaper option but never referring because it didn't last.
Packet 2: What will happen when we start working
The second packet is one I give my clients to read as I am in their home measuring their project. It explains the actual process of installing and/or refinishing a hardwood floor. It details most things any three-month tenured employee would know. The client may not know how to do the project themselves, but I want them to understand how much dust there will be, why we need 220-volt outlet access, what condition their home needs to be in when we first show up and how to treat the floor after we leave.
Having this information spelled out in writing up front answers the most common questions and also provides fewer headaches during a project if someone's 220-volt outlet isn't working or if they need a light dusting two days after the job is done. This four-page packet helps keep me from forgetting to mention anything during a consultation and also demonstrates the care and standards we try to maintain as a company.
Packet 3: Manufacturer and industry standards
The last bit of information I give a potential client is the most important. It is the manufacturer's standards and industry guidelines. It goes over aspects of installation such as why we try to avoid top-nailing by gluing down close-out rows so clients don't have filled holes at the perimeter of every room. I also explain why we avoid H-joints and "staircasing," and give them information about Lägler and National Wood Flooring Association grit progression standards (which every finish brand used in my market defaults to). This way the client knows that if a company chooses to use 40-grit then 80-grit, or 36-, 60- and 100-grit on every floor, the company is not following their finish brand's guidelines. Overall, the goal is to solely explain why we do what we do.
After they are fully informed, I find clients would rather invest in their home with quality craftsmanship than cut corners. Not only does detailing a lot of this information set my company apart, I believe it helps the entire market raise its quality and standards. After all, the greater the market's consumer knowledge is, the greater quality the industry will ultimately sustain. A rising tide raises all ships.
---
RELATED: Wood Flooring Pro Impresses Customers With Cutting Board Gift
---