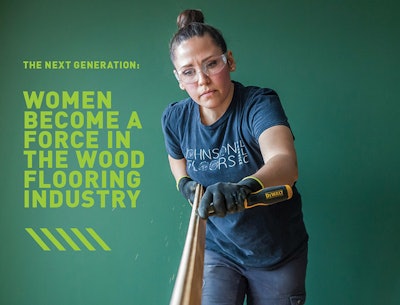 In the not-so-distant past, wood flooring was a man's world, with a few notable exceptions. A woman attending wood flooring school might find she was the sole female amid a sea of testosterone. Wood flooring conventions offered "spouse tours" for the wives who had tagged along but had nothing to do with the business. A woman running any kind of wood flooring company was rare. Today, while men certainly outnumber women, it's clear women are making huge strides as they step into the wood flooring industry in greater numbers.
What are their experiences as they navigate what has traditionally been a man's world? Clearly, their stories and attitudes range widely—in the exclusive WFB survey we did for this issue, women were split evenly regarding whether it is more difficult for women to succeed in this industry. (To see more interesting statistics about their thoughts on the topic, see the survey results on the following pages.)
WFB spoke with a wide variety of women wood flooring pros about where the industry has been and where it's going as far as women are concerned. Here are some of their stories and insights about life as wood flooring women, and how they view the future for women in the industry.
Trailblazers
Jean Jadlowski, president at Omaha, Neb.-based David Wood Floors Inc., started doing wood flooring back in 1974. She was 14 and began it as a summer job after she saw a posting at her church; eventually she bought the business. Although a woman running a wood floor contracting business by herself for decades is an anomaly, she believes there have always been many women doing this work—behind the scenes, helping their husbands. And she never had an adverse reaction from someone when she arrived on a job. "I never really found that to be something that anyone even commented on," she says.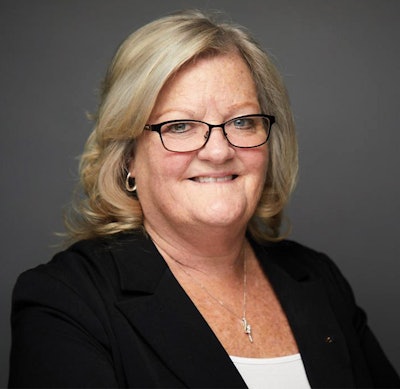 That experience was not necessarily shared by other women in the industry, however. When Janet Sullivan, flooring specialist at Baltimore-based finish company Lenmar, attended the now-defunct NOFMA school in Memphis in the late '80s, the leaders of the school did not allow her to run the edger because it would have been improper for a women to be bending over in front of 80 to 90 men. "But people like Bill Price Sr., Mike Sundell and Bill 'Mac' MacLaughlin took me aside after class and let me run all the equipment," she says. "It was some of the industry veterans who took me under their wing and helped me along."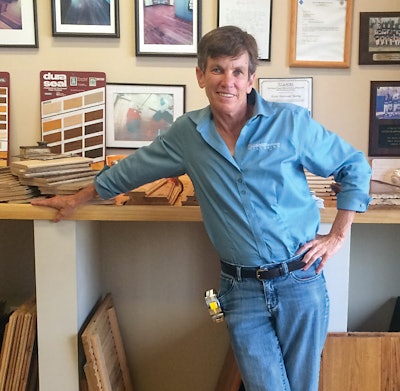 When Genia Smith of Accent Hardwood Flooring in Durham, N.C., worked for her dad's wood flooring company in the early '80s, "I was the only female in the entire construction industry in Fort Smith, Ark., for years," she says, and she had plenty of sexist encounters. "I had my tape measure on my jeans just like everybody else, and I would have comments like, 'What's a little thing like you doing with something like that?' Just stupid stuff," she recalls.
Once Smith started her own company in Durham in 1988, she hired a right-hand man, Robert Honeycutt (still with her today), and they hired a new helper. One day Smith made a comment to the helper about how he was doing the work. "He said, 'Well, you don't know what you're talking about.' Robert looked at me with wide eyes, and I said, 'Well, I may not know what I'm talking about, but I know one thing, you don't have a job anymore,'" she recalls with a laugh. She didn't have issues getting customers' trust, however. "I'm very confident and I've always been really good at selling myself," she says. "I still had a lot to learn when I started this company, but I probably didn't come across like that."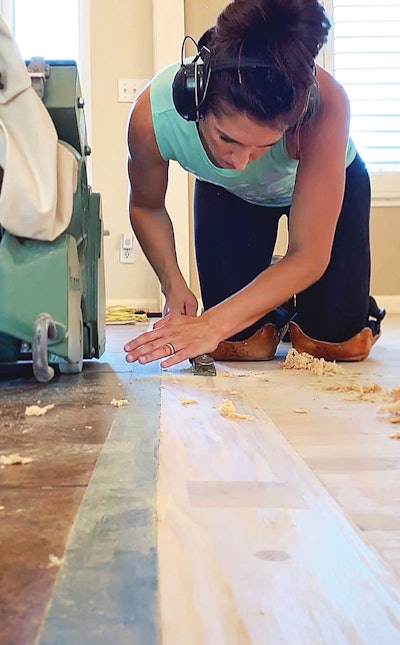 Nicole Guerra now owns Novato, Calif.-based Pure Wood Floors with her husband, Xavier, but she learned the trade 20 years ago, after high school, working for her dad's wood flooring business. She and her coworkers would laugh off some of the sexist things on construction sites—they made a game of counting how many other trades would make up an excuse to walk by her area of the job site and gawk at her. But she recalls worse experiences, like one general contractor with a job that was a tricky install. Before she began, "He literally looked me in the face and said, 'I don't think you can do this.'" She felt like she had to be polite, since he was their customer, but "internally it made me angry … I was like, 'Now I'm definitely doing it.'" She worked through lunch and didn't take breaks, but she got it done that day. "He came in and saw I was laying the floor correctly, and he couldn't say anything. He just said, 'Thank you,' and that was it."
When Kadee Macey, co-owner at St. Paul-based Pete's Hardwood Floors, began working on wood flooring jobs in the late '90s, "I had a few actual one-on-one incidents where men felt that they could touch me on job sites," she says, such as one elderly customer who patted her butt. Another time, she had an uncomfortable encounter with a trainer. "The guy was like, 'Oh honey, let me show you how to use the T-bar' with his arms around me," and, not wanting to be confrontational, "I just wiggled my way out."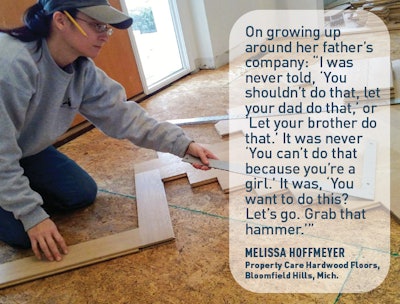 Melissa Hoffmeyer started working for her dad's business, Bloomfield Hills, Mich.-based Property Care Hardwood Floors, "temporarily" at age 22 after being laid off for the winter by a landscaping company. "I grew up around building things, around tools, around working with my hands. It wasn't a completely foreign concept to me, it was just not something I thought I would end up doing as a career," she says. Because of her upbringing, she never saw the work as "a man's job." "I would get, you know, the odd look once in a while on a new construction," she says. "Some of the guys would stop and look at me and go, 'Really, you're going to do this?' But nobody ever thought twice about it as far as my being there." She was about a year in when she realized it was the career for her. "I think my favorite part about it is that each job is different in its own way," she says.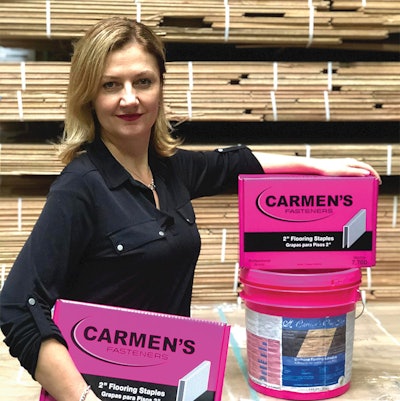 Carmen Muntean, owner at A&B Hardwood Flooring Supplies in the Chicago area, grew up helping her grandfather in Romania create beautiful floors with primitive tools. When she moved to the United States and decided to start her wood flooring distribution business, she wasn't aware that the industry was dominated by men, "But very soon I found out that it is so," she says. "That fact was very challenging, from establishing a product line in the store to running the entire business." Additionally, at the time she was just learning English. "Despite all those odds, I knew I could achieve anything," she says now, 20 years later. Her company is flourishing, and she recently launched her own product line.
Attitudes evolve
Guerra took years off of work to be with her children, but, with good help for their wood flooring business hard to find, she recently went back to working on jobs, something she's happy to be doing ("I missed it mentally," she says). In that time span, she sees progress in attitudes about women on construction sites, although she still surprises people. "There's been a lot of progression with gender roles and how men and women are viewed," she says, although, "People are still a little thrown at first, like 'Oh, are you just a helper?' and I'm like, 'No, this is what I do.' It's a little amusing."
Rachel Johnson co-owns Johnson Floors and Service with her husband, Pete, in Madison, Wis. After he started the business, she eventually left her office job to work on their job sites full time, and she usually has no issues with reactions about her being a woman doing physical labor. "Sometimes when you walk on a job site people do kind of look at you with wonderment, like, 'What is she doing here?' Not in a mean way, just surprised. But then as soon as they start seeing you work, it's no big deal, you just become part of the job site."
Yet, many women observe that people's attitudes still have a long way to go when it comes to expectations about gender and construction.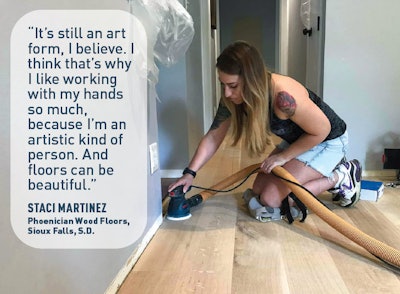 Staci Martinez of Sioux Falls, S.D.-based Phoenician Wood Floors is a welder and certified forklift driver who married into a family of wood floor pros. She was around the industry for more than 20 years before jumping into the business with her husband, Joe, four years ago. She and Joe typically work on job sites together, occasionally bringing their three daughters along to learn the trade. But sometimes that isn't well-received, such as one job last year where the contractor didn't like having an all-female crew on site, Martinez says. And he particularly didn't like it when she told him not to tape down to the finish. "He said, 'This isn't my first rodeo, honey,' and treated me like I was totally stupid," Martinez recalls. The atmosphere became uncomfortable, and Martinez called Joe so he could handle it. "Anything that I like to do, like welding, driving a forklift, scissor lift, any kind of thing that is viewed like that, I always have my guard up," Martinez says. Are attitudes changing? "I don't really know how to answer that question," Martinez says, "other than if it comes down to it, I'm going to stand my ground."
Handling customers' expectations
Even many of the women who have marketing, sales and management roles still find they face challenges with people's expectations.
"When I was doing sales full time for us, I would go to people's homes, and I literally had somebody tell me, 'Oh, they sent a girl…,'" says Kristen Stensby, who, along with her sister, Kim Russ, works for Champion Floor Company, a St. Louis, Mo.-based company founded by their father.
Russ says she's often mistaken for the designer during walk-throughs. That doesn't bother her, but what does bother her "is when they don't believe what I have to say is valid." Russ says she took a male co-worker to shadow her on a sales call. After going through her speech, the customer attributed all the information to the trainee. "They were like, 'Oh, he was terrific,'" Russ recalls. "He had barely spoken." Both Russ and Stensby have also had clients call their father behind their backs to verify their information was correct.
At Atlas Floor Inc. in Gaithersburg, Md., Sales Manager Veronica Skowron finds when she does estimates, customers sometimes question her measurements, and she has to justify herself—an issue that doesn't happen when she has a male employee with more limited experience along. "It's insane. We'll go to one of his estimates and one of my estimates, and it's night and day," she says. "You realize that these people see you as female, and you have to go back and prove that you measured it correctly."
At Macey's business, which services both contractors and DIY consumers, she has few issues with attitudes from contractors, but consumers can be another issue. "When people walk in, I'm almost always near the front, and if there is also a male employee there, the person will immediately address the male employee, no matter how old he is. They'll ask the employee a question, and he'll look at me so I can give the answer, and after I do, the customer will still look back at him and ask the next question."
Proving legitimacy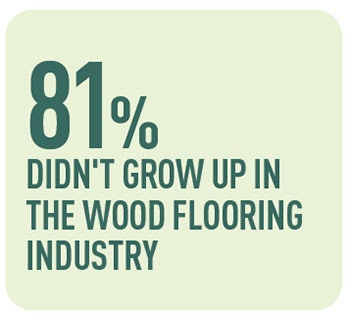 Stensby says there's a particular pressure placed on women in the industry to show they know their stuff. "It's probably more important as a woman in a business that's mostly male-dominated to know what you're talking about," Stensby says. "And I think there's a pressure there … I do have a fear that if I'm wrong, I am going to make people go, 'Oh, of course she's wrong.'"
Other women echo the same sentiment. "There's a feeling you have to be twice as good as a guy to get more respect," says Jessica Hickman Fresch, marketing director at Emlenton, Pa.-based wood flooring manufacturer Allegheny Mountain Hardwood Flooring. A fourth-generation pro, she says that growing up, she didn't expect to join the family business, seeing it as "more of a guy thing." But a couple years after graduating college with a degree in international business, her father asked if she'd build a marketing plan for the company. In the process, she caught the same passion for the product that had attracted three prior generations of men. "I told him I'd give him like three years," Hickman Fresch says of agreeing to work for her father. "That was in 2011."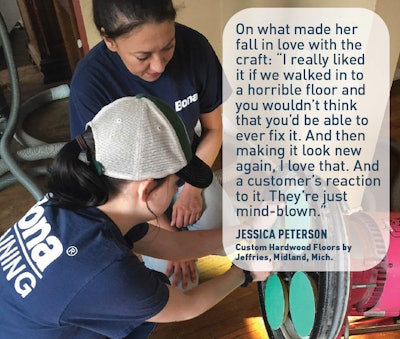 Jessica Peterson of Midland, Mich.-based Custom Hardwood Floors by Jeffries says she hasn't experienced sexism directly in the industry, but she's noticed an online culture that at times discounts women's work in the trade. "I read their comments ... and you know how their mentality is," she says. "I know some of them that just get intimidated by women. They don't think this is a place for women."
Guerra has noticed interesting differences—both positive and negative—in the reactions she and her husband receive from fellow contractors on social media. They each have Instagram accounts and post similar content—but get different feedback. "I will get curiosity questions about what we're doing and how we're doing it, and I feel like maybe because I'm a female that I'm more approachable," Guerra says, noting that her husband doesn't usually get those questions. "A lot of them are young guys just starting out, I'm guessing they're in their early 20s, so it's kind of like they're asking their mom or something … it doesn't hurt their ego to ask."
But she also gets different, negative reactions. "On the flip side, I'll get men telling me how I should do it different; that the way I'm doing something is not the best way or the wrong way, and my husband never gets that."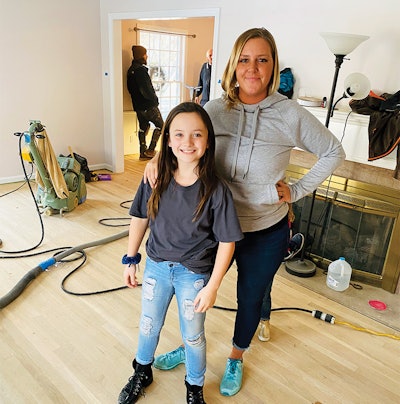 Christine Tosland, who runs Hazelwood Floors in Avon Lake, Ohio, with her husband, says she finds the biggest challenge about being a woman in the industry is her own confidence, knowing that wood flooring and the entire construction industry is dominated by men. "Somewhere deep down I have that voice in my head saying I'm never going to be treated the same as a man would. But that is not the case, I have received nothing but respect from not only the guys on our team, but from suppliers, contractors, designers, homeowners, and just about anyone I've ever dealt with," she says.
Bringing extra skills
Many women are quick to point out they bring skills to the industry that may tend to be less prevalent in men, namely an attention to detail and an eye for design.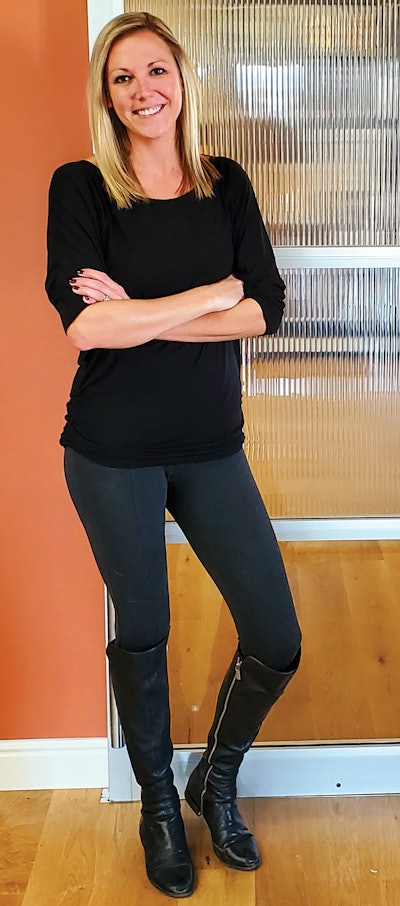 Those were two traits that Abbey Van Horn of Boulder, Colo.-based Meyer Skidmore & Company says helped her when she took over the company in 2018 at age 30. "Women are a little bit more detail-oriented than guys, and they're better at picking stain colors and stuff like that, so it's definitely helpful," she says. She took the leap of purchasing the business from her boss and mentor, Bart Garner, when he announced he was retiring; she'd worked as the office manager for five years. "I just liked the industry so much. There's a lot of good people in it, and I like dealing with the homeowners and my suppliers."
Having no wood flooring experience previously, a big part of taking over was figuring out the personalities of homeowners and crews. "It's definitely a man's world," she says. "And being a young female in the industry, I definitely had to pave the way a little bit … But I think they learned quickly that I'll respect you if you respect me back." She's since added five employees for a total of 16 and is looking at purchasing another company. "I think there's a lot of growth in it," she says. "And just being my own boss is a plus, as well."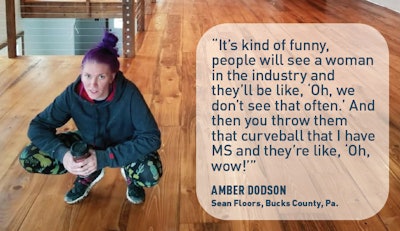 Amber Dodson of Bucks County, Pa.-based Sean Floors comes from a family of carpenters and contractors but didn't leave her office job for the wood flooring industry until a diagnosis of multiple sclerosis led her to join her husband Sean's hardwood flooring company three years ago. She began by helping with invoicing and bookkeeping, but when her MS went into remission, she chose more active involvement—literally. "I just got bored at home, so I started going to job sites," she says. Her background in bookkeeping and high level of attention to detail organized the company, helping it expand, and she found she has a particular aptitude for gathering accurate estimates. "When I send my husband to do an estimate without me, I get super nervous, because I know I'm not going to have all the information I need when he comes back and I have to put the estimate together," she laughs.
Another benefit: soft skills
Some of the women also observe that their people skills provide something that would be otherwise missing in their companies.
At Tosland's company, "My husband is the kraken they admire and fear at the same time, and our new director of operations is firm yet understanding, as well. When our guys need sympathy, they call me," Tosland says, telling a story about an employee who was having a difficult time in his personal life. "He just felt so alone, and he was alone on the job ... He called me, crying." She talked to him for an hour. "It's awesome to be able to be that for somebody, because they know that we really care … we're trying to uplift each other and show we treat you just like family."
When Peterson started in the trade, the pro in charge of training "would kind of just throw me on the machine and be like, 'OK, this is what you do,'" Peterson laughs. "He's just not somebody that can train." Peterson pushed herself to learn all the machines. "I spent a lot of time mastering each machine," she says. "I wanted to be better than the guys." She found that her tendency to be "very picky" helped her quickly excel, and she eventually took on a teaching role. "I want [new hires] to learn from me, because I'm more particular about things," she says.
Peterson also created a positive learning environment. "I try to encourage them the best I can," she says, adding that sometimes she feels people are intimidated by her. "Some of our new employees, they're just young and they're not really used to being bossed around by a woman in flooring."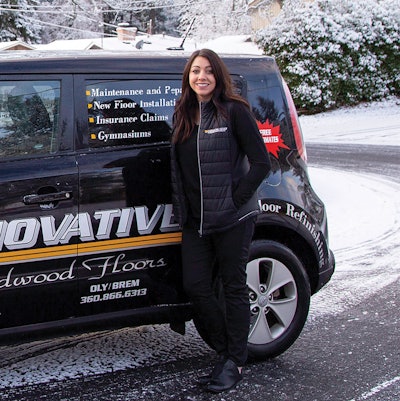 In her position as an estimator and second-generation co-owner at her family's business, Innovative Hardwoods Inc. in Tacoma, Wash., Tara Cresswell finds being a woman on estimates is an advantage. "One positive I do see being a woman in my position is that I am able to relate to my female clientele. Not only from an estimator background, but also as a mom, daughter, friend, etc.," she explains. "Working with my clients is the best part of my job ... When I was able to mix hardwood and people, this created the perfect career path for me."
New energy, new growth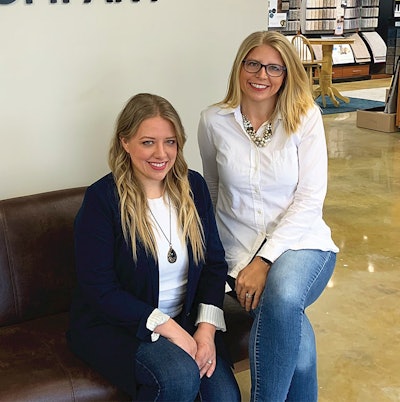 Since joining their father's business, both Kim Russ and Kristen Stensby have played a huge role in its growth. Russ created its estimating department. After working in sales, Stensby developed the marketing department. "I think one of the great things about working in a small company, or maybe it's just Champion, is we were really allowed the space to kind of take it in the direction we wanted to," Russ says.
Since joining her family's company to form a marketing strategy, Jessica Hickman Fresch has increased its exposure by pulling it into the digital age, even helping it land a segment on an episode of "This Old House." When she began the company's website in 2011, she says her grandfather, in his mid-70s at the time, asked, "All this internet stuff that you're doing, have you sold anything from it?" Hickman Fresch laughs. "This internet thing ... I think I got a couple sales from it now."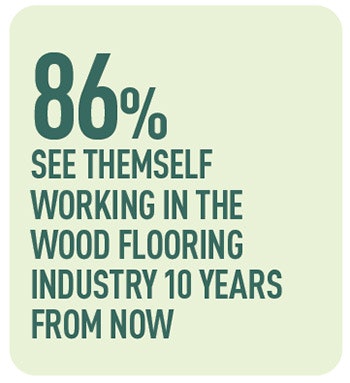 A huge help: visible wood flooring women
For Peterson, who worked in a wood flooring mill before joining a contracting company seven years ago, seeing more women in the trades has been a big help. "A lot more women are coming out, joining our [Facebook] groups, speaking out, talking about their experiences in it," Peterson says. Representation is a big part of attracting more women to wood flooring, she believes.
Networking with other women at trade shows has also been helpful for Hickman Fresch. "That's something that has helped me in the last couple years ... where I've met some other girls my age who are doing similar things," she says. "It's just nice to have that connection now with other women doing the same thing."
Peterson made waves in the industry last year when she coordinated with Bona to develop a pink, sparkling multi-disc sander she named Rosie. The idea started as a running joke between Peterson and her boss. But when her Bona rep caught wind of it and offered to fund it, Rosie became a reality. "Since the pink PowerDrive came out, there's been a lot more talk about women in the industry," says Peterson. "I'm pretty proud about that."
Will more women step in?
As all trades face a labor shortage, will more women enter the business? Most of the women interviewed for this article didn't originally intend to be in the industry, but according to WFB's survey, 86 percent intend to stay in the trade and 92 percent would recommend it to young women.
Although women who work on job sites are still relatively uncommon, Hoffmeyer has noticed an increase in women working in the business side of wood flooring companies over the past 20 years. "Whether they're an owner, president or manager, women are handling more sales," Hoffmeyer says. That can only be a positive for the women starting their careers: "They start seeing these women in these businesses, owning these businesses ... and they can say, 'Yeah, I can do that, too.'"
Running her business, Macey meets a lot of female carpenters but not installers or sanders, and she sees the potential for more women to be interested in the wood flooring industry, whether on a job site or not. "I think there could be a lot more women who get into trades and understand that it's not just labor, it's business, conservation, preservation, it's puzzle-making," she says. "I see that maker ethic in that next generation ... if we could give them not only trade skills but more small business skills so they could be a savvy small business owner, they could build a little empire."
In Cleveland, Tosland makes sure her three daughters, ages 13, 10 and 3, go to job sites on a regular basis, "to show them that women can do this, too." She and her husband have been steadily growing their business, and she would love to see one of their girls take it over someday. "I talk about it all the time with them: 'Girls, this is so fun and it's so much better working for yourself … You're growing up with it, and it will be amazing if you take control and can turn it into something better.'"
Despite the uncomfortable situation the contractor put her in on the job site last year, Staci Martinez thinks the attitudes will continue to improve for women in the trade. She credits much of the shifting attitudes to the positive exposure of women like the late racecar driver Jessi Combs and metal sculptor Barbie the Welder, two prominent women in fields dominated by men. "People like them are making it a lot easier for women in the trade like me," Martinez says.
Martinez and her husband have made a point to bring their three daughters, ages 19, 11 and nine, to work on job sites and understand the trade. "I encourage them to work hard, and if you have to use your hands, use your hands," says Martinez. "They just needed to know that it's OK to get dirty, it's OK to work, it's OK to help ... You can learn anything, just work hard."
Mentoring young women and encouraging them is key, Russ says. Their company recently took on two young women in their early 20s. "I'm proud that I feel like I can help other women and go, 'No, you can do this. You know this,'" Russ says. "Because they're not used to seeing it, but they see me doing it."
Van Horn's boss and mentor, Bart Garner, was a huge influence on her decision to purchase a wood flooring company. "He just showed me a helpful way to solve issues and brainstorm," she says. "Get yourself a mentor."
Despite growing up with her father owning a wood flooring business, Hoffmeyer didn't consider it as a career option until it happened by accident 24 years ago. Today, she hopes to see many more women consider working on job sites. "You're not going to lose anything by trying, and you might just find you really like creating something, working with your hands," she says. "You might find your new career path."
Although it seems many millennials aren't inclined to consider physical labor, Johnson hopes that more women are attracted to the resurgence of craftsmanship that's considered hip in today's culture. "I would hope that women would jump on the opportunity to learn something working with their hands, because it just makes you feel so good inside to do something like that," she says.
Women pave the way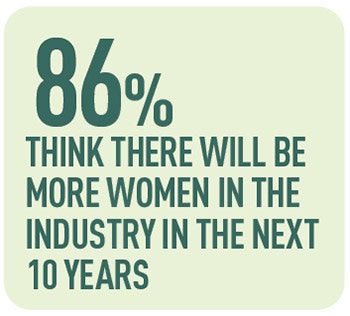 While their experiences may vary widely, one thing everyone interviewed agreed on is that women are becoming more of a force in the wood flooring industry. "It definitely feels different now, not quite to the point where there are lines in ladies rooms, but I do see a lot more women in the business," says Lenmar's Sullivan. "I think they are well-respected; I don't think they have the same challenges I may have had in the beginning."
Jenny Riddle spent years running a contracting business before moving to her current role in manufacturing sales, and she says that after years of feeling like she had to prove herself, she still sometimes feels that way, but she's also proud of the respect she's earned. She is trying to pass her knowledge along to both men and women. "I have a lot of contractors calling me, running things past me when they are doing projects and doing estimates, and I try to mentor them," she says. She gives a lot of the credit to the women who came before her. "There are several women that worked really hard to make more room for women in the industry by merit," she says.
Despite the challenges she still experiences, Skowron says she thinks things are changing for the better for women every single day in the industry: "There are a lot of women standing up in the industry that I am so proud of ... I would absolutely recommend a woman get into this industry, because it's so rewarding, and I love proving to people that it's not just a man's job, not just a man's world."