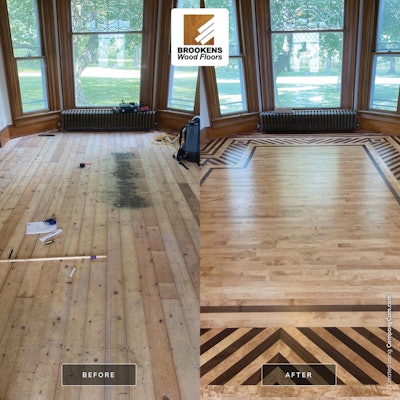 Like most companies that run multiple crews, we have people who do all the estimating (for us, that's our owner, Ralph Brookens, and me), while other people do the actual installing,
sanding and finishing. We do our best to communicate to the crews what they are getting into by sending them photos and details in their work order, but that can be an organizational challenge, to say the least. Then one day last year we had a job where I had put in a bid on a floor in a home, and then they added to the scope of the work, so I asked the contractor if he had any pictures to refresh my memory. He sent me a link where I was able to scroll through all the photos for that job, and I was thinking: This is really nice, what is this?
I scrolled down and saw the name: CompanyCam. Immediately it was obvious this was an app that could make our lives so much easier, and as I looked into it, I realized just how much easier. Here is how we have used the app since we started a subscription last summer.
Doing estimates
Say Mr. Smith calls and wants to schedule an estimate. Kristi, who schedules our estimates, can put his name and address into CompanyCam. Then when Ralph or I show up to do the estimate, the app recognizes where we are via GPS and pulls up Mr. Smith's record. If that customer's record hasn't already been created, we can start it using the address.
During the estimate, we take photos using the CompanyCam app. They are uploaded to the cloud and designated for that specific job. (We haven't done this yet, but you can also organize photos by room.)This makes it much easier it is to show the guys what needs to be done. Let's say I take a picture of a doorway and know we want a certain reducer there. I can annotate my notes on the photo, and then when I'm going through the job with the guys, it's easy to show them what we want to do. Any time we send them out with more information, that's better than less and helps stop problems before they start.
Photo storage and organization
We all know that the more photos we have of every job, the better, but before we had CompanyCam everyone was gun-shy about taking pictures. We all have our personal phones, and if you have 32 pictures of a floor and then go to the next job and have 32 more, that eats up space pretty quickly, and then you have all your work photos mixed up with your personal photos. In addition, Ralph probably has 20,000 photo files on his computer. We are running anywhere from four to five jobs at a time, and with everybody taking photos on their own phones, coordinating all that data was time-consuming and a huge pain in the neck. Now all the photos go right to a folder for that job in the cloud.
Texting
So much information is transferred through text message now, which is fine for doing one-on-one text messaging here and there, but when Ralph and I are trying to coordinate jobs and have to go through all these different texts from all these different guys, it can be hard to find information. With CompanyCam, you can essentially have a text thread going in that job record—so more and more, we text each other through CompanyCam.
Progress updates
We ask the guys to take photos at the end of each day so we know where they're at. They want to go home and don't want to call in to give us an update on what's going on, but if they take photos, we can see, "Oh good, they did that stained, otherwise we'd be behind schedule." Last fall Ralph took a trip where he was out of town for a month, and it was peace of mind for him to be able to check in and see if there was anything in the photos that made him scratch his head (there wasn't). But now I joke that Ralph's favorite channel is Company Cam!
Avoiding mistakes
With multiple crews and as swamped as we are right now, we can't get around to check on everything, especially when jobs are out of town. Having the photos uploaded on CompanyCam makes it nice for us to see in real time how things are going and potentially head things off at the pass. For example, we had a younger guy installing a floor, and the subfloor was really bad—it fell off with about a 1.5-inch belly in it, so we had to install sleepers to flatten it out. In this case it was fir flooring that wasn't end-matched, so those butt ends had to land on sleepers. The installer posted pictures that he got the sleepers done and had started installing the floor, and I noticed he had a joint that wasn't on a sleeper. This was right at the beginning of the job, so we were able to catch it before much time was wasted.
The cost of CompanyCam is minimal compared with the peace of mind and money you can save in not making mistakes. It costs $19 per person, so if you have 10 guys, it costs $190 a month. If you head off one callback or one problem, the app has paid for itself or actually saved money.Before-and-after shots
When you take a "before" photo, it's always better to take the "after" shot from the exact same position. This app creates a watermark that helps you position the camera exactly where it was before. Then once you have both shots, the app automatically puts them into a before-and-after template you can easily share on social media and your website.
Making social media easier
Ralph's son who lives in Texas does our social media, and with the app, it's easy to share the photos with him so he can quickly post them on Facebook.
As busy as most of us are right now, anything that can make our lives easier and more efficient is a huge help. We've found this app so useful that we are changing from a monthly subscription to an annual plan.