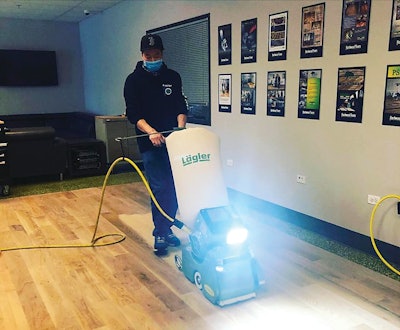 As we all know, the contractor's life—the "dust life"—is a physically demanding one. I've been a wood flooring contractor since 1992 and opened my own business in 2005. I'm 52 and a healthy guy, but I realized as I got older that the work isn't physically sustainable for me in the long-term. You can only take so much before it gets to you health-wise. But the best thing about our industry, especially nowadays, is that you can actually evolve. When the pandemic started, everything changed overnight. I decided this was the right time to really begin investing in the next phase of my career: distribution. Here's why I decided to make this move and how I'm writing my next chapter in this ever-changing wood flooring industry.
I found products I'm passionate about
Even before I began thinking about transitioning from contracting, I wanted my business to focus on environmentally friendly products. I love products like that: They change customers' lifestyles and at the same time improve our working conditions. In the old-school days, there weren't as many low-VOC product options; you had to put up with toxic-smelling sealers. Today, those are my biggest pet peeves. I re-branded my contracting company into higher-level service with high-end product offerings. In the process, I really got to know products by companies like Loba, Woca and Berger-Seidle. I got as many industry certifications as I could. As a contractor, you know what to look for in a product because of all your past experience. So when I started thinking about my next career move, I realized all that knowledge gave me an advantage for distribution.
I started sub-distributing
Most of the bigger players in our industry won't even talk to you unless you sell a big amount for them, so there's very little opportunity for the smaller contractors like me. So, I started out by working with my cousin, who runs a distribution company in Boston. I would get his best pricing and then sub-distribute for him. That's how I learned the process and this side of the industry.
I found companies looking to grow
After I started sub-distributing, I was contacted by a representative of an international finish manufacturer looking to grow in the U.S. market, as well as a distributor for an international sanding equipment company. I was able to buy from both of them direct, and I didn't have to carry their entire inventories—I got what I needed, and that's how I began. There are a lot of great international companies looking to break into the U.S. market right now and a lot of opportunities. I'm also strategically positioned here in Burlington, Vt., only a half-hour drive from the border of Canada, where there's a huge demand for name-brand products.
I found online distribution opportunities
Another venue to help you leapfrog in the industry is to create a distributorship online, which I'm gradually learning to do. There are many platforms, such as Bigcommerce.com or Shopify, that help you sell your products across platforms like eBay and Amazon. It's a lot to navigate, but I'm getting there, hopefully. The internet has opened up a lot of opportunities for smaller operations like mine.
I have a backup plan if things don't work
I'm continuing my contracting work as always because I have all the infrastructure in place. A favorite quote from entrepreneur Jim Rohn is, "Don't wish it was easier, wish you were better. Don't wish for less problems, wish for more skills. Don't wish for less challenge, wish for more wisdom." My plan is to have a crew who continue to operate my contracting service even after my micro-distribution business is established. Along with hardwood flooring, I own and operate a successful nail salon. That's where most of the funding for my equipment and purchases comes from. The reality is you need a backup plan for your business to pay the bills until you're established. Please don't give up your day job, LOL!
I'm not afraid to fail
As you may be able to tell by now, I'm a big advocate for planning ahead. As Jim Rohn also says, "Life and business is like the changing seasons. You cannot change the seasons, but you can change yourself." These past two years have proven that, and I don't think we're going to get back to normalcy anytime soon. When I'm planning, I plan two years out, max. I still don't know what tomorrow's going to bring me. I'm always learning. And if I fail, I don't really care—that's going to be a learning experience.