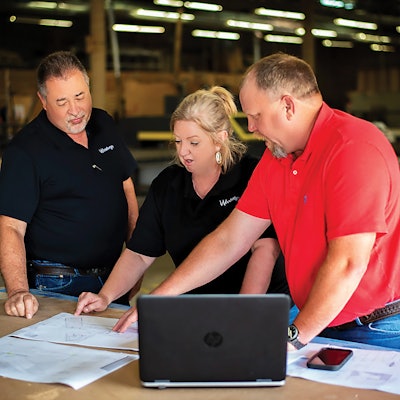 In 2016, after the unexpected death of my husband, Steve, I found myself in charge of Woodwright Hardwood Floor Company. Although the company was a thriving 30-year-old titan in the commercial wood floor world, I was not a seasoned construction manager by any means! At the time I was a homeschool mom of two preteens living on a ranch 90 miles away from our offices and shop.
It was never an option for me to sell the company that my husband worked his entire career to build. The fact that there were 70 families counting on me to make the right decisions and keep all the balls in the air was daunting, to say the least! While our backlog of work was strong, our general contractor community was anxious about where we were headed, and our business slowed way down. Many were taking a wait-and-see stance before they were comfortable awarding us any new projects. I lost some employees who perhaps felt they were aboard a sinking ship, but the core of my team remained, and together we have built an even stronger company that is confident and excited about our direction.
I learned that you need to surround yourself with the best possible team you can put together, relying on their wisdom and experience while not being afraid to try a different approach and expand on an idea that might be completely new. For example, our shop had always supported only our own install crews and the materials they needed for the projects they were working on in the field. We have expanded our manufacturing processes, and now our shop serves as an additional stream of income for our company. Our on-site UV oven allows us to custom-prefinish the wood for a project that was specified as a site-finished floor but, due to timing or any number of factors, needs to be converted to a shop-finished product. We are always researching and expanding our technology to keep us on the "cutting edge" of trends in the industry.
Another lesson I've learned is to not fall into the "we have always done it this way" trap. Perhaps the greatest takeaway we have all gained from the pandemic and the craziness of the past two years is that there is almost always a new market or a new way of looking at opportunities. Woodwright has a long history of providing installation of our artisan products. While we still only sell our custom wood products as a turnkey installation in our home markets of Texas and Oklahoma, we have added a national architect and design representative to sell our materials to a nationwide market. Capitalizing on the relationships and confidence we have with the A&D community at home has proven to be a natural expansion of our capabilities into a new (and much larger!) arena. We have sample boxes in libraries across the country and are building on our past success but growing exponentially into a national resource. 
This would not be possible without a team effort and having strong leadership. We are constantly refining our approach to how we stay relevant and what benefits we bring to the design industry. Recruiting top talent is both challenging and so rewarding. When you know you have the right people representing and working in your organization, you can't help but feel like you are doing something that makes a difference. While it is obviously important that we are profitable and successful, it matters just as much to me that my team has a work/life balance and that they truly enjoy where they work, they are proud of the company, and we value each other's talents. 
In building your team, it is also so important to look at industry associations, both locally and on a national level. The local construction associations provide a huge amount of resources that might not be accessible to a small business individually. From legal insight to networking to opportunities for learning about the practices of other contractors, the information is invaluable. Getting involved and giving back to the community that educated and supported me is one of the things that brings me the most joy. I have served on the board of the Subcontractors Association of the Metroplex since 2019, and am very active in the Association of Professional Women In Construction. Both organizations have been pivotal in my confidence and have been a huge asset for navigating my way through a business environment of which I knew very little.
After going through so much in taking the helm at the company in the years since Steve passed away, my advice to my fellow wood flooring pros is pretty simple: Think big, new and different; invest in your team; and reach out to your community when you need help.
See some Woodwright projects featured in WFB:
Beauty & Brains: The Kimbell Museum Wood Floor is Unlike Any Other
A Team of 15 Combined to Create These 'Social Stairs'
Rap-Inspired Lawyers Form Their Initial With Wood Flooring
Watch: Flat Prefinished Floor Transforms Into Theater Seating
Double-Hand-Scraped Floors Create an Old World Texture
A Wood Floor with an Infinity Pool Creates a Winning Focal Point
It Took Six Months to Create This Sculpted Custom Inlay
Wood Floor of the Week: Woodwright Tackles Texas-Sized White Oak Install in LEED Gold Project