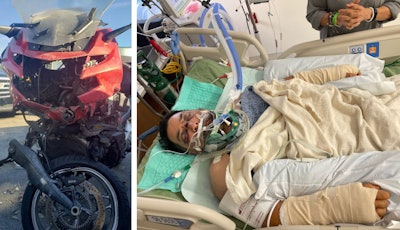 In Part 1 of this blog earlier this year I told you about my motorcycle accident, the months I spent in the hospital and how my business came to a standstill the moment of my crash. It made me think about Stevie Ray Vaughan and how the moment he died things drastically changed for everyone who depended on him to make a living.
I started telling you about what I have learned since my accident regarding serious things to consider before something unexpected happens—things I wish I would have known. To continue about things I've learned:
3) Choose the right life insurance.
I sat down with my insurance hero and learned that permanent life insurance has an advantage for me over term life insurance. My story is unique, but yours may different, so listen to the experts.
4) Consider lessening risk.
Lessening risk is a decent consideration for all of us Big Bosses. I'm not hot on skydiving, shark feeding, or commercial fishing like some of us do, but if I had a desire for extreme sports, perhaps I'd want to tone it down a little. For my part, I am not sure, after all I've been through, if I will ever ride a street motorcycle again. The most reasonable thought is a firm "NO." Those days laid up were dark, and I do not want to experience them ever again.
Perhaps I'll take up lion taming or deep-sea welding instead (ha ha!).
5) Check your vehicle insurance.
This mostly pertains to my story if I would have caused a harm. Allow me to explain: When I originally called the insurance company to start a policy, I got a cheap rate and went with it. I fulfilled the law for my commercial vehicle, my cars and everything I own that I drive.
The insurance companies love to advertise they are "the cheapest," or "they have the lowest rates" over their competitors—but there's a catch. Exactly like the cheap flooring we come across, there is a difference between the lowest cost products and a higher cost product (within reason). We all have our favorite NOFMA mills, for instance, and sell their products to our customers for a higher quote so we can differentiate ourselves from our competitors.
When it comes to personal vehicle insurance, I maintained the $100k/$300k (per person, per claim) policy I had when my vehicle was new, and I kept it even now that the vehicle is paid off. My whole policy for the year is under $100 a month for two cars. To increase the policy to a large number, say the same $100k/$300k (per person, per claim) but adding in $100k of property coverage and $100k/$300k (per person, per claim) of uninsured/under-insured coverage, the policy increases only $94 for the whole year.
To go up from there to $300k/$300k of uninsured/under-insured coverage only adds a single $1 for the year. Those of us running companies can be targets of litigation if we cause any type of harm while driving. Imagine if an Amazon delivery truck bumped into your car, you'd likely be thinking "paycheck!," and you'd be right. Well, people who are not self-employed like us would think the same thing back at you if you were the Amazon truck in my example.
For my work truck (a P30 Step Van), I have a commercial policy that was the state minimum of 15/30/5: $15k per person/$30k per claim/$5k of property damage, for $317 for the whole year.
To increase my coverage to $500k of combined coverage is $863.76 per year, and to increase it to $2 million is $1,394.76 per year. This is a tiny consideration for the relative increase in coverage. Altogether for my commercial policy, there are 14 levels of protection that I NEVER knew about. The $2 million policy is the maximum, but I'm guessing there is even more if you desire a separate umbrella policy.
The notable aspect about my work truck is its weight. When empty, it weighs about 4.5 tons, and I've had it loaded up to almost 8 tons on the way to the city dump when I put the wreckage of a ceramic tile tear-out inside my truck. Just rolling empty at 20 miles per hour I can do some real damage if I bump into another vehicle or structure. Rolling at 40 miles per hour on city streets on the way to the dump, filled with tile at 8 tons, I'm not stopping quickly at all with all the inertia.
I hope you can see where I'm going with this. Traveling with this much weight is a risk, and we all take risks in one way or another. It's best for us business owners and tradespeople to be prepared for the unthinkable, and sometimes it can be our fault. Being underinsured and owner of a business is a choice, apparently—a choice I never knew I had. I just thought the insurance was cheap for my benefit!
The lower levels of insurance can leave you with a liability you may not want or be able to easily pay for. Say, for instance, my work truck with the $5k of property damage bumped into a newer car. That $5k won't go very far, and I'd be on the hook for the remainder to make the other party whole. Imagine if I harmed a vehicle AND injured one or more persons. I'd have to sell my house or maybe more just to make the other party whole.
6) Consider general liability insurance.
All this chatter about vehicles is important, but we navigate risk on the job as well. I would hope have a general liability policy.
I would hope we all stop and think about our families and employees if ever we cause a harm or are harmed. There is no magic answer on how to handle risk. Each of us have a different situation to manage, and one size does NOT fit all.
Also, realize that all these different types of insurance policies are tax write-offs, so in some cases (most cases), they are sorta "free" because they reduce your taxable income. Also, if you have nice homes, nice cars, money in the bank, etc., protect them from a righteous attorney retained by a victim we hopefully are never linked to. Shield yourself, your family and your business through adequate insurance and risk reduction.
My story ends well: I am alive and have resumed working again, although modestly, for now. I delegate nearly every manual task, but I am back to work, nonetheless. I am altogether smarter for being more aware of risk like I've never thought before. At the beginning I mentioned Stevie Ray Vaughan, and us business owners share a commonality with him. To restate, just like he was looked on by his crew, his family, and his customers (the recording industry executives) to make a living and succeed, we also are also looked on by our crews, our families and our customers. We need to take care of ourselves by reducing risk where we can and look even farther into the unknown should anything unexpected happen.
I would hope these thoughts find you all well. Good luck, masters!
See all of Angelo DeSanto's popular blog posts and magazine articles here.