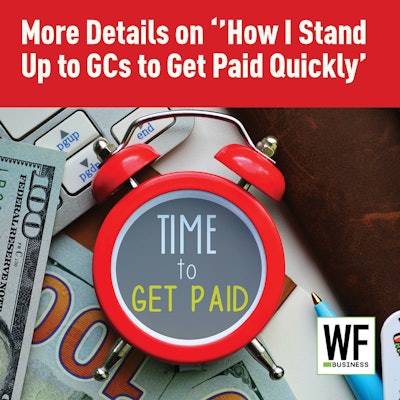 Wood Floor Business got a question from a reader about my article "How I Stand Up to GCs to Get Paid Quickly". (Before we dive into this, I want to note that for those of us who work for stores, we can safely substitute the term "store" for "GC".) Here was what the reader wrote:
I was reading one of Angelo DeSanto's articles on how to get paid by your GC. I love the article, but I wanted to ask a couple questions:
1) I, too, read the prompt payment laws in California, and the way I read it was that the GC has 10 days to pay after receiving payment from the client. What I am running into (because the GC's I work for know I read the laws) Is that they just keep telling me they haven't received payment. There are times when I actually know they have been paid but it is a very difficult conversation to have. I am running into this situation quite frequently. So really I am just asking: Am I wrong?
Log in to view the full article