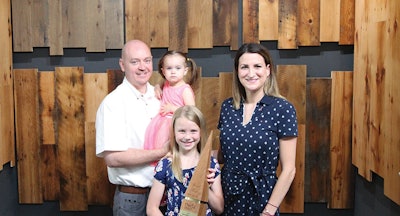 Sometimes it seems like all the glory in the wood flooring industry goes to the stunning projects of the installers. But at WFB we thought we should also recognize some of the retailers in the industry who do a stellar job.
That's why this year we introduced the WFB Outstanding Retailer Awards, our contest designed to honor the best of the best in hardwood flooring retail.
We are excited to share this year's five inspiring winners. To read their stories, keep scrolling.
Do you have an impeccable wood flooring retail business strategy, and a staff who go above and beyond for clients? It's time to get the recognition you deserve. Enter the 2020 WFB Outstanding Retailer Awards by going to wfbmag.co/retailawards20.
1 Wood Floors | Livonia, Mich.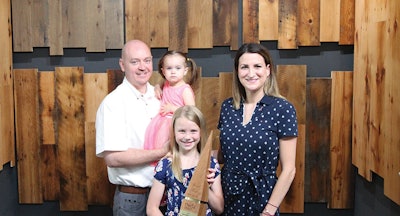 Year founded: 1998
Number of employees: Four
Locations: One
Annual revenue: $1.4 million
1 Wood Floors Owner Edmond Malaski doesn't slow down. As a result, neither does 1 Wood Floors.
Working since he was 12 years old, Malaski was 17 when he followed a friend to a hardwood flooring company, where, without expecting it, he fell in love with the trade. After soaking up as much knowledge as he could from his mentors, Malaski set his sights on retail. "I just wanted more control over the process to make sure that we had a better one and that we didn't have any errors," Malaski says. "So it was all about efficiency and being able to control the quality of the product for me." The mission has been working, as Malaski has built 1 Wood Floors into one of the top wood flooring retailers in Michigan.
Malaski also has a background in web design and founded a website development company with his brother, Ray, which has been a huge marketing edge for 1 Wood Floors.
"You've got to have that asset for your business nowadays to be a brick and mortar store," Malaski says of his online presence. The company makes a point of marketing its services locally, strengthening its roots.
"It's going to give you a better marketing advantage over a larger e-commerce platform," Malaski says. "Really being super-targeted in your marketing is going to help."
They also accomplish that goal by carrying unique products. "For me, it was important to have different items than what you could find at every store," he says. Three years ago, as if Malaski weren't busy enough running the business and growing its nearly 6,000 Facebook followers, 1 Wood Floors also launched its own local wood flooring line, Michigan Plank Floors.
"I always have to be doing something," laughs Malaski, who adds that he is also constantly striving to learn more about the industry to better serve his clients, whether it's through installation, the online experience or the manufacturing process. As 1 Wood Floors looks to expand to multiple locations in the upcoming years, Malaski says he owes credit to a certain group of people for having the freedom to explore new challenges: his staff.
"I have really good people around me," Malaski says. "If you can surround yourself with a good team—which takes years to accomplish—you're definitely going to get things done quicker and a lot better."
Brian's Flooring and Design | Birmingham, Ala.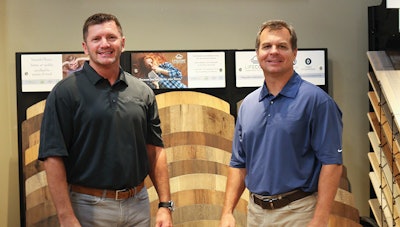 Year founded: 1996
Number of employees: 22
Locations: Three
Annual revenue: $11 million
Brian's Flooring co-owners Brian McCarver and Brian Hammonds describe themselves as sports-minded people.
"We like the challenge," McCarver says. "We want to win. So everything is kind of a game to us. We want to be better at it than the competition."
And like all good sports teams, Hammonds and McCarver have a playbook of values to abide by, known as "The Brian's Standard." First up on the list? Hard work—a standard they have both tried to exemplify since purchasing the store when they were both 25.
"We did everything; we were forklift drivers and the sales guys, too," McCarver says of starting out. Since then they've opened two additional locations and set a goal of a 10–15% growth each year. "I guess we wanted a new challenge, something new and exciting, and it kind of went from there," McCarver says of expanding.
Each new location has been a huge learning experience, requiring major adjustments to the business, Hammonds says. But with each of their locations they've built the same uniquely Alabamian relationship with their clientele.
"Because we're in Birmingham, Alabama, we're southerners, and it's all more about relationships than probably any other part of the country," Hammonds says. "So the product base at each store is similar, and we believe in small retail stores with one designer and two sales folks."
The company uses the majority of its marketing budget toward digital properties and social media, processes they're constantly evaluating. The company is also boosting its close rates using a CRM tool called Retail Lead Management (RLM) that tracks new leads received via the company's website, walk-in traffic and phone calls. The tool's cloud-based technology allows the company to gain access to the lead's job info from any smart device.
As sophisticated as their marketing and lead generation have become, the company also goes back to reliable old-school methods of engaging with the community, going door-to-door and inviting businesses to periodic "Come and Go Lunches" in each of its trendy showrooms.
The company also invests a considerable amount of time in training employees. "If I hire a person today, they're going to see me a lot," McCarver says.
With three bustling showrooms, it's clear Brian's is already winning. And as they eye continued expansion, it's also clear that it's not just about the win—it's the love of the game.
Daniels Floors | Roswell, Ga.
Year founded: 2007
Number of employees: <10
Locations: One
Annual revenue: $700,000
There's a standard you're expected to live up to when serving in the military, says Daniels Floors Managing Partner Laura Anzures, who served in the Air Force in the 1980s.
"You are expected to carry yourself in a certain way, in a professional manner all the time," she says. "You're expected to give it 100%."
It's a standard Anzures carried into her business and one she has continued to hold for employees as they've built Daniels Floors into a boutique powerhouse in the booming Atlanta market.
Starting out as subcontractors, Anzures and her husband, Daniel, realized retailers they worked with all carried much of the same "low-hanging fruit" products. To meet a need for clients who wanted something more, Anzures opened a small, by-appointment-only showroom stocked with unique and high-end products, eventually growing into a larger location in Roswell in 2015.
"We get someone who's a designer or who's building their dream house and wants something that is gorgeous and unlike anything they've ever seen," Anzures says. "They find it with us." Aside from their niche offerings and installation expertise, they also take pride in clear communication with clients. Starting from the consultation, Anzures's sales staff works to manage expectations, and her installation team goes the extra mile to let clients know what's going on, texting photo updates during the day.
"We think of ourselves as more of being in the service industry rather than just being contractors," Anzures says.
Faced with considerable competition in the area, Anzures is constantly focused on the company's marketing and social media efforts, and she equipped her sales staff with iPads so they always have marketing and product info on hand. "It's all about providing immediate assistance to the customers," Anzures says. It's been paying off, as the company has developed a solid client base of designers and homeowners, and its work has been featured on multiple TV programs.
One of Anzures's favorite parts of the job, aside from the Christmas-morning-like joy of opening cartons of new product samples, is when clients come in with no idea what they want.
"It's almost like solving a mystery," she says, equating it with the medical drama "House." And no matter the final diagnosis, Anzures knows she has the products and the team that can get it done—all with a professionalism and motivation gained from her time in the Air Force.
"I really had some fabulous mentors," Anzures says. "I just carry their wisdom and try to honor them the best I can by the way I conduct myself in business."
State of the Art Wood Floor Gallery | New York City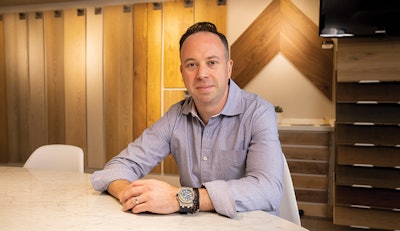 Year founded: 2003
Number of employees: Seven office employees; 25 installers/refinishers
Locations: Two
Annual revenue: $5–10 million
It's a Saturday afternoon in Manhattan, and while some people are out lounging in Central Park or catching a matinee on Broadway, Eric Herman is in his showroom's color lab experimenting with new samples. The radio is on high. It's what he calls his happy place.
"It's how I really unwind during my free time," says Herman, a second-generation wood floor pro who in 2003, at the age of 26, launched his showroom in one of the most competitive markets in the world.
Today, Herman's clients include some of the leading architects and designers in the Big Apple, and his custom color lab, complete with a polyurethane spray booth and drying station, is just another feature that makes his company a cut above.
"People like to have input and to be involved in the design," Herman says of the concept behind the color lab, which began when a renowned architect client was in search of something ultra-specific for a Park Avenue project. The lab is now available for other clients to experiment with color.
When he's not creating color samples in his showroom or leading installations in luxury apartments, Herman travels the world in search of product lines while ensuring CARB compliance and proper sourcing. "I don't play that 'not knowing where stuff is coming from' game," he says.
State of the Art's projects have been featured on numerous television programs in recent years (including Bravo's "Get a Room," "Open House NYC" and three in one episode of "Million Dollar Listing"), and connections have led to other big exposure opportunities (like installing the wood flooring in the greenroom at "Live with Kelly and Ryan"). But while the company's innovation, commitment to quality and media exposure have solidified its position at the top of the industry, Herman says his business ultimately owes its success to what made it stand out from the beginning: an unwavering dedication to pleasing the customer. Staff do that by understanding the client's lifestyle, setting expectations and always standing by the product, Herman says.
"It means a lot to me to make the client happy, and I've found that doing the right thing pays for itself in due time tenfold," says Herman. "That's really how we've grown the business to where we are now."
Frank Sinatra famously sang of New York, "If you can make it here, you can make it anywhere." Well, State of the Art has clearly made it, but has no signs of slowing down, having opened a second showroom in East Hampton, N.Y., last summer. "It's beyond exciting," Herman says.
Woodchuck Flooring Inc. | Toronto, Ontario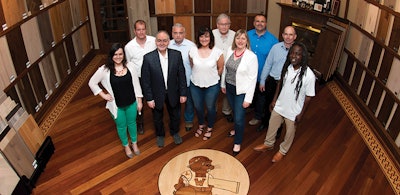 Year founded: 1970
Number of employees: 12
Locations: One
Annual revenue: $6 million
Running a family business can be a unique challenge, says Tim Nassis of Woodchuck Flooring, which was founded by his father, George, in 1970.
"Did me and my dad fight? Absolutely," says Nassis, who took over the business with his brother, Mark, 12 years ago. "Was his retirement more like a military coup than it was a retirement? Absolutely," he laughs.
But while there may have been a few typical family-business disagreements over the years, there's no arguing the legacy of customer service and integrity Woodchuck has developed throughout its nearly half a century serving the Toronto market. It's a legacy the store continues to strengthen by always looking to improve, Nassis says.
"One thing about starting in a business really young is you're always surrounded by experienced people who know more than you," says Nassis, who began working there at the age of 14. "You try and absorb as much as you can."
It would be easy to sit back and rest on their local name recognition and revered customer service, but Woodchuck is instead pushing to be at the forefront of e-commerce, developing Woodchuck Direct for contractors to purchase tools and supplies online for installation and refinishing projects.
"The potential there is massive," Nassis says of the site. "I also wanted to make sure it was the proper online purchasing experience that shoppers have come to expect."
Woodchuck, which has a knack for attracting overwhelmingly positive online reviews, has also been revamping its marketing strategy, signing on with a marketing firm last year and developing campaigns such as its 2018 "Win a Floor Makeover" contest. The contest, promoted through a local radio station, garnered 60,000 online impressions for the company.
Nassis also thinks outside the box to create effective incentives programs for his sales team. Hit a certain sales goal, and employees receive gift cards or the chance to cruise in a $60,000 GT convertible Mustang for a weekend.
"People like to feel appreciated," Nassis says. While Woodchuck continues to bolster itself for the future, Nassis says the key to its longevity and success has been a classic one: the people.
"Hire people for who they are, not just for what they can do," Nassis says. "We can always teach you what to do."
And as for the family business element, Nassis says his family has stuck together through the thick and thin, which has resulted in the best education he could have asked for: "I went to the university of life and graduated with a Ph.D. in common sense."
Challenges and advice: Straight talk from the 2019 winners
We asked this year's Outstanding Retailer Award winners what the most challenging part of their job is, and what advice they would give to hardwood flooring retailers who are just starting out in the business. Here is what they had to say: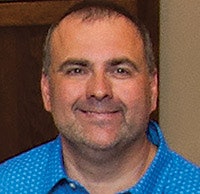 Tim Nassis | Woodchuck Flooring
Biggest challenge:
Managing client expectations. This has always been very important, but even more so with potential customers checking review sites online. There have been times when clients look at the newly installed floor they chose and simply don't like it as much as they thought they would. Or, we remove their old flooring, and the subfloor needs a lot more attention than expected and we have to revise their quote. Now what?
Advice:
Make sure you have the right people on your team. From the time a new customer walks in the door or makes first contact with your business, we are potentially going to be doing business with them. So ensure that your team is equipped with plenty of options to offer, plenty of knowledge, and the people skills to manage the client's expectations. Help clients to find the right options, and prepare them for the possible hiccups that come with any renovation project. Clients who trust you will work with you when the unexpected happens in the process of choosing and installing a new floor, and having the right staff can make this go smoothly almost all of the time.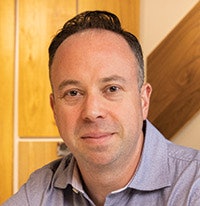 Eric Herman | State of the Art Wood Floor Gallery
Biggest challenge:
Third-party logistics. We use a lot of common carrier trucking companies. And as much as they promise you the world, I think they're all very terrible communication-wise. We've paid for guaranteed ships and they don't show up, and they always have a song and a dance why they don't. It cogs down a lot of our time dealing with incompetent common carrier shipping companies. So that's definitely a thorn in my back, trying to get these shipping companies to stick with what they commit to—and they seldom do.
Advice:
Be diligent about contracts. Sample your products well. It's extremely important to set expectations in the right place. Don't promise a Lamborghini and deliver a Volkswagen. Not that there's anything wrong with a Volkswagen, but people see through bullshit, and it's really best to do the right thing and stand behind your products. If it means you take a hit, you do it; and hopefully in due time somebody's going to remember that you did the right thing by them and that will build a future with you for that client and help you build your business.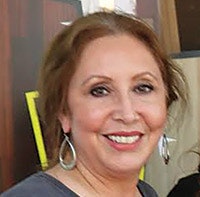 Laura Anzures | Daniels Floors
Biggest challenge:
Internet sales. I have talked with some of my competitors about forming an alliance of dealers or an association of dealers, because it is killing us. I spend a lot of money on the rent for this facility, the utilities, showroom staff; I purchased all the displays; I spend money on marketing and advertising, and then I literally went online and found some flooring being sold online for less than what I am paying wholesale … There are places (selling wood flooring online) that pop up, and then they close down and then they pop up under a different name and then they close down, and there's absolutely no sense of accountability or responsibility … I would like to see the manufacturers step up and start reining this in. And they used to; a few years ago if I saw something online, I could pick up a phone and call somebody and say 'Hey, there's this website and they've got the prices that they're posting online.' And then the manufacturer would deal with it; they would send them a warning. But now, what do they care? They're selling the wood and they're kind of really cutting the legs out from under their retailers.
Advice:
Love what you do. When you pull up somebody's ratty builder-grade carpet that they've had for 10 years and you replace it with a gorgeous new floor, really it makes people so happy. If you want to do something that's rewarding and fulfilling, but yet kinda superficial, this is it! I'm not saving lives or anything like that, I'm not solving any of the world's big problems, but it's still really rewarding because you're making people happy.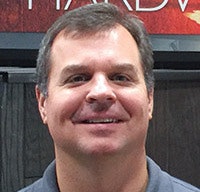 Brian McCarver, Brian Hammonds | Brian's Flooring and Design
Biggest challenge:
Hammonds: Finding the best retail salesperson I believe is even more difficult than finding an installer. The retail salesperson has the toughest job in our company; from installation manager through office manager, the retail salesperson has to be able to talk to that customer and have enough knowledge and experience to explain to them what could happen in their home. Then they've got to really know what the possibilities are when they take up the floor. They've got to know product specifications so they can sell the product; and then they've got to be a people-person … To me it's just a very difficult job.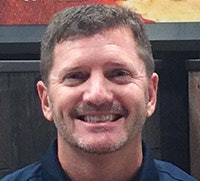 McCarver: When you're in people's homes, it's hard to set an expectation for what will happen when you tear up floors and move them back in, and most of the time that happens in a two-day span. So it is hard to get people to understand that you might have a nick in your baseboard. That is tough, but the obvious answer still is installers: it's tough to find the really qualified guys you want to drive around representing your company.
Advice:
Hammonds: I met a guy about three years ago in North Carolina ... He had just bought a company that was doing about $2 million dollars in annual revenue. And he asked me, "Man ... where's the sweet spot?" I wish we all knew that. Maybe it's $2 million. Staying small sometimes is a mentality, but I also read years ago, "Grow or die." And somehow that stuck with me. It doesn't mean grow 50%, but "grow or die" has been our mentality and we constantly want to grow. But I told that guy to call me back in three years and I'd have a better idea.
McCarver: We both have kids that may or may not be involved in this company. I tell my son our core values; we have seven, and "hard work" is at the top of that. So our advice is that if you own your own company, or whatever you do, you need to be a hard worker. Work smart, but you need to be a hard worker.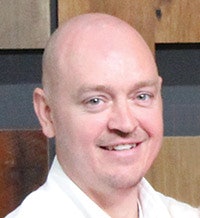 Edmond Malaski | 1 Wood Floors
Biggest challenge:
Finding the right people. I think that's everybody's biggest challenge at a certain point. And you have to devote a certain amount of time into training as well, because not everybody is going to know exactly everything you may want them to do. So you need to have some form of training system in place.
Advice:
The first thing I would say is to watch what type of product you sell to make sure you give yourself a competitive advantage. Also be sure you have a blend of e-commerce mixed in with your website so people can view your product online. The third thing is, I would definitely say just putting the right people in the right places. You're going to have certain people who have strengths that are better off served in specific areas.