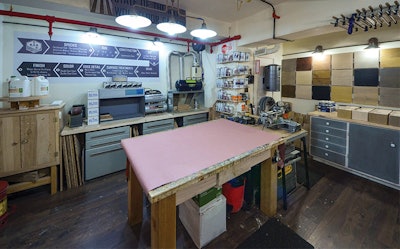 As a flooring retailer in New York City, a lot of our projects involve working with architects and interior designers who have an eye for design and know what they're looking for. Our showroom is stocked with tons of samples, and many times one will strike clients as the right one. But other times the sample is close but not quite what they wanted. It's in those cases that our color lab comes into play.
The color lab is a 400-square-foot laboratory in our headquarters where we work side-by-side with our clients to develop their own custom color for flooring projects. The idea sparked several years ago while working on a large Park Avenue residence. We usually make a lot of samples for jobs, but on this job, we were getting to the point of 18 large-scale sample panels. Finally, I said to the project's renowned interior designer, "I need your help." I asked him to come by my office so I could show him the color formulas we used and find the one he had in mind. The next day, I guided him through the formulas, and he guided me toward the mixes he wanted. We eventually got where we needed to go, and he ended up loving the process. It made me realize that many people like to be involved in the creative process. So, after that, we decided to start offering this customization opportunity to all our clients—and the color lab was born.
Setting up the laboratory
It took us about four months to build out the color lab space. We wanted to set it up like a modernized laboratory, with glass walls and reclaimed woods to make it feel comfortable and inviting.
We have three brands of oils, all the traditional stains, aniline dyes, sealers and water-based finishes available. The laboratory has three main machines: the lightbox, the spray booth and the drying booth. The lightbox is roughly 30 by 30 inches and displays "true light"––allowing us to place the sample wood inside and see exactly how it looks under different lighting, such as office light or incandescent light.
Our spray booth allows us to spray our urethanes in a self-vented booth we built. And our drying booth allows us to dry the samples so the client can leave with them. My employee David got creative and built this great wooden box for the drying booth, and we have four hairdryers mounted in there, all working on one switch. We have all the wood already pre-sanded in different cubbies for the different species, which are listed on a flowchart on the wall.
Working with clients in the lab
Clients will come in and choose their species, and then we discuss the grade. After that we discuss the colors and finishes. We have about 25 benchmark colors on the wall, and we use those as points of reference and build off of them. After we pick customers' brains a little more, we create custom samples with clients. It allows us to hone in on exactly what they're looking for, whether for job-site application or the custom prefinished flooring we offer through a manufacturing partner. My employee and I apply the colors to the wood, and then we just continue a process of elimination until the client finds something that they truly love.
We're open books because we appreciate and work off of their feedback. And it's a working collaboration. We guide and we give them knowledge, but we also let them get in the driver's seat.
Filing colors after the lab work
When a client is satisfied with a formula, we'll name it, typically as the address of the project, and log it into the lab's computer, blowing it up to the quantity we need. We'll give the client two 9-inch-long sample planks and, if it's a prefinished job, we'll keep two 9-inch-long pieces to send to the factory. The turnaround process on a prefinished floor from the lab is roughly four weeks. If we're doing a field job, we still make a set of samples that match what was made in the laboratory; we're just one step ahead of the game.
Strengthening client relationships
The color lab process is really just allowing people to feel like they can customize exactly to their specification. Once they get involved, everyone has a little skin in the game. I believe it makes them feel proud and accomplished, as well, that they created this beautiful work of art. So it gets everyone on the same level and it really allows people to be comfortable and know that they're getting exactly what they desire. And as a hardwood flooring retailer, we want to be able to offer anything that our clients can dream of.