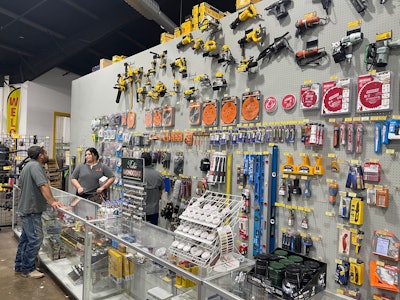 When I started out in sales, selling lumber wholesale out of my garage, I never dreamed of having a store. Thirteen years later, we have locations in Dallas, Fort Worth and Austin. I learned a lot about sales and selling in the process of building my business. Here are some tips and reminders about what I believe you should be doing every day to improve as a professional who sells wood flooring for a living.
I understand that sales can be uncomfortable, but it's only uncomfortable when you don't embrace your position. You've got to put yourself in the other person's shoes, and that means putting yourself in your own shoes first: You're a consumer—do you want to go into a furniture store and have somebody who is timid and not helpful, or do you want somebody who is confident and knows what they're doing? Because when a customer comes into your store, they want new flooring. It's not like walking into an antique mall, where you're maybe just browsing. Someone walks into your flooring store because they want new flooring, and they don't want to spend a lot of time going from store to store. So make sure that they have so much confidence in you as a salesperson that they don't need to go anywhere else.
One of the biggest things that helped me along the way is reading books (see a list of my favorites on page 22). Most everybody has a commute, and you can either fill that commute with nonsense, or you can fill it with education. Audiobooks are so easy to come by. How can you be a salesperson and not be reading books and listening to podcasts? It is un-freakin'-limited how much knowledge there is on podcasts. Can you imagine going to your doctor and saying, "Hey, when's the last time you learned about a new medicine?" Every Monday morning a football player is watching film to learn to get better. If sales is your livelihood and you're going to be an expert, you have to be feeding the beast. Learning the skill is the difference between being a mediocre salesperson and a great salesperson, and a mediocre salesperson sells on price.
Log in to view the full article