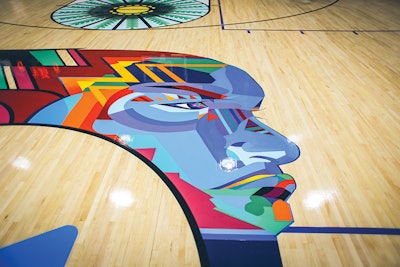 Photos courtesy of Stadium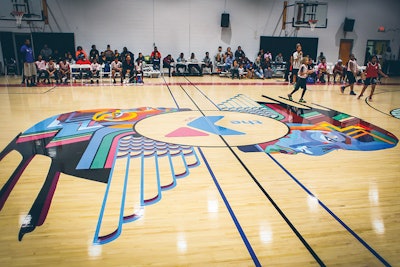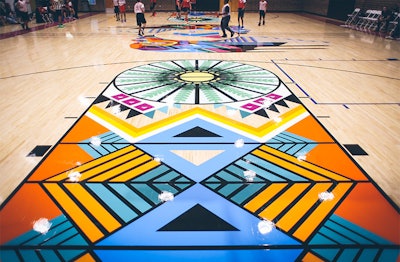 The team at Monroe, N.C.-based The Sports Flooring Group normally likes to have at least three weeks to refinish and paint a 7,600-square-foot basketball court. But for the elaborate, 24-color gym floor at the McCrorey YMCA in Charlotte, N.C., they had just two, meaning long days and late nights. For a project this special, though, the company didn't mind the time crunch. "You just don't see that level of detail often," says The Sports Flooring Group Owner Brian Cockfield, who has seen his share of gym designs since founding the company 30 years ago. "It was really a lot of fun."
The court was sponsored by 2K Foundations, which teamed up with Xbox to revitalized the court. To create the striking design, 2K Foundations tapped Charlotte-based artist Georgie Nakima. "My inspiration was to create something futuristic and timeless that also gave off a sense of belonging by fusing color, symmetry and shapes," Nakima says, noting that she wanted to highlight the cultural context of the historically black community while still reflecting the diversity within the YMCA.
After sanding the 50-year-old gym floors, The Sports Flooring Group applied a purple-hued, paint-infused stain to the borders before adding two coats of sealer. To stay organized when the complex painting began, they printed posters of the design, each marked with which colors went where. When the painting was completed by Nakima and the crew, they abraded it and applied three coats of water-based finish. The floor's unveiling event included NBA star Kemba Walker, community leaders and custom Xbox giveaways, but the highlight was seeing kids try out the court for the first time, Operations Manager Matt Dutille says: "They're going to grow up with that floor. It was great getting to the end of the project and knowing that they've got something real special there."
Suppliers:
Abrasives, Finish, Paint, Stain: Bona US | Sanders: Galaxy