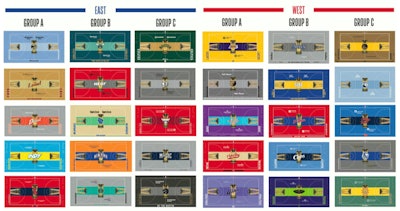 When the NBA announced last summer that each team would have its own new court design for the inaugural In-Season Tournament, "That was the day my phone melted," says Jared Deveraux, general manager at Professional Floor Systems in Shelley, Idaho. "The teams were looking for alternate courts so they wouldn't have to redo their City courts," he says, referring to the fact that many NBA teams now have at least two courts: their main court as well as a City Edition court that matches their City Edition uniforms.
The NBA created new all-paint designs for each of the 30 NBA teams for the In-Season Tournament so the games with tournament implications will be readily apparent. (Fun court trivia: This is the first time the Boston Celtics, Chicago Bulls, Los Angeles Lakers, New Orleans Pelicans and Portland Trail Blazers will play on an alternate court in the history of the franchises.)
The coordinating court designs include completely painted courts—something that has only been done once before in the NBA, when the Milwaukee Bucks had their MECCA court , which was designed by pop artist Robert Indiana. "This is definitely an homage, in my opinion, because never before in the NBA before besides MECCA court have we seen an all-paint court for an NBA court," Deveraux says.
The announcement that each team would have an additional new court in the mix created a scramble regarding logistics for creating and scheduling the courts. "Teams have a tight schedule with which teams they are playing, which uniforms they are wearing and which court they are using," Deveraux says. "In some cases, with finishers like us, there wouldn't be time to resand their City court and have it back in the mix in time for when they needed it."
Because of that, many teams are leasing portable courts that have been repainted with their tournament designs. "It strained the flooring industry considerably, because there are a finite number of portable courts," Deveraux explains. "I had already set aside some courts; I knew the storm was coming, I just didn't know what the storm would look like." When all was said and done, Professional Floor Systems created the tournament courts for the Milwaukee Bucks, Minnesota Timberwolves, L.A. Clippers, Sacramento Kings, and Golden State Warriors.
Although theoretically they could have just abraded and coated over the existing portables, they elected to completely sand the existing coats and start from scratch, Deveraux says. "We did a couple tests; based on colors, you could get some transfer that you might not see from the camera and the stands, but we decided let's just go ahead and take the extra day to sand them."
---
RELATED: How They Do It: Pulling Off Today's Bold Basketball Floors
---
Although doing a completely painted floor isn't the norm, extensive stain, paint and graphics are hardly unusual for Professional Floor Systems. Company owner Shane Matheson rocketed to fame in the sports court world after the release of the University of Oregon's "Into the Woods" court.
The world of portable courts is a niche market that's getting bigger and busier all the time, Deveraux says, as demand increases with more courts for the NBA, WNBA, NCAA, NBA G League, independent arena sites and even FIBA games abroad. It's a high-pressure world with tight deadlines for everyone from the court refinishers to the arena staff, who often have to flip arenas overnight from a basketball game to a concert, a hockey game or other event.
"These arena staff can pivot on a dime to get it done, and I would say our industry is the same thing," Deveraux says. "The show must go on, and we figure out how to deliver the stage. Make no mistake, it's definitely theater, and even on a grander scale, because millions of people tune into these games."
The NBA's In-Season Tournament will start Nov. 3 when the Knicks visit the Milwaukee Bucks and the Denver Nuggets host the Dallas Mavericks. The tournamenlt will conclude with single-elimination games in the quarterfinals (Dec. 4-5), semifinals (Dec. 7) and championship (Dec. 9) in Las Vegas.