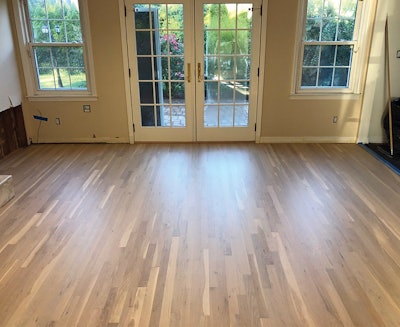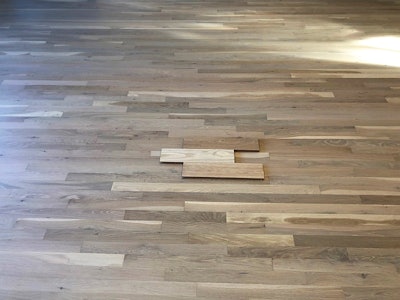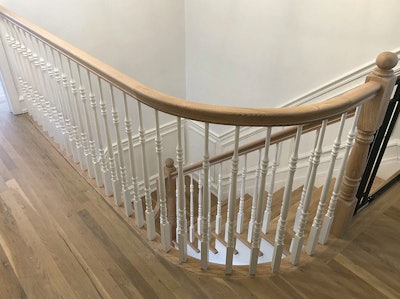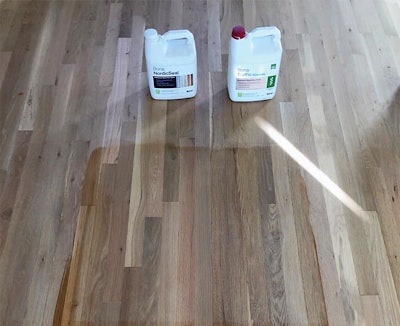 Red and white oak floors are increasing in popularity. According to WFB's 2020 State of the Industry Contractor Survey Report, in 2019 red oak made up 48% of installed species and white oak made up 32% of installs. Yet when it comes time to refinish red and white oak floors, achieving a natural/untreated look can be challenging, particularly when color matching these two species in one area of the home. As a contractor it is important to deliver on the natural look without jeopardizing your health or the integrity of the wood.
Marcin Zyskowski, of Euro Floors LLC, recently took on a project that consisted of 3 1/4" plainsawn white oak floors and a staircase of red oak handrails and treads. The homeowner requested the popular "natural" raw floor look and a perfect match for the white oak floors and the red oak stairs. Additionally, the homeowner needed to remain in the home during the renovation.
Past techniques to achieve a natural floor look relied on bleach, two-part peroxide-based strippers, or oxalic acid, a toxic process that destroyed the lignin, soft grain, and structural integrity of the wood. In addition to the adverse health effects (burning of the eyes and lungs, skin irritation, etc.) this method also meant shorter open times and dried out the wood, causing overlap, cut-in marks, and a greater chance of tannin pull.
Instead of this old method, Marcin chose a waterborne sealer and finish system which included two coats of Bona NordicSeal (which contains 2x white pigment) and three coats of Bona Traffic Naturale (with a sheen level of 4–6). The homeowner was sold on the near-perfect color match when Marcin provided the wood test samples, even on the red oak stairs.
"Two coats of NordicSeal changes and protects the color so the difference between the red and white oak was minimal," Marcin said. "Handrails and treads can be challenging; you want to get it right the first time. Best of all, the homeowner was able to stay in the home throughout the process."
The selection of waterborne products created a beautiful floor along with other benefits. "With waterborne there is no odor, it's easy to apply and provides quick access to the finished floor—we can layer multiple coats in one day. Additionally, the performance and durability provide for a floor that lasts, with high scratch resistance that meets my clients' expectations," Marcin continued. "Waterborne is the least harmful for me, my crew and the environment—and the GREENGUARD Certification is extremely important to clients."
Marcin is also an advocate for using products from the same manufacturer. "By using a system, I'm 100% sure everything is done 'by the book', all the coatings are compatible, and the manufacturer will have my back if something unexpected should happen," he said. "My customers expect premium products and performance. Sticking to product manufacturers' recommendations is the safest and best way to deliver results."
The natural floor trend is here to stay. Using a waterborne system to achieve the look is safer for all involved and will result in a beautiful, durable floor.
Marcin Zyskowski is the owner of Euro Floors LLC out of Levittown, N.Y., and is a Bona Certified Craftsman and a NWFA Certified Installer and Refinisher. He services all five boroughs and Long Island.