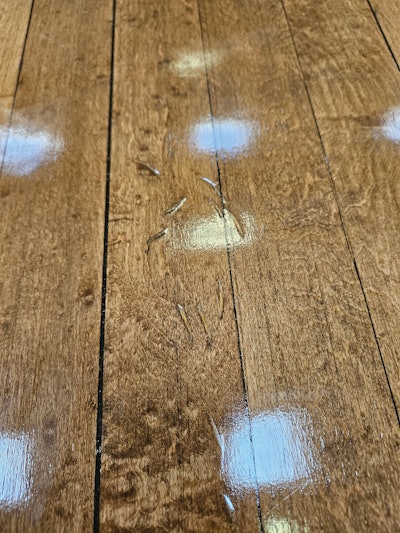 What are the raised areas? This is a sand and refinish; the raised areas are all the same, with some bridging across a board seam. The floor was sanded flat, water-popped and stained. There are three or four spots in this three-point section and none anywhere else. They are not in the finish coat—they are wood. — Brent Kelosky, Sport Floors Inc. (Koppel, Pa.)
Patrick Russell at All American Floor Sanding and Installation in Ocala, Fla., answers:
Those were existing dents that were in the floor prior to sanding. They were sanded flat, and when the floor was water-popped, the moisture made the compressed wood regain its normal shape, rising above the rest of the wood floor. This is similar to the technique of getting dents out of a wood floor with moisture and an iron—just that in this case, the waterborne finish provides the moisture, and the dents decompress without the added heat.
Log in to view the full article