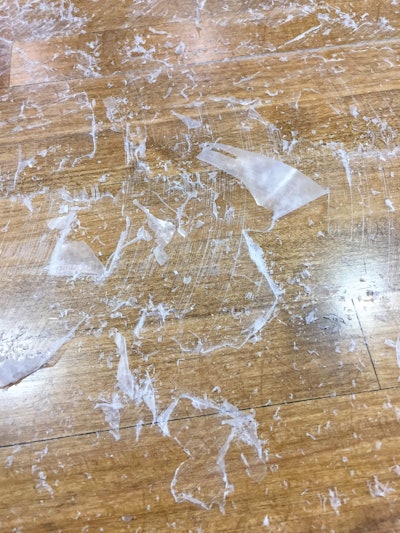 Most catastrophic finish failures are straightforward: a shortcut gone wrong; an "I've always done it this way" system failing; ignoring dry and cure times; not providing fresh/thorough abrasion, etc. The more difficult, and perhaps more important question is: "What am I doing that causes the finish not to perform up to expectations?" In no particular order, here are some of the main errors:
Not keeping it clean: Dust and debris are your finish's worst enemy. When these particles show up in your final coat and you walk into a room of sticky notes, review your dust containment system and your final cleanup before the coating.
Flooding seams and end-joints (and even under the floor): Especially when stain is involved, getting too much in these areas does nothing but cause problems! The surface might be dry, but solvents bleeding out of the swimming pools you created between the seams, end-joints, and perhaps even under the floor will cause white lines (and eventually adhesion failure) as they build up under the sealer and finish. In some situations, it might be better to buff on/off, hand apply, or dip-and-roll a product versus a flooding process.
Log in to view the full article