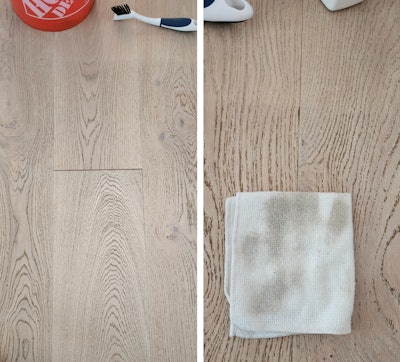 Many aspects of real wood floors have kept them in use for centuries. Among them are the facts that wood has a timeless beauty; that over time, wood becomes harder with use as the cells compress; and that it can be either a subtle background for many types of interior design or a breathtaking feature in the design.
Like any flooring, wood is subject to changes in taste, color, pattern, and more. All of us who have spent decades sanding and finishing remember the white floor fad: pickled, bleached, you name it. Over recent years the "aged" look has become a fashion statement. Wire-brushed, multi-tone, cerused with white base color … and, too often in my opinion, white-on-white wire-brushed. These floors do look great … for a while. The problem is that we walk on our floors, so they get dirty and must be cleaned. Therein "lies the rub," as Shakespeare might say. The wire-brushing removes the soft grain of the preferred species being used: Quercus alba (white oak) and Quercus rubra (red oak). This process leaves palpable ridges and valleys that become dirt traps beginning in the traffic areas. Some of the manufacturers use UV-cured hardwax oils, and some use UV-cured urethanes.
The problem is that it can be difficult in the factory-finishing system to get a good film build in the wire-brushed areas. So, what happens? Someone drops or spills something on the floor, and it is either cleaned up right away or left to dry if unnoticed. Let's say it's something like water from a dog bowl or dog drool. The moisture gets into the soft grain and raises the grain even more. Now a rag, paper towel or microfiber mob is used to try and clean the spot or area, and the raised grain splinters. This is an issue that can make a floor that is six months old look like it's 20 years old. Who hasn't spilled something on their floor? What about pet accidents (or if it's a cat, on purpose)? Drop a meatball and it's all over but the crying! So, who's to blame? The designers who are trying to meet their clients' wishes, or the salesperson who must make the sale to make a living (maybe)? Or the manufacturers, who most installers would say seem to point the finger anywhere but inward?
I have spoken to some mills that make these floors and suggested what I think is a simple remedy: Before that floor goes in a box, make sure there is a film build sufficient to allow spills to bead up and be cleaned up without destroying the floor! I get answers like, "We don't want to make the floors look like plastic." We need to find a happy medium where the floor hits the mark aesthetically but is also cleanable.
But wait, there's more. Read some of the maintenance instructions, and one would think all that must be done is to vacuum and do a little dust mopping with a spot cleaning from time to time. Really? In my experience inspecting these floors, the only folks winning in the long run are the lawyers. So if you're installing these floors, my best advice is to inspect the floor yourself carefully before you install it to make sure you think it will hold up to real life—and you won't end up in an inspection. Install floors from a manufacturer you trust!
What do you think?