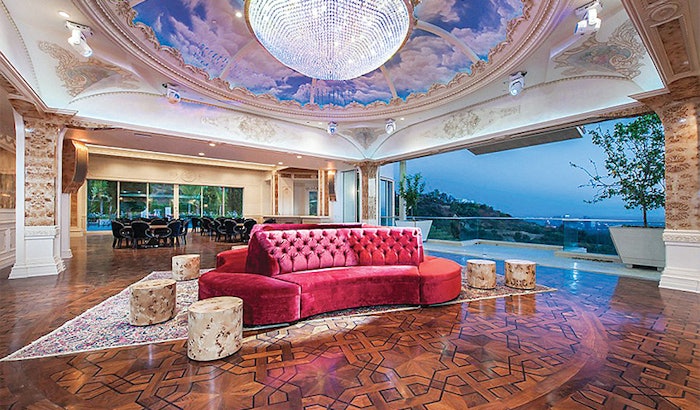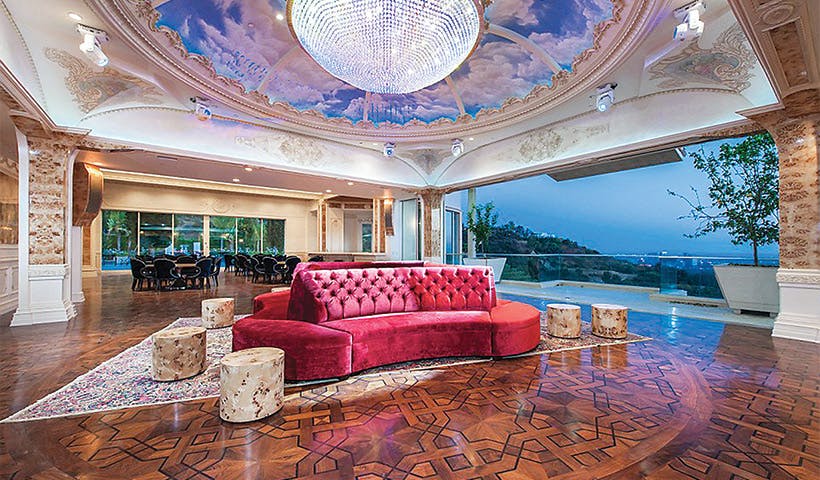 The wood floor installed by Parquet by Dian inside a $149 million home in Beverly Hills was a literal revolution: The Gardena, Calif.-based company was tasked with installing a parquet floor for the owner of the Palazzo di Amore estate with a turntable that rotates 360 degrees.
"We like a project that someone would say, 'Oh, it's impossible, that's too difficult,'" says Dima Efros, president.
The floor consists of more than 1,000 irregular-shaped, 7⁄16-inch-thick American black walnut and wenge parquet tiles designed by Efros' father, Anatoli Efros. Each tile was preassembled at Parquet by Dian's facility. They were glued directly to the slab, and the entire floor was hand-scraped.
The turntable is made of steel and sits flush with the concrete slab. The tiles along the circle's circumference were precut back at the shop, which made the installation quick. A pair of walnut bands straddles the imperceptible gap between the turntable and the rest of the room, allowing the structure to rotate. The floor pieces in the inner band lock into place without glue, a clever design feature that gives the turntable mechanic access to make repairs.
For a request that may have set another contractor's head spinning, Efros was nonplussed. Nothing is surprising when your clients live in the moneyed hills above Los Angeles. "We're used to some pretty crazy projects, to say the least, and each person wants to outdo the other," he says. "This whole turntable was his way of going completely out there."
---


See more on this topic: Custom Installation How-To
---