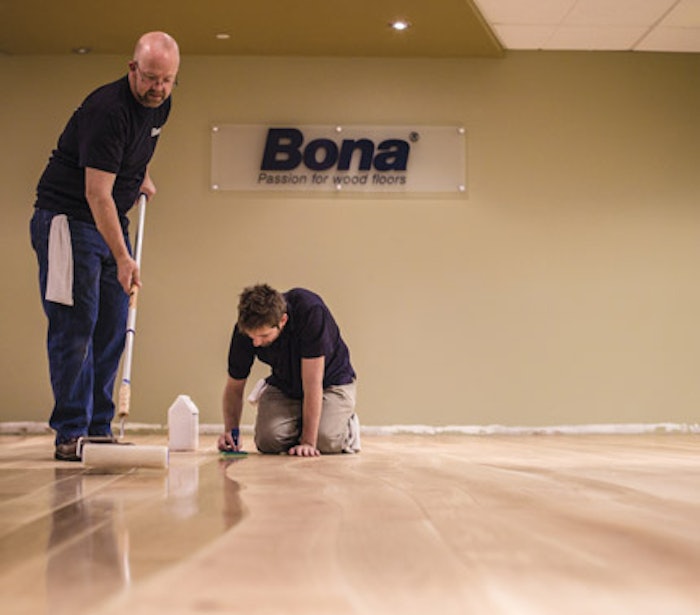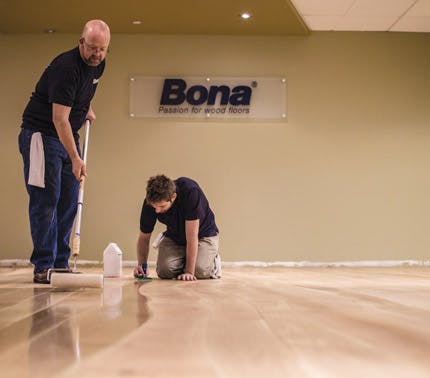 Todd Schutte, Bona director of professional product development, and Bobby Mohr, technical services & training specialist, demonstrate sealer application.
Creating a beautiful hardwood floor is a balance of science and art. Whether refinishing an existing floor or laying new hardwood, it takes a keen eye and experienced hands to create durable floors with results that delight the homeowner. Yet even the most seasoned professional knows that the right tools and products can make the difference between delight and disaster.
Once the stain and finish are selected, it's critical to ensure a reliable sealer is added to the mix. A proper sealer will make all the difference in the finished product, as it provides a number of advantages, such as preventing or minimizing potential reactions between the wood and the finish and helping the finish achieve maximum durability and beauty. In many cases, a wood floor stain can also serve as a sealer, but some stains may still require a sealer coat over the stain before finish is applied.
Here are a few refreshers on the key functions of a sealer: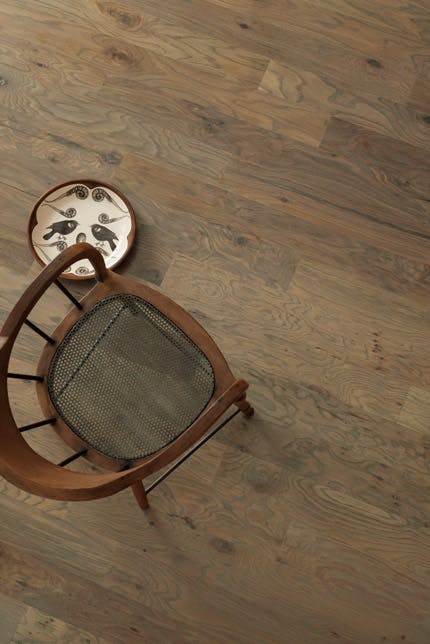 Bona DriFast Stain in a custom blend of 50 percent Grey and 50 percent White on white oak.
1. Sealing the wood, thus minimizing the pull or migration of tannins and other extractives. These may be present in the wood and end up in the finish coats. Without a sealer, the finish could discolor, may not adhere or may show decreased performance due to the effect of the extractives. This is particularly true on an oily and resinous species, whether domestic or exotic.
2. Providing a good base on which to build your finish coats. Finish without a sealer will soak into the wood, requiring extra finish coats (and extra expense). With a good sealer coat, the finish sits on top of the sealer and wood, providing maximum protection, build, depth and beauty while also prolonging the life of the finish and the wood floor underneath.
3. Minimizing or preventing unfavorable reactions between the wood and finish. The chemistry of a proper sealer and its associated finishes are usually quite different since the sealer is formulated to be applied directly to raw wood.
4. Reducing time and expenses. Sealers cost less than finish and also dry faster, reducing the overall time and expense to complete the job.
5. Producing the desired color. Because the color and appearance of wood can easily shift during the staining and refinishing process, a proper sealer is critical to achieving the perfect color. Sealers can preserve the natural color, enhance it or change the color, giving a floor a three-dimensional look and vibrancy that finish alone cannot achieve. Today's floor color trends include everything from natural and whitewashed for a fresh-looking floor to greys and rich blacks for a sophisticated, urban look.
Take to heart the importance of incorporating a sealer into your refinishing protocol as a promise to deliver all the beauty and aesthetic hardwood floors have to offer. A proper sealer and finish combination offers unbeatable floor protection and a world of new color options for craftsmen and floor owners.
This article was paid for by Bona US, where Matthew Hudson is national sales & market manager for finishes. For more information, visit www.bona.com.