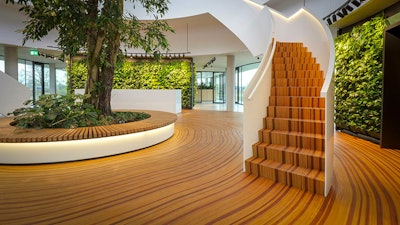 SPONSORED BY: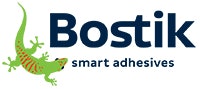 When asked about creating his winning growth-ring-inspired wood floor, pro Jakko Woudenberg remarked that, in a sense, he and his team had to "invent the wheel." They weren't the only ones to break from tradition this year: each of the 2020 WFB Design Award winners embarked on something rarely, if ever, done before in a hardwood floor. Whether it was creating a tree's growth rings, a porcelain-tile-look on a basketball court, oak fireworks bursts, or a "Hiperdrive" pattern with 85,000 wood strips, the pros recognized in this year's WFB Design Awards combined expertise with intuition to craft the "wheels" for their original and inspiring floor designs.
As with every year, we're honored to present awards for Best Residential, Best Commercial, Best Stairs, Best Gym, Readers' Choice and Next Gen (for companies owned by someone 35 or younger). Some of this year's entries were close runners-up, so we've added two Honorable Mention categories on page 52.
Thanks to all who submitted, and congratulations to the winners, who were chosen by an independent panel of wood flooring experts (Readers' Choice is selected via an online survey).
Prizes include a $500 Visa gift card and a prize package from this year's Design Awards sponsor, Bostik.
Do you have a project you'd like to submit for next year? To enter our 2021 contest, which is open to all wood flooring professionals, go to wfbmag.co/wfbdesign21. To see this year's winners, keep scrolling.
---
Best Commercial + Best Stairs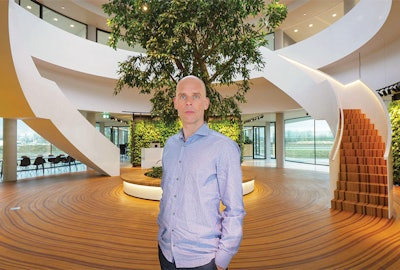 Dutch Wood Artist | Schagen, Netherlands
It started with a simple question: Is it possible to replicate a tree's growth rings in a wood floor? When posited by an architect to a pro like Jakko Woudenberg, there could be only one answer. "Almost immediately, a picture appeared in my head," Woudenberg says, "and I knew how to make it." Two years later, Woudenberg's vision now masterfully surrounds a living Ficus Amstel King tree in the headquarters of a landscape architectural firm in Brada, Netherlands. As he worked on the project, it became more than a floor for Woudenberg. "We call it an artwork now," he says. "It's no more a floor."
In line with his initial vision, Woudenberg ordered 9-by-9-mm strips of oak and teak to bend into the growth rings for the 3,000-square-foot project. "Teak and oak are a good, bendable wood," Woudenberg says. "My manufacturer produced them. He laughed hard at me when I said what I wanted." After installing an oak parquet subfloor (the typical substrate used for wood floors in the Netherlands), Woudenberg and his crew of three began gluing and nailing the thin strips about 4 feet away from the central planter, bending each one cold as they went. "We press them into the glue, and then the glue must do the rest," Woudenberg says.
They alternated installing the strips toward the center and away from it to ensure the curves looked natural and did not become too rounded. It was five grueling weeks to install the strips. "Our knees and backs started to suffer," Woudenberg says. "But we were determined to finish it!" After completing it and sanding with 50-grit, they advised the GC to wrap up any other work, like planting the giant ficus, that could potentially damage the floor. "To plant the tree, they had to take the dome light off the roof and then lower the tree down with a big crane," Woudenberg says. His heart skipped a beat when the builder called and asked how much water the floor could handle in case it rained when they opened the roof. "Oh, boy," Woudenberg sighs. "That was stress! But fortunately, they chose a good day to move the tree, and nothing happened."
With the tree installed, Woudenberg and his crew returned to trowel-fill and complete the sanding with 80-grit and 100-grit. After applying two coats of oil finish, the growth rings "came to life." "Because of the curves on the floor, there is also an optical illusion that makes you think that the floor is not flat," Woudenberg says. "People were touching it to make sure."
The sense of accomplishment was profound, but they didn't have time to rest on their laurels (or ficuses, as the case may be): A new challenge was posed when the owner of the firm made a special request to add the growth rings to the building's two staircases, as well. Just as with the floor, a picture of how it could work popped into Woudenberg's head. "I knew I could," he says. "I only had to figure out how exactly."
Making molds of the portions of the flooring directly above and below the staircases for reference, Woudenberg built two workbenches in his shop to build the treads and risers. EEstairs, the company that installed the staircases, sent him the cut multiplex underlayment of the steps (28 per staircase) and risers. Woudenberg and his team placed the strips of teak and oak over the underlayment, then sanded the stair parts in-shop and milled anti-slip strip slots in the treads before sawing the miter on the risers and steps and gluing them together.
They worked with EEstairs to glue the treads and risers to the staircase. Despite the considerable work put into fabricating the pieces, Woudenberg was still anxious that the flow of teak and oak down the treads and risers wouldn't match with the floors. "The idea of having made a mistake in my calculations stressed me out so much that it even brought me nightmares," he says. The moment of truth came, and Woudenberg could rest easy—the flow was perfect.
They then coated the stairs with two coats of oil finish and installed the metal anti-slip strips, wrapping up four weeks of work. Woudenberg christened the masterpiece "Innsaei"—an Icelandic word that means "intuition" or "seeing things from the inside out." "For me it means that everything is possible if you can imagine it," he says. "A tree stands for growth and it follows nature's rules. So keep growing as a person, and listen more to your intuition."—R.K.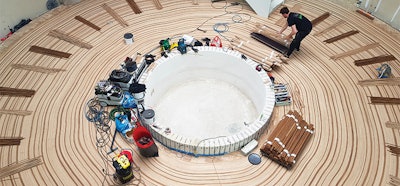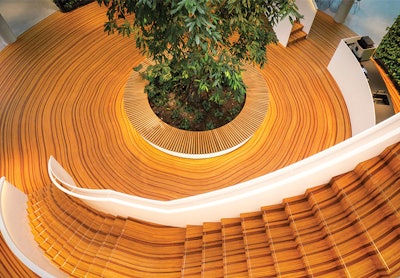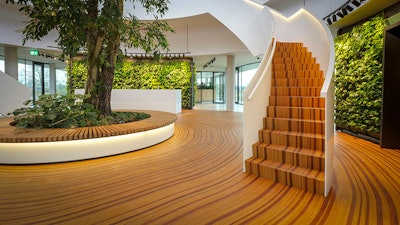 ---
Suppliers:
Advertisers appear in bold.
Abrasive, Adhesive, Filler, Finish: Bona | Nailer: Union Microbrad Tacker | Sander (Big machine): Lägler | Sander (Palm), Saws: Festool | Underlayment: Multiplax | Wood flooring: Albers Parket
---
Watch a video tour of the winning floor, courtesy of Dutch Wood Artist:
---
Best Gym + Next Generation
Hero Flooring LLC | Atlanta
Luis Perez started his career in residential floors, but he found his passion when he moved to Orlando and became fully involved in the gym floor business, traveling the state and working on everything from the Orlando Magic courts to "every YMCA from Jacksonville down to Miami." Now independent and based in Atlanta, he travels the country with his equipment, and while he still does plenty of traditional gym floors, his goal is clear: "I want to put more artistic design in the wood floor game, especially the gym game, because there's really no limitations to what we can do."
When he spotted the work of Project Backboard, an organization that refurbishes neglected urban basketball courts with artists' designs, on Instagram two years ago, he immediately contacted the founder, Dan Peterson. "They specialized in outdoor courts originally, and I told him, 'I'm a wood floor guy and I love to do gyms, and to bring this to a wood floor setting would be incredible,'" Perez says. "I said, 'If there's an any opportunity that I could put my hands on a project with you, I want to be there.'"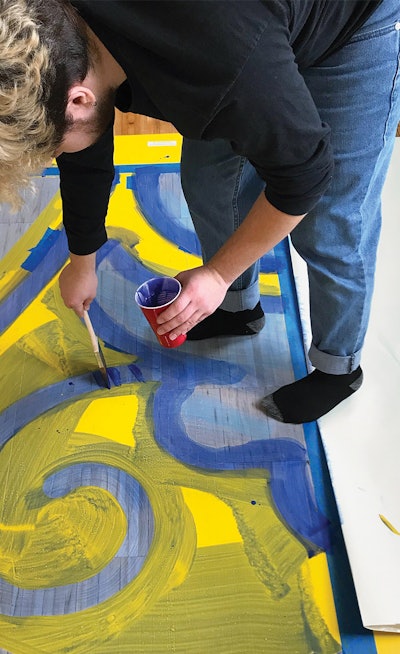 That opportunity arrived in 2019, when Project Backboard became involved with the basketball court at the Union League Boys and Girls Club, located in the Pilsen neighborhood on the west side of Chicago. The court was being renovated through a program funded by the NBA and Under Armour, Building Bridges Through Basketball, which connects police officers and youth to discuss community issues and play basketball together.
Project Backboard courts are designed by artists with a connection to the local community, and for this court, renowned artist Carlos Rolón, a Pilsen resident of Puerto Rican descent, was a natural fit. He had already done a court for Project Backboard in Puerto Rico. "A lot of his work is about migration of people and culture, so when we worked in Puerto Rico we knew we would do a Chicago-based court," Peterson says, adding that Rolón did workshops at the Boys and Girls Club to come up with concepts that "would represent his work but also resonate with the people from the community who use the space." The resulting design features huge squares representing porcelain tiles. "We literally treated the entire court like the artist would treat a canvas in a studio ... to make truly a massive painting on the basketball court surface," which was a first for Project Backboard on an inside court, Peterson says.
When the Project Backboard team arrived, the court had been sanded, and the three-point arcs had been bleached. Taking it from there wasn't easy: "We literally had to replicate the porcelain tile onto the basketball court, and it was a challenge, to say the least," Perez says. He had a huge stencil to help replicate the brushstrokes of the tile designs. "It came in 10 layers for each three-point-arc side, so I had to lay those strips out and overlay them, making sure they were perfect," he explains.
They tinted water-based polyurethane with water-based paint, creating strategically different shades of blue—10 in total—for each layer of mask. "We would have certain areas that were really light blue, and then it would have a flash of dark blue, what would essentially be a brushstroke, so we had to recreate those," Perez says. Other parts of the design had areas that represented chips in the porcelain. "I had to go in there with a hand-scraper and a palm sander and try to replicate that chip ... I was taking color away, adding layers, subtracting layers, giving it that real effect of a painting, and it came out looking amazing."
In addition to Perez, two artists from Rolón's studio and four of Rolón's friends from The Art Institute of Chicago worked on painting the court, taking eight days to recreate the design. At the end of every day, the project manager, Sam Peterson, would take drone shots of each square tile area, stitch the photos together and send them to Rolón, who would send his feedback about every area that needed adjustments. The project was completed just in time, with Perez putting on the final finish coat at 9 p.m. on the final day.
The end result is a unique court that is a source of pride for the community. "There's a level of energy and excitement that comes with having something unique and feeling like it really belongs to you," Peterson says. "Carlos' work typically hangs in museums, and now it's under polyurethane on their gym floor, so I think that respecting it as a work of art just brings a whole different level of meaning and engagement to the community."
This project and another Chicago community center project Perez did immediately after this one both had a lot of significance for him. He intends to focus his business going forward on designing custom courts, and he also wants to do more work giving back to communities: "I never realized how big of an impact you have on a community just from the appearance of a gym floor."—K.M.W.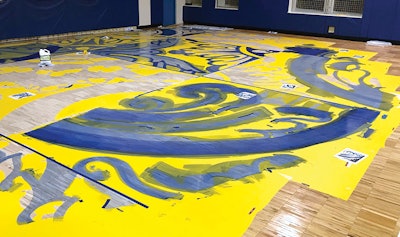 ---
Suppliers:
Advertisers appear in bold.
Finish, Paint: Bona | Stencil: Simon Signs Inc.
---
See a time-lapse of the creation of this floor:
---
Best Residential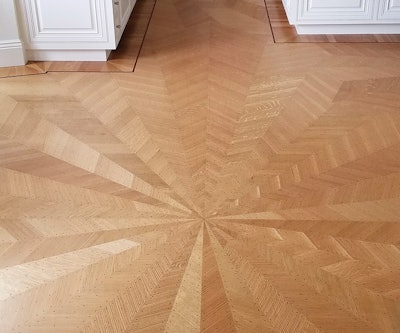 Potter's Custom Wood Flooring | Calistoga, Calif.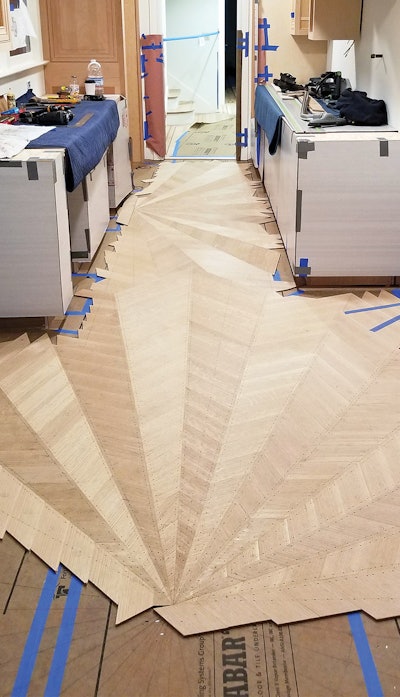 It's not often you start a flooring project hoping it will eventually blow up in your face. But for this 300-square-foot firework-inspired masterstroke, Steve Potter was aiming for a little visual explosiveness. "It was just like, BOOM!" he says of seeing the completed floor. "It was really cool." Achieving such a pyrotechnic spectacle in a wood floor required more than just lighting a fuse, however. The floor took more than three weeks of intricate work for the pro. "It was a ton of work," Potter says. "You can't rush it."
The white oak floor is part of an addition to a 1920s home, and the homeowners had envisioned a star medallion by the doorway. Potter suggested going even bigger, and, like a fireworks finale, the small concept fulminated into starbursts stretching across the rest of the floor—and the clients were ecstatic. The design reminded Potter of something you'd see at the end of a Great Gatsby-esque soirée. "I thought it would fit the 1920s house really well," he says.
After sketching out the pattern, Potter cut the pieces that make up the "bursts" with a chop saw, sorting the quartersawn pieces by color to enhance the floor's 3D effect. He used trammel points to begin the complex layout. "Once I got it divided into four sections, it was just a matter of bisecting the angles over and over again," he says. After dry-fitting everything, Potter began the installation using adhesive and a finish nailer to top-nail the 5/16-inch flooring, a common style in the area's older homes. "I did one panel at a time and just went all the way around like a clock," he says. To install smaller pieces, Potter used a Cavanaugh nailer, which was also commonly used for older homes in his area.
Once the flooring was glued down, he cut the excess outer edges of the panels using a track saw, then added a sapele feature strip he'd cut in his shop. He installed 2-by-8-inch plainsawn white oak pieces as the border. He then hit the floor with a 40-grit pass before trowel-filling, sanding with 60-grit, trowel-filling again, and sanding with 100-grit. He made several cuts with 120-grit on the big machine, edger, palm sander and multi-head sander to get out cross-scratches. After sanding, Potter sealed the floor before adding two coats of gloss finish and a final coat of satin.
The result has drawn the anticipated amount of "ooohs" and "ahhhs" from all spectators who come to see it, Potter says. But instead of fading into the night sky, these fireworks will last. "Pretty much everything I know I used in that project," says Potter. "Seeing it come to life was really awesome."—R.K.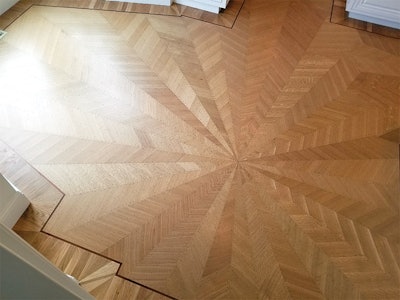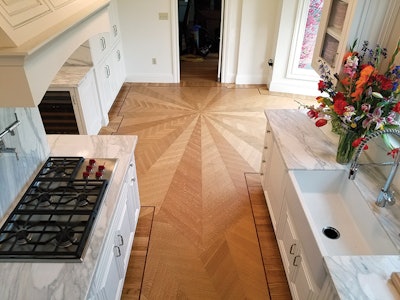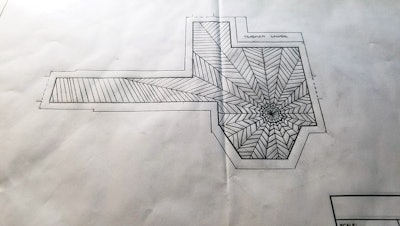 ---
Suppliers:
Advertisers appear in bold.
Abrasive: 3M | Adhesive, Moisture Barrier, Sound Deadener: Bostik | Buffer, Edger: American Sanders | Filler: Woodwise | Finish, Big Machine: Bona US | Moisture barrier: Fortifiber | Moisture meter: Delmhorst | Nailers: Senco, Cavanaugh | Router: Bosch, Festool | Sander (Palm): Porter Cable | Saws: DeWalt, Festool | Underlayment: Roseburg | Wood flooring: Lebanon Oak
---
Readers' Choice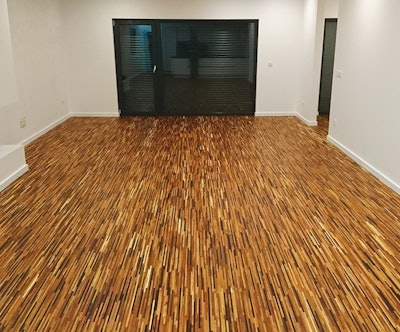 Fino Oficio | Lisbon, Portugal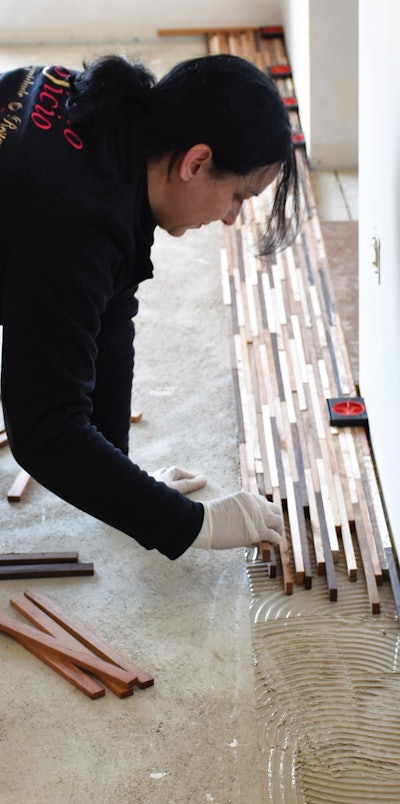 This award-winning wood floor began, literally, by accident. Fino Oficio's João Dias was carrying bundles of industrial parquet in a heavy rain when he slipped and fell. Several of the bundles broke and fell to the ground, scattering in the rain. "Then it struck me … we can play with that pattern; we can place it piece by piece instead of the normal mosaic pattern and create a one-of-a-kind floor," Dias says. "The more we played with the idea, the more optical movement we were able to create." He dubbed the pattern the "Hiperdrive."
Coincidentally, on that same day, Fino Oficio had received a call from a couple building a new house in a small village in the center of Portugal. They wanted hardwood flooring, but everyone had told them they should install laminate since it was "so much safer" on top of their radiant heat. When João and his wife and partner, Suzy, arrived on site, they assembled several meters of the Hiperdrive, and the clients had found their floor.
Dias says their company philosophy is based on the quote from Laurence Olivier when asked about the secret to his success: "To have the humility to prepare and the self-confidence to bring it off." On this job, that was tested, Dias says: "Unfortunately there's not enough preparation in the world for the ordeal that was waiting for us." Dias had planned on three weeks to do the floor, which was to cover the entire house for a total of 192 square meters (2,067 square feet) and 85,000 wood strips.
The living room was 17 lineal meters long (about 56 feet), and it took them five to six hours to do each row of 30 centimeters (about 12 inches) wide, staying perfectly on their lines and mixing the six species (Australian acacia, wenge, iroko, afzelia, jatoba and sucupira) for the right aesthetics. It was physically demanding, but what was even worse was the psychological effect of getting up after hours of work and seeing that, to their eyes, "we had nothing to show for it." With only the husband-wife team working on the floor, after three weeks of working 16-hour days, they had only the living room and kitchen complete. At that point, he says, "We couldn't even grasp when the Hiperdrive would end."
The project did finally end—after eight weeks and two days. The floor received a huge reaction across the globe from social media fans, who encouraged them to enter it in the contest. Although they are so proud of the floor, the memory of those weeks crouched over the 1-cm-wide pieces of wood will always stay with them: "Mark my words … If there's some kind of hell waiting for poor souls in the other side, they are going to be replicating a never-ending Hiperdrive!"—K.M.W.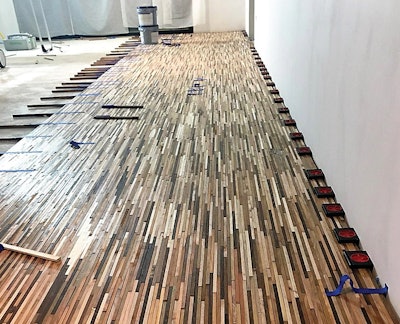 ---
Suppliers:
Advertisers appear in bold.
Abrasive: SIA Adhesive, Filler, Finish, Moisture Barrier, Sander (Big Machine): Pallmann | Buffers: Bona, Pallmann | Edger: Bona | Moisture Meter: Würth | Router, Palm Sander, Saws: Festool | Wood Flooring: Manuel Raro
---
Honorable Mention: Commercial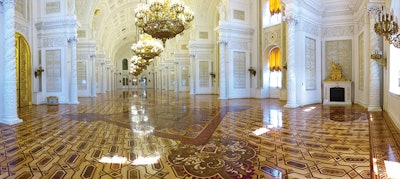 Yantarnaya Pryad-Parquet/ArtParquet Khimki, Russia
A stunning feat of historical recreation, ArtParquet's work on the flooring in the Grand Kremlin Palace can only be described as, well, grand. The 12,900-square-foot 150-year-old floor in the palace's Georgievsky Hall was "sanded practically to the foundation" over the years, says ArtParquet Associate Director Natalia Lebedeva. The company used archive drawings from a restoration project in 1999 to piece together a recreation of the elaborate floor, which contains nearly 20 wood species. "Some of them were impossible to be found on the market," Lebedeva says, noting the list included atypical species such as Hopea odorata, Shorea and Brachystegia cynometroides. "We just offered the closest wood in color for substitution," she says. After CNC-cutting the intricate patterns, ArtParquet manufactured the flooring in mostly 3-foot-by-2-foot tiles, the largest spanning 9-by-9-feet. When it came time to install, they marked the center of the massive hall and worked from there. "The most difficult part was to mark the premises correctly, as it was very big," says Lebedeva. "It was crucial to find the center correctly." With 12 crew members, the glue-and-nail-down installation took three months to complete, after which they sanded and applied two coats of primer and seven coats of finish. While the floor lived up to its "Grand" title, viewing the results also produced a feeling of grandness for the ArtParquet team. "It was very emotional to see the final result," Lebedeva says. "It looked exactly like the flooring that was there when the emperors lived there 150 years ago."—R.K.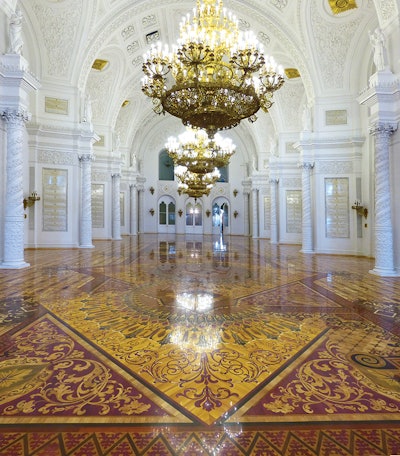 ---
Suppliers:
Advertisers appear in bold.
Abrasive: 3M | Adhesive, Finish: Chimiver Panseri S.p.A.
---
Honorable Mention: Stairs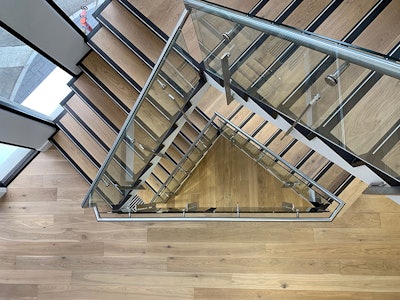 Scribed Flooring | Brisbane, Australia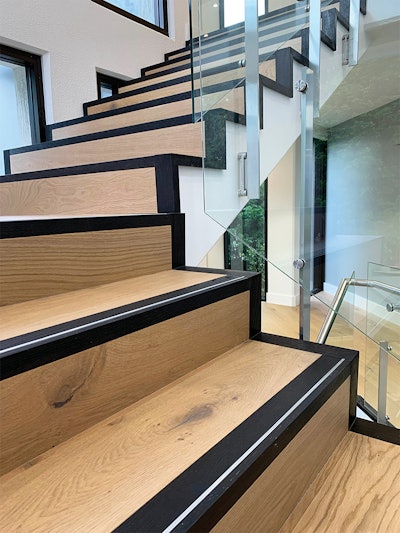 Challenging stairs are part of everyday life at Scribed Flooring, but this was the first time the company was tasked with converting old concrete exterior stairs into modern wood interior stairs. "They had someone else look at it, and it was beyond the level of what they could do," Scribed Flooring's Greg Ceglarski explains. The commercial building had expanded to encompass the stairs, and they were crumbling and inconsistent—something that had to be fixed per strict Australian building codes requiring that commercial stairs not vary by more than 1 mm. They were also 2 inches higher than the internal floor, which couldn't be built up because the walls were floor-to-ceiling glass. After bringing in a concrete expert to laser and bring the concrete into code, the Scribed team went about building every piece of the stairs out of prefinished European white oak flooring, following a design Ceglarski created. Scribed employee Rodrigo Dias was tasked with the actual build, which connects each element of the stairs with a tongue and groove and also includes an aluminum feature strip, sitting just slightly proud of the tread as a tactile indicator. "I tested Rodrigo out to the absolute max, and he nailed it," Ceglarski says. To disguise the 2-inch height difference, the flooring install had to be ramped from the stairs down to the rest of the floor, an area of about 100 square meters where the flooring runs in two directions. The seamless result gives no indication of the rough origins and complicated nature of the stairs and flooring, making it a typical Scribed Flooring project.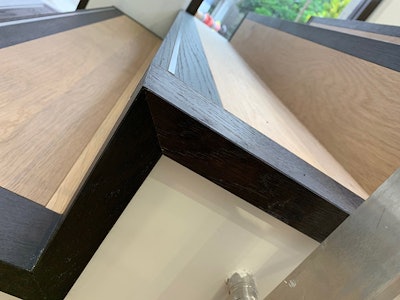 ---
Suppliers:
Advertisers appear in bold.
Adhesive: MAPEI | Finish: WOCA | Router, Saws: Festool | Wood flooring: Tongue N Groove
---