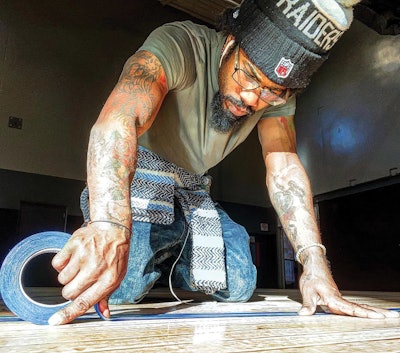 AS I NARROW into the age of 30, I am carving out my niche in life. But life has not been all roses. After all, I am a young African American/Latino man searching for a better life. So, allow me to share my story through the struggles and the challenges, and how perseverance set me on the path to success.
I grew up in a small town on the east side of Cincinnati, and my loving parents did what they could to ensure I had a healthy, safe environment growing up. My mother worked eight-plus hours six days a week as a respiratory therapist, and my father is a Navy veteran and worked the third shift as a supervisor at a printing company. But around my junior year of high school, things changed. My dad suffered a spinal cord injury, and after intense surgery and therapy, he was laid off. This took its toll on the whole family and led to an onslaught of life-changing events. My parents split up due to stresses of life, and my mom moved to Florida; she gave me the option to go with her, but everything I knew was in Cincinnati. Eventually our house got foreclosed on. I went to college the next year at a Division III school and played football but didn't have enough money to live in the dorms, so I bounced around friends' dorms and couches. I had to let go of a lot of personal attachment to material things, and it taught me a lot going through those tough years.
By my sophomore year I wasn't making the best decisions—at 19 I had my first daughter, and I decided college was not for me. I had been going to school and playing football while my dad was in a homeless shelter across town. (Eventually my father made it out of the shelter, and he now owns his own home.)
I had been making minimum wage at McDonald's, but a friend's uncle owned a hardwood flooring company doing mostly residential floors. They gave me a tryout on a gym job doing basic stuff—racking and carrying bundles—testing to see if I really wanted to do it. I was told, "It's hardwood, it ain't easywood." I started at $10 an hour cash. The company had five foremen—all different in their approach. It felt like they put me in a different van with a different foreman every week; it's almost impossible to get the methodology that way. Despite that, I eventually caught on to each guy's traits, and I feel I was blessed with that opportunity—I took the best out of those perspectives. After a few years, I climbed the ranks and had maxed out at what they would pay me. I was trying to figure out if this was what I wanted to do with my life, and one day on Facebook I found a Florida company hiring for summer labor. I loved doing gym floors, so I PM'd the owner, and he gave me a trial. He sent me to a university by myself with a poor set of sanders on this old beat-up rider I literally had to bungee together.
I quit my Cincinnati job and moved alone to Florida. I took a huge pay cut, but because the company focused on gyms, I got to focus on my passion; in the summer I would screen and recoat hundreds of thousands of square feet of gym floors by myself. I was working out of a Ford Taurus—I took out my front seat and would put the buffer in there and stack up 10 buckets of poly and drive around the whole state of Florida.
By this point I had another child, and my second child's mother moved to Florida, and we struggled, as well: sleeping in the car some nights, hotel to hotel, job site to job site. She was a big part of my growth in recent years raising our daughter while I have been on the road, bettering my career. On one huge job I did by myself, we had a customer who came in and patted me on the back and was like, "Bro, I know you're killing it; you're making great money, man, I'm proud of you. This is amazing to see a young brother doing this." I was like, "Dude, I get paid $15 bucks an hour. I just made 600 bucks." This was after I just screened and coated close to 80,000 square feet by myself that week. His jaw hit the floor. He said, "Come here. I shouldn't do this ..." ... but he pulled me into the office and showed me the invoice—for a VERY large amount. I said, "You paid my boss this? I only made 600 dollars." He was like, "Yeah, figure it out, bro, that's what you're worth." It blew my mind.
At first I was upset, thinking I should be getting paid more, but instead I decided to start my own business. I started getting my own equipment, and I told my boss I wanted to subcontract. I started subbing for 45 cents a square foot for sand and finish work—I didn't know any better, and 45 cents was better than the $15 an hour I had been making. It went from 45 to 60 to 75 cents, and I opened my own LLC. Then I bought a new set of riders off my old boss in Cincinnati—over 30 grand, but I paid them off in a few summers. I started branching out nationwide. I typed in "operations managers for gym floors" in LinkedIn, and it gave me 150 names. I ended up doing jobs for a company in Minnesota with jobs across the whole Midwest, making great money and being on the road doing what I love.
It hasn't always been high times. In the summer of 2020 I had a tough project in Miami. By the end of the job I wanted to quit, hang up the jersey and try a different trade. But my eldest brother, Lonnie, came around, and he reinforced faith in me and my craft. He reminded me how far I had come, and how we can't quit when we're so close to success. He helped me regain my focus, and I went on to have one of my best years in business to date. Lonnie's been a major part of my growth and success.
The floors weren't just about money—I was thinking about the floors as art. These sports floors are massive canvases, and there's no reason we shouldn't be doing different artwork and beautiful designs on them. When you're at a museum or see a mural, that changes you; it brings out beauty and emotions. That's what art is, and that's what our floors can be, too.
I started partnering with a not-for-profit called Project Backboard run by Dan and Sam Peterson; they do amazing outdoor basketball courts for underprivileged communities. I had been working so much I had been going straight from one gym floor to the next without seeing what happens after. But when I did projects with them in Chicago in early 2020, I got to experience the events and see the kids hollering about the floors we had done. [Editor's Note: See profiles of his award-winning work here and here.] Perez's When I witnessed first-hand the impact of the newly designed floor on the community and the children, it genuinely gave me purpose. I found my "Why," so to speak. Now I'm focused on pushing the limits with basketball designs, including my signature "shatter" design. It speaks to the broken pieces or trauma we experience as we become adults: Once we are adults, it's about how we put the pieces back together to make something beautiful. I also have a graphic design company, making logos and custom court designs to take them to new levels.
I've traveled from Connecticut to Montana, having custom-made courts in Durango, Colo.; down to Austin, Texas; New Orleans; back down to Miami, Atlanta, Chicago, Cinci and most places in between. I never would have dreamed I'd go to the places I have been or even be at the level of craftsmanship that I am. If you would have told me this 10 years ago, I would have called you crazy. I'm beyond blessed for the struggles and hardships, because if it never rained, I wouldn't appreciate the shine. God has blessed us all with our own particular set of skills and talents, and it's up to us to unlock those skills, whatever they may be. No two people are the same, and no two floors are the same. But just like the floor, we can make the best out of the situations we are dealt.
Anything worth having in life is going to be difficult, whether it's a relationship or earning money or building your business. Now that I've turned 30, looking back, one of the most difficult things for me was learning self-manifestation: You speak things into existence. You bless or curse yourself with your perspective. Energy and attitude is everything, so no matter what I do, I'm going to put my all into it: "You Only Get Out What You Put In." #Yogowypi
"If God's with me, can't nobody be against me." — Muhammed Ali
---
RELATED: How They Do It: Pulling Off Today's Bold Basketball Floors
---