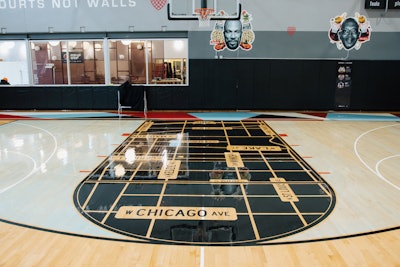 Luis Perez had an uneventful stay in Chicago earlier this year. Not only did the Atlanta-based wood flooring pro lead the creation of the complicated basketball court that took home this year's Best Gym and Next Gen awards in the WFB Design Awards, he also created this fantastic community center court.
The floor is in the Breakthrough FamilyPlex, a $15 million community center in Chicago's underprivileged East Garfield Park. The center was to host the inaugural "Show Chi Love" event during the NBA's All-Star weekend, an event created to bring the All Star's "same level of exhilaration and excitement to those who otherwise wouldn't have had the opportunity in this often forgotten section of the city," according event partner Season, the custom basketball company.
"They had this awesome facility and this real basic-looking basketball court, and so they were looking for something flashy to do and bring it to life," says Perez, of Hero Flooring LLC. It was a perfect fit for Perez, whose goal is to push the envelope in basketball court design.
The final design was the result of a collaboration of initial designs from staff at Breakthrough and the work of Perez and Sam Peterson, with whom Perez also worked on his award-winning floor. It honors the neighborhood by including maps in the key lanes, even marking the location of the FamilyPlex with a gold star. Surrounding the lane, light blue represents Lake Michigan.
The perimeter is marked by shapes that have a deeper meaning: They symbolize the childhood trauma that is so prevalent in the neighborhood, include gun and gang violence. "It kind of gives you that sense of when you break things and put them back together, they can always become more beautiful than the original design," Perez explains.
Because there was no time for a total resand, Perez screened the floor, remarked and painted over all the game lines, then used layers of masking to paint the designs, finishing with two topcoats. In total, the process took two weeks—in time for the excitement of the Show Chi Love event that Perez was able to experience himself.
"They had slam dunk contests, All Star events, all kinds of vendors … they even had a barber cutting little kids' hair," Perez says. "I had never seen anything like it, and I was really blessed to be a part of it."
Just as with his other Chicago floor, he got to experience the impact one of his courts can have on the people who live nearby. "Actually seeing what my court does for the community in bringing people together … having that experience kind of gave me the full spectrum of what it is we're actually doing in these communities," he says. "It gives kids something positive in their lives."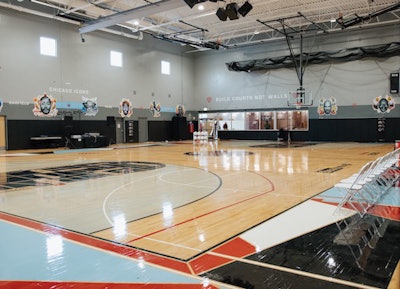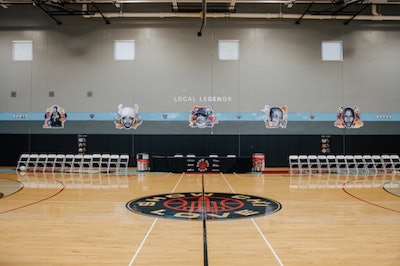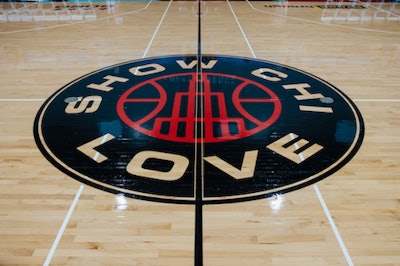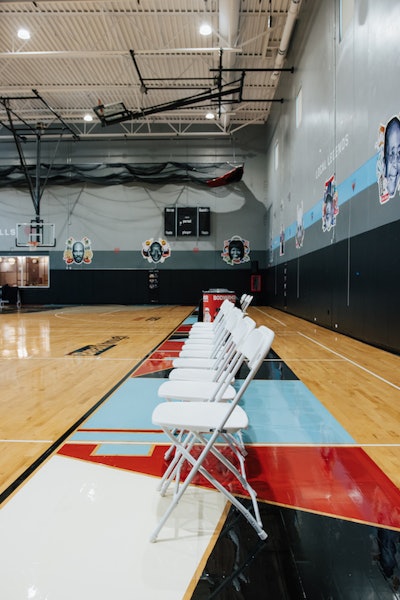 Project credits:
Abrasives: Norton
Buffer: American Sanders
Finish, Paint: Bona US
Masking: Simon Signs
Artists assisting with painting: Alejandro Arce, Christopher Duran, Gayle Hernandez, Gabe Medel, Jonathan Perez
Show Chi Love partners: Season, Veniceball
Photo credits: Lindsey Tollefson/BreakThrough