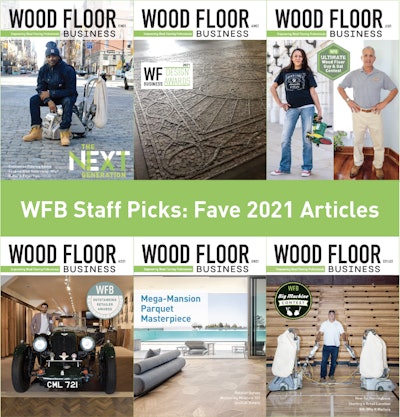 As we wind down 2021, our WFB staff took on the difficult task of choosing a favorite article from the magazine in the last year. Here's what we decided on:
Kendra Griffin, National Account Manager
My favorite feature of 2021 was the Ultimate Wood Floor Guy & Gal Contest. It's a fun way to recognize some deserving wood flooring pros (shout out to the inaugural winners, Anthony and Jessica!), and highlight the exceptional work being done by so many in our industry. I found Mr. Sandman's thoughts on leadership especially inspiring, as well as his ingenuity and customer service philosophy. Jessica is a force to be reckoned with. I enjoyed learning more about how she got started, and her passion for empowering up-and-coming wood flooring pros. It's a great, inspiring read coupled with entertaining nomination videos!
Kim Wahlgren, Editor
You know how they say passion is contagious? I'm reminded of that every time I interview amazingly talented wood flooring pros for our Design Awards feature. This year I got to take a deep dive into another stunning mosaic job by two of the most phenomenal wood floor pros in the entire world, Avedis Duvenjian and Vartan Arutyunian of Archetypal Imagery Inc.; detail two separate fantastic stair projects from Down Under by Scribed Flooring in Brisbane and Creative Flooring Solutions in Grovedale; and also spend time getting to know up-and-coming talent Matt Garcia of Craftsman Hardwood Flooring, who is killing it down in Texas (don't miss the video in the article where he explains his process!).
Ryan Kushner, Associate Editor
Sometimes my favorite projects to write about start out as total surprises. When we reached out to the legendary Gardena, Calif.-based Parquet by Dian, we knew whatever wood flooring project they were working on at the time would likely be big—but we had no idea it'd be this big. In talking about the parquet floors in this much-publicized 110,000-square-foot luxury mansion (dubbed "The One"), Parquet by Dian President Dima Efros shared tons of insight about what goes on behind the scenes to bring together some of today's most stunning—and extravagant—architecture. What wasn't a surprise about this project, of course, was the dedication Efros and his team brought to the job. Getting to share their experience and craftsmanship definitely made this story a highlight in 2021. And come on, how often do you get parquet floors, a glass swimming pool and the Bel Air skyline together in one picture?