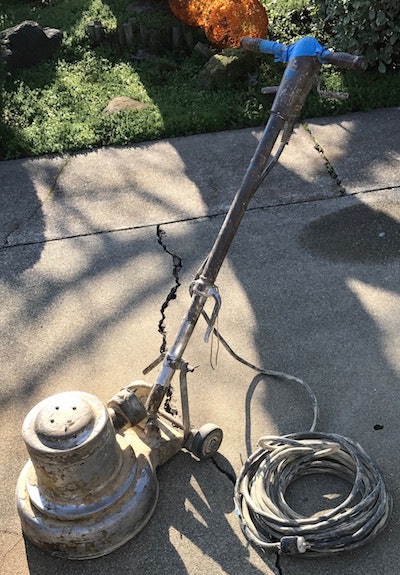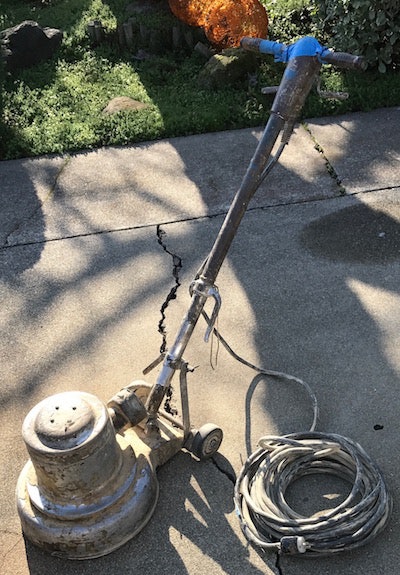 The buffer has always been my favorite piece of equipment. Like many my age who grew up around a wood floor contractor, I rode my dad's buffer when I wasn't riding a tricycle yet. I got the thrill of the ride; he got the benefits of my weight on the machine when he was waxing. The buffer is easy to tame, and I was probably running one by my early teens when my brothers and I were working with my dad. It's quiet-a real plus in a world of screaming and roaring equipment. Once mastered, it's docile compared to the other machines. It's forgiving and will rarely punish you the way the others do if you sneeze. It can multi-task depending on the attachment. It doesn't have the aggression of the other sanders, but everyone agrees that it's one of the most important machines in the finishing process. I've never met a contractor who felt they could stay competitive without a good buffer in their stable.

The buffer I rode as a child was considerably different from what we have today. For starters, my dad's buffer had a fixed handle that made moving it up and down stairs by yourself a real balancing act. (Think of carrying your lawnmower up and down a set of stairs!) There was no adjusting the tilt or extending the handle. It had enough metal in it to build a couple of our modern-day versions. It weighed a ton, and without the pivoting handle, took up a lot of space in your truck.

Veteran wood floor contractor Eugene Stone of Pinole, Calif., has a vintage beast of a machine (seen in these photos) that was on job sites before most of the people reading this article were born. Eugene's dad bought this one in 1951, which qualifies it for Medicare. Among other things, please note (in the second photo) the close-up shot of the electrical connection on the motor. If you look carefully, you'll see a red-looking toggle switch. That allowed Eugene and his dad to switch from 110 to 220 with the flick of a wrist. As Eugene would say to all you young guns out there with your bright, shiny new 220 buffer-"been there, done that."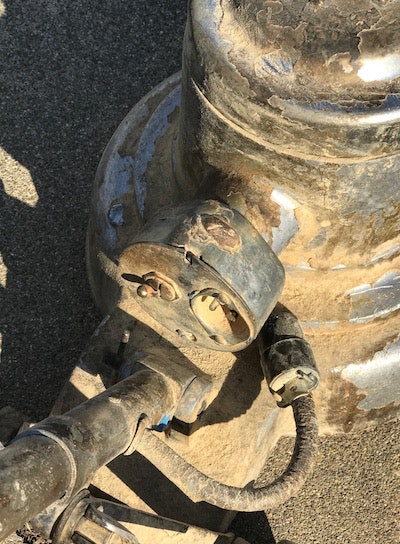 Throughout its history, the buffer has been a machine that has adapted to its surroundings and needs. When the screen-back discs were introduced, it went from a polisher to a finish sander. Not only did it fine-prep the floor, it did double duty to screen between coats of finish. The big downside to both procedures was excessive dust. The excessive dust led to the buffer being the first piece of equipment with dust containment, and it adapted well. Anyone buffing a floor today and kicking up clouds of dust is about two decades behind the times. (And you're a bad example of our trade.)

Buffers of today have the same basic features of the buffer of old but a lot more bells and whistles. Handles not only tilt but they telescope as well. We now have buffers with headlights! (Who said you can't do prep work in a dark house?) Don't get me started about all those attachments. Just damn! The single flat-plate drive pad now has some company. There's the hook-and-loop type to make sure the maroon pad stays put while prepping finish between coats. Then you have the Tampico attachment for pulling fine dust from the recesses prior to applying finish. You can put a drive pad on the machine with diamond bits to help prep when the going gets real tough. Within recent years, the drive plate also has smaller discs to facilitate fine surface prep. We also have a 220 version where those small pads counter-rotate to up the ante a bit.
[To be continued ... In the upcoming Part 2 of this post, I'll talk about how buffers are essential for refinish work and show you the machines I'm still totally dependent on.]