[Continued from Part 1 of this post…]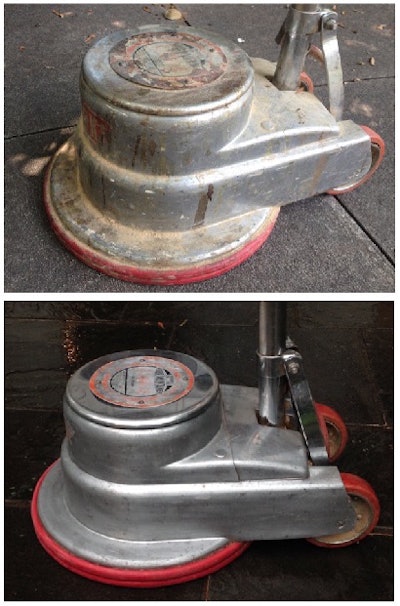 The buffer will likely be at the forefront when it comes to finding options for refinishing floors that have already been sanded too much. Or homes built before the 1950's—most are already at that point. There will need to be an alternative to aggressive belt and edger sanding, and I'm betting the buffer will play a major role. Some of the iterations I already mentioned will likely offer some alternatives. I know a lot of contractors who are betting against this and feel people with old homes will buy new floors, but I don't agree. If they want to stay competitive, they'll look at these options.

In my historic restoration work, I'm totally dependent on a couple of twin Clarke FM-15's. They are as basic as it gets and date to the late 1960's. I would have retired years ago if it hadn't been for these two trusty sidekicks. They don't need dust containment since we're not creating any dust. I use them to take old finishes off, and I use them to buff new finishes in. If stains are involved, they get buffed in, also. They would probably make me a cup of cappuccino if I asked them.

The one that's been with me the longest is the one I bought off my dad when he decided to retire. The other buffer came to me when my older brother retired about three years ago. He had a nice complement of machinery to consider buying, but my only interest was in his old FM-15. As you can see in the photos at right, it was in rough shape and looked like it had been a pigeon roost. I took the old boy and had it checked out at American Products in Pineville, N.C., and then I went about the business of cleaning it up. As you can see from the before/after shots, it bounced back nicely.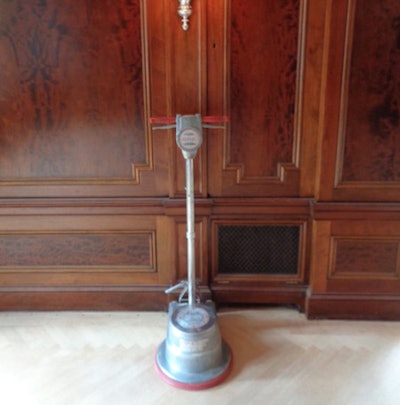 I recently put the boys to work at my latest restoration project in Dearborn, Mich., and, as usual, they pulled their own weight with nary a complaint. And yes, I thoroughly enjoyed it when someone would see the buffers and ask how old they were. I was flattered by their reaction. It's like being my age, 70, and having to show an ID to buy a bottle of wine. These two buffers are like my AmEx card … I don't leave home without them.

The buffer has been good to me. It provided me some quality time with my dad when I was barely out of diapers and has allowed me to continue doing something I truly love well into an age when many would be languishing in their BarcaLounger. It's a machine from our past that has a very promising future. It rolls with the punches and keeps coming back in better shape than before. And if they can be cremated, I'll probably take one with me to the other side.