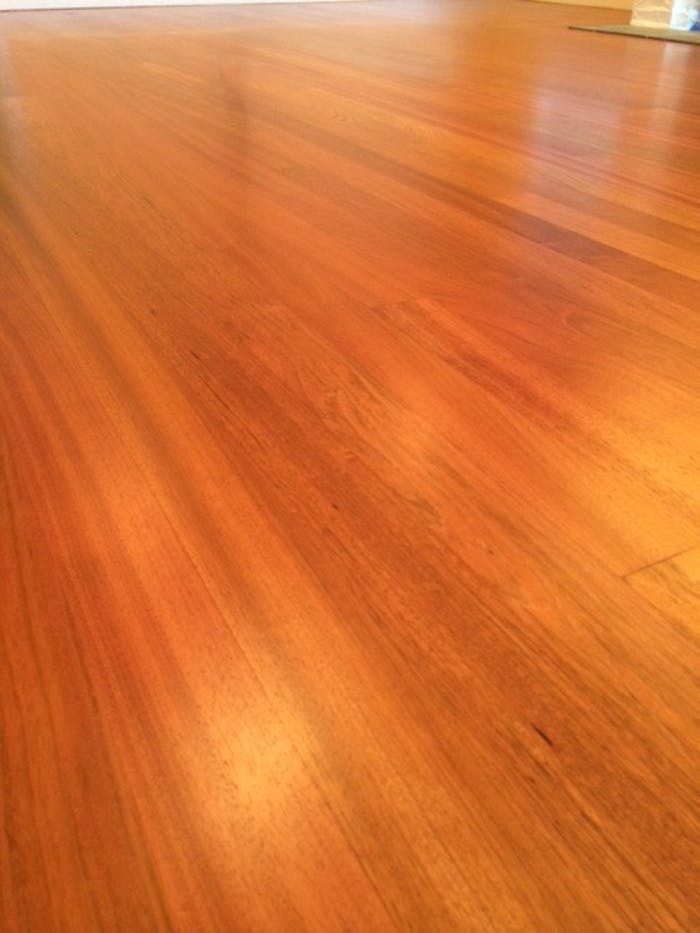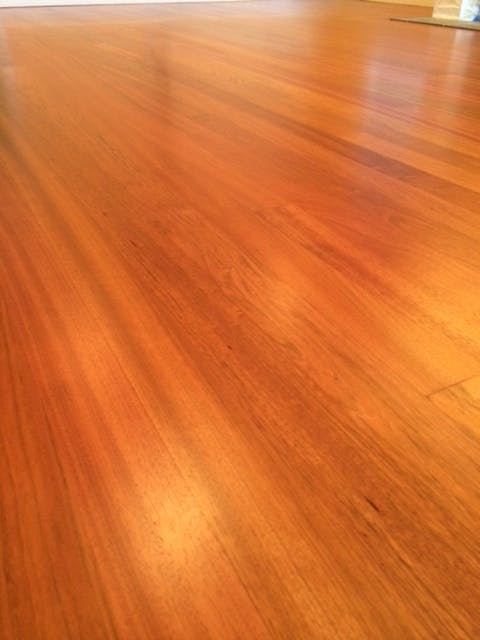 A flat jatoba (Brazilian cherry) wood floor.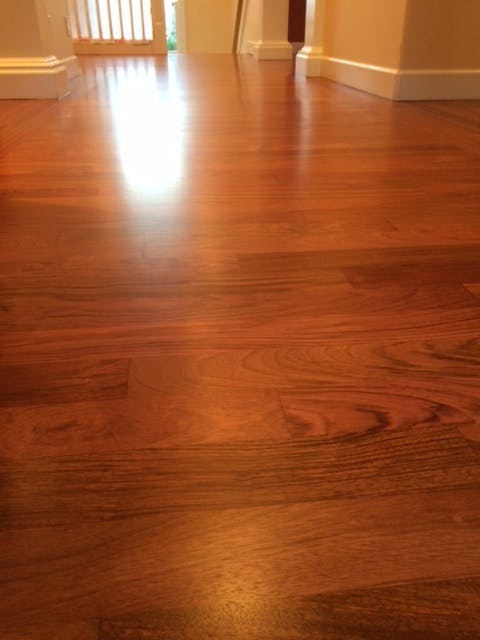 A flat jatoba (Brazilian cherry) wood floor.At an NWFA class a long time ago, I remember Steve Seabaugh trying to explain the logic behind a sanding sequence. Steve was at the point of explaining why we should not skip more than one grit when sanding. One student insisted that Steve was wrong. The student was skipping two and three grits at a time and would not let it go about who was right and who was wrong. It seemed that he really wanted Steve to say he was right. Well, Steve didn't. Pushed to the limit of his patience, Steve finally told the guy if it worked for him, that was fine. Steve explained that skipping more than one grit could be done, but it would not yield the same results and would take much longer to complete a sanding job.
If you are familiar with a Brazilian cherry (jatoba) wood, you know how hard and dense it is. Installation can be a challenge, but I find that most problems occur with the sanding and finishing. Contractors who are not familiar with the characteristics of exotic woods often get into trouble on the job.
Think of your woods as your friends. You don't talk the same way, shake hands (I hope you shake hands), tell stories, go out and communicate with all your friends the same way, right? It's the same with woods. Think of oak as your easygoing friend who is cool with whatever. Think of jatoba as your demanding, brutally honest friend who is not cool with whatever. Oak is there to make you feel better about yourself. Jatoba is there to reveal who you really are. Let's get to work:
Jatoba is dense, hard, resinous and has interlocking grain (a wood grain in which the fibers incline in one direction in a number of annual rings and in a reverse direction in succeeding rings).

I always start sanding with the least aggressive grit that will do the job. For example, if I want to cut the floor flat at an angle and strip the finish at the same time, I will go with 50 or 60. If 60 is too slow or doesn't work, I will drop my grit to 50. What I will never do is start all my sanding jobs with 36 or 40. I have to consider the condition of the floor, the finish (if there is one), the existing sanding marks left by the last guy (there always are) and the flatness of the floor.

In this specific case (I started talking about this floor in my last blog post), the jatoba floor had just been refinished, and we came in to fix the job. The floor had wave, sanding stop marks from the big machine and chatter marks. To get rid of those, I had to cut the floor at an angle (about 20 degrees) with 80 grit. That got rid of the imperfections and the finish. Then I vacuumed and ran the machine straight with the same grit (80). The edger did 80 once. After vacuuming, we ran the Trio with 80 and 100 paper. The edges were done with a 6-inch Rotex Festool with 100 grit and 120 with a 6-inch Metabo finish sander. Final screen was 100 on the Trio. Because the Trio runs at a much higher rpm than a buffer, the 100 screen is as if you ran the buffer with 150/180 screen. After hitting the corners with my Flip attachment, we spent about 10 minutes scraping the rest. I'd say 10 minutes total on a 1,000 square feet job is pretty fast.

I understand a lot of you don't have a multi-disc machine. In that case, I'd finish with 100 on the big machine, hard plate with 100 and finish with a 120 screen or higher. Sounds the same, but it is not. It is a lot more work with the buffer, and I guarantee no matter how skilled you are, the floor will not be as flat as if you had a multi-disc machine.

To sum up sanding that jatoba floor:
Don't skip more than one grit.
Keep your floor clean.
Don't put a scratch in that you can't take out.
Use the right tools.
It's a dark floor, so it will show every imperfection.
You can see that these are all the fundamentals of sanding. Just because your oak refinishes turn out okay doesn't mean the rest will. Again, I am not here to argue who is right or who is wrong, so don't. We all have our own sanding recipes. Just like Steve told that argumentative student years ago, if it works for you, that's fine.