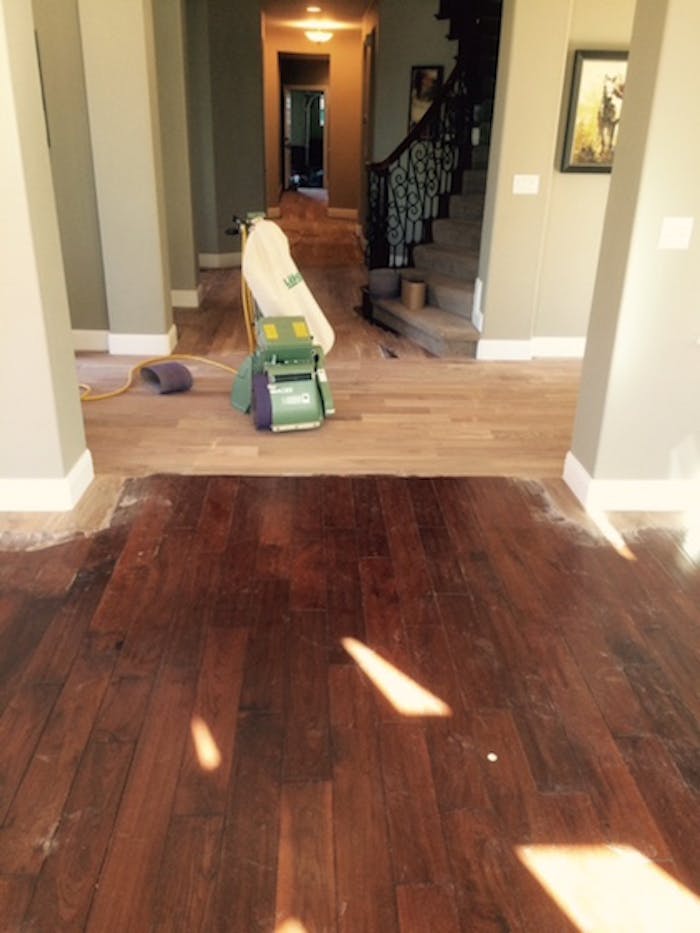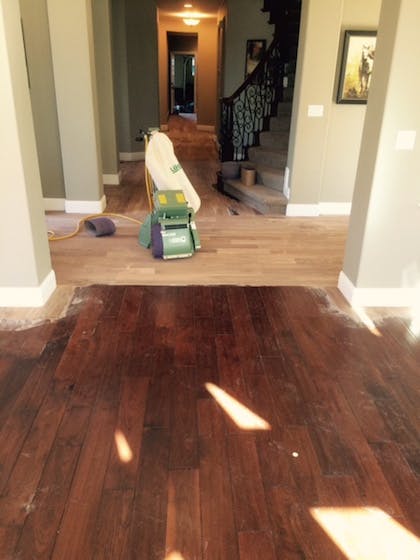 Another day in paradise. I walked into a potential client's home to find a really scratched up worn floor. It was:
    1. Engineered
    2. Prefinished with aluminum oxide
    3. Hand-scraped
… and had a very thin wear layer of black walnut.
The homeowner asked me to refinish the floors and stain them brown. Easy, right? NO. Everything about that floor required an experienced, trained floor mechanic with the right tools. Don't get me wrong, I can handle it and I did, but why can't I just walk into a house and see a solid oak floor that needs a clear finish? Just something I don't need to think about. Can't we give Avi a break? Just one break? ☺
Okay, so here is how we did it:
We started stripping the floor with 80-grit on the big machine and the edger. The big machine ran at a 25-degree angle to cut through the hand-scraped face. Why 80? It's aluminum oxide AND it is walnut AND it is a thin veneer. Try anything else in a case like this and be prepared to pay for a new floor. The minerals on 80-grit abrasives are much smaller and closer than a rougher grit like 50. They will remove the aluminum oxide finish more efficiently and will leave a minimal scratch pattern in the floor.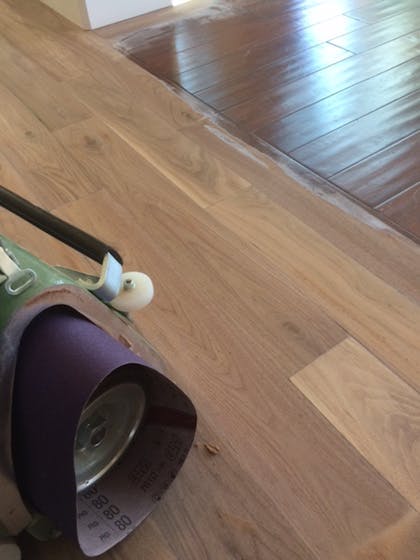 Vacuum, vacuum and more vacuum. Sanding the aluminum oxide off will spread it all over the floor. If you don't have a dustless system and/or you don't vacuum between cuts, the aluminum oxide will be resanded into the floors, leaving scratches you can't sand off later.
After two cuts on the big machine and the edger, both with 80-grit, we were done with the majority of the sanding. The floor was flat and had no finish left on it. We said goodbye to both the edger and the big machine; it was great seeing them on the job. Time for a multi-disc machine like the Lagler Trio, a dustless sander like the 6-inch Festool Rotex and a finish sander like the 6-inch duo orbit Metabo.
With all these tools and all these cuts, we only removed about 1/32" of wood (0.793 mm), maybe a hair more. A proper sanding sequence, experience, education and the right tools make a big difference when it comes to delicate jobs like this one. More to come on the next and final blog on this topic.
I hope to see you all in a week in St. Louis.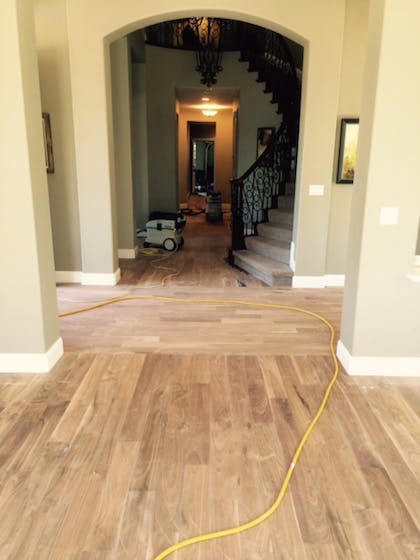 (See Part 2 of this post here.)