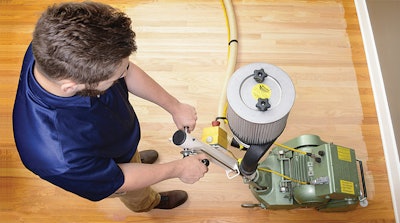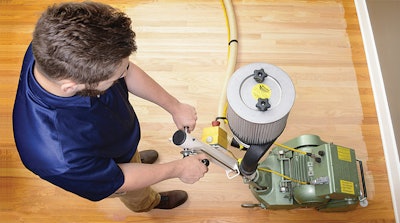 Deploying better dust collection controls can give a competitive boost to your flooring business, as many homeowners will pay a premium for a cleaner final result.
It can also help reduce overall job time and maintenance costs, and it makes a healthier job site for you and your workers. Here are the basics you need to reach those goals.
Understand the hazards of dust
Wood dust is both a health and safety hazard; precautions should be taken to reduce the impact of both. Wood dust can lead to eye and skin irritation, dermatitis, asthma, emphysema and other respiratory conditions, including nasal cancer.1,2 It's the smallest dust particles, those 2.5 micrometers and smaller (known as the PM2.5 range) and invisible to the naked eye, that can do the most harm, clogging up airways and nasal passages.3
When sanding, it is highly recommended to use a respirator approved by the National Institute of Occupational Safety and Health (NIOSH). However, due to the current pandemic, there is an increased risk of buying counterfeit respirators that do not meet proper filtration standards. With very few exceptions, a NIOSH-approved respirator will always have an approval number (beginning with "TC"), the NIOSH name or logo, filter class (N, P, or R), and filter efficiency level (95, 99, or 100) appearing directly on the mask.4
From a safety standpoint, wood dust is combustible, catching fire easily. This is why it's important to empty the vacuum or waste container at the end of each day, disposing of debris outside the home. Also, never store collected wood dust in your vehicle.
---
RELATED: Sanding 101: Wood Floor Sanding Basics
---
Collect dust at the source
Once dust is airborne, the chances of collecting it are dramatically reduced. Instead, you want to capture it as soon as it's generated by the sander, edger or buffer. Your dust collection system, including hoses, should be statically grounded—to prevent static discharges—and sealed airtight to prevent the possibility of dust escaping. Once you have finished sanding, make sure to empty your dust bin far away from the work area to diminish the chances of dust becoming airborne and settling in your wet finish. Another option is to use a collection system with a bag liner, which helps keep dust contained during emptying.
Ensure proper airflow to the tools
When it comes to dust containment, you'll often hear that a sander needs "200 CFM" (cubic feet per minute) to collect all of the dust it generates, but there's more to it than just a high CFM rating. Every sander is built to entrain dust at the sanding belt, meaning it's already generating its own airflow pressure system. Any vacuum you attach is going to be competing with the sander's airflow. This is worsened by the long lengths of hoses—the longer the hose, the more air resistance the vacuum has to overcome, resulting in much less airflow at the sander and allowing more dust to escape into the air. So, work with the shortest hose possible.
One way to eliminate this choke point is to relieve the air pressure at the sander with a two-stage system that exhausts the sander's excess airflow while transporting the remaining dust-laden air to the vacuum for final containment. Once the sander can "breathe," both it and the vacuum can perform as intended.
Use the most efficient filter
The more efficient your vacuum's filter, the better it will perform over time at trapping the smallest dust particles. For example, a certified High-Efficiency Particulate Air (HEPA) filter will remove 99.97% of particles sized 0.3 microns or larger. In comparison, cloth bags filter only a small percent of particles 10 micrometers or smaller (also known as the PM10 range), leaving the finer dust particles to make their way back into your workspace. In essence, with cloth bags, your dustbin is your filter. As the bag fills, its total filter surface area shrinks, passing more and more dust through the bag. This is why you'll see recommendations to empty the bag when it's only a third full.
If you want to add value to the services you offer and maintain a healthier work environment, improving your dust collection practices is one way your business can stand out from the crowd.
1Mayo Foundation, "Emphysema."
2NIOSH, "Wood Dust."
3CDC, "Particle Pollution."
4NIOSH, "Counterfeit Respirators/Misrepresentation of NIOSH-Approval."